Abstract
Objective
To report (1) intermediate-term oncologic and functional outcomes of primary focal cryoablation (FC) in selected patients with clinically unilateral, low-intermediate-risk prostate cancer, and investigate (2) the impact of patient selection criteria at predicting outcomes after FC.
Materials and methods
Forty-one patients with unilateral prostate cancer were treated with FC. Patients were stratified using the 2007 Task Force Focal Prostate Cancer Patient selection criteria (Task Force criteria). Posttherapy follow-up included questionnaires, PSA measurement, and TRUS-guided biopsies.
Results
Complete follow-up was available in 40 patients (median follow-up 63 months; range 12–92 months). Compared to precryotherapy PSA level (mean 7.1 ng/ml), postcryotherapy PSA level (mean 1.8 ng/ml) dropped by 75 % at 3 months (P < 0.0001) and this decline persisted throughout the follow-up period, with no significant difference seen across patient selection criteria (P = 0.859). The treatment failure rate was 10 % (4/40) with no significant difference seen across patient selection criteria (P = 0.832). Of 32 patients undergoing postcryotherapy biopsy, 7 (22 %) had positive biopsies (2 ipsilateral lobes, 5 contralateral lobes). Patients of Task Force criteria group were less likely to have positive biopsy in contralateral lobe than focal control group (P = 0.032). Complete continence (no pads) and potency sufficient for intercourse were documented in 97.6 and 76.9 % of patients, respectively.
Conclusions
The intermediate-term oncologic efficacy of primary FC in selected patients with clinically unilateral, low-intermediate-risk prostate cancer appears favorable, and the side-effect profile is low. The 2007 Task Force criteria appear to reduce the positive biopsy rate in contralateral lobe after FC.
This is a preview of subscription content, log in to check access.
Access options
Buy single article
Instant access to the full article PDF.
US$ 39.95
Price includes VAT for USA
Subscribe to journal
Immediate online access to all issues from 2019. Subscription will auto renew annually.
US$ 99
This is the net price. Taxes to be calculated in checkout.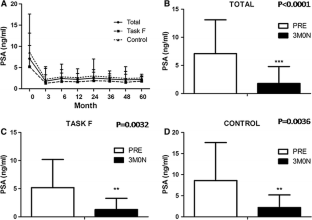 References
1.

Cooperberg MR, Lubeck DP, Meng MV et al (2004) The changing face of low-risk prostate cancer: trends in clinical presentation and primary management. J Clin Oncol 22:2141–2149

2.

Hayes JH, Ollendorf DA, Pearson SD et al (2010) Active surveillance compared with initial treatment for men with low-risk prostate cancer: a decision analysis. JAMA 304:2373–2380

3.

Eggener SE, Scardino PT, Carroll PR et al (2007) Focal therapy for localized prostate cancer: a critical appraisal of rationale and modalities. J Urol 178:2260–2267

4.

Onik G, Vaughan D, Lotenfoe R et al (2008) The "male lumpectomy": focal therapy for prostate cancer using cryoablation results in 48 patients with at least 2-year follow-up. Urol Oncol 26:500–505

5.

Truesdale MD, Cheetham PJ, Hruby GW et al (2010) An evaluation of patient selection criteria on predicting progression-free survival after primary focal unilateral nerve-sparing cryoablation for prostate cancer: recommendations for follow up. Cancer J 16:544–549

6.

Bahn D, de Castro Abreu AL, Gill IS et al (2012) Focal cryotherapy for clinically unilateral, low-intermediate risk prostate cancer in 73 men with a median follow-up of 3.7 years. Eur Urol 62:55–63

7.

Durand M, Barret E, Galiano M et al (2014) Focal cryoablation: a treatment option for unilateral low-risk prostate cancer. BJU Int 113(1):56–64

8.

Lian H, Guo H, Gan W et al (2011) Cryosurgery as primary treatment for localized prostate cancer. Int Urol Nephrol 43:1089–1094

9.

Williams SG, Duchesne GM, Gogna NK et al (2006) An international multicenter study evaluating the impact of an alternative biochemical failure definition on the judgment of prostate cancer risk. Int J Radiat Oncol Biol Phys 65:351–357

10.

Dindo D, Demartines N, Clavien PA (2004) Classification of surgical complications: a new proposal with evaluation in a cohort of 6336 patients and results of a survey. Ann Surg 240:205–213

11.

Sartor AO, Hricak H, Wheeler TM et al (2008) Evaluating localized prostate cancer and identifying candidates for focal therapy. Urology 72:S12–S24

12.

Prepelica KL, Okeke Z, Murphy A et al (2005) Cryosurgical ablation of the prostate: high risk patient outcomes. Cancer 103:1625–1630

13.

Bahn DK, Silverman P, Lee F Sr et al (2006) Focal prostate cryoablation: initial results show cancer control and potency preservation. J Endourol 20:688–692

14.

Lambert EH, Bolte K, Masson P et al (2007) Focal cryosurgery: encouraging health outcomes for unifocal prostate cancer. Urology 69:1117–1120

15.

Potosky AL, Haque R, Cassidy-Bushrow AE et al (2014) Effectiveness of primary androgen-deprivation therapy for clinically localized prostate cancer. J Clin Oncol 32:1324–1330

16.

Wilt TJ, Brawer MK, Jones KM et al (2012) Radical prostatectomy versus observation for localized prostate cancer. N Engl J Med 367:203–213

17.

Massimo V, Hashim UA, Mark E et al (2014) The role of focal therapy in the management of localised prostate cancer: a systematic review. Eur Urol 66:732–751

18.

Bostwick DG, Waters DJ, Farley ER et al (2007) Group consensus reports from the consensus conference on focal treatment of prostatic carcinoma. Urology 70(Suppl):42–44

19.

Jayram G, Eggener SE (2009) Patient selection for focal therapy of localized prostate cancer. Curr Opin Urol 19:268–273

20.

Amling CL, Bergstrahl EJ, Blute ML et al (2001) Defining prostate specific antigen progression after radical prostatectomy: What is the most appropriate cut point? J Urol 165:1146–1151

21.

American Society for Therapeutic Radiology and Oncology Consensus (1997) Panel: consensus statement: guidelines for PSA following radiation therapy. Int J Radiat Oncol Biol Phys 37:1035–1041

22.

D'Amico AV, Schultz D, Lofreddo M et al (2000) Biochemical outcome following external beam radiation therapy with or without androgen suppression therapy for clinically localized prostate cancer. JAMA 284:1280–1283
Acknowledgments
This study was funded by National Natural Science Foundation of China (No. 81000247).
Ethics declarations
Conflict of interest
All of authors declare that we have no conflict of interest.
Ethical standards
All procedures performed in studies involving human participants were in accordance with the ethical standards of the institutional and national research committee and with the 1964 Helsinki Declaration and its later amendments or comparable ethical standards.
Informed consent
Informed consent was obtained from all individual participants included in the study.
Additional information
Huibo Lian and Junlong Zhuang contributed equally to the work.
About this article
Cite this article
Lian, H., Zhuang, J., Yang, R. et al. Focal cryoablation for unilateral low-intermediate-risk prostate cancer: 63-month mean follow-up results of 41 patients. Int Urol Nephrol 48, 85–90 (2016). https://doi.org/10.1007/s11255-015-1140-8
Received:

Accepted:

Published:

Issue Date:
Keywords
Prostatic neoplasms

Carcinoma

Cryoablation

Focal