Abstract
Purpose
Hypocalcemia is one of the common complications after parathyroidectomy (PTX). Severe hypocalcemia (SH) can lead to tetany, cardiac arrhythmia and even sudden death. However, predictors for the development of SH in patients with secondary hyperparathyroidism demonstrated in some small-scale studies with a limited sample size remain inconclusive.
Methods
A retrospective chart review of 420 consecutive dialysis patients who underwent PTX during a 12-year period was performed. We checked serum levels of calcium (Ca), phosphorus (P), alkaline phosphatase (ALP) and intact parathyroid hormone (iPTH) for three consecutive days postoperatively. SH was defined as the minimum values of serum calcium lower than 1.875 mmol/L (7.5 mg/dL) within 3 days after operation.
Results
The mean (±SD) age of our study population was 53 ± 12 years, and more than half (57 %) were female. SH occurred in 37 % of the patients after PTX. Using a multivariate stepwise logistic regression analysis, lower preoperative levels of Ca (odds ratio 0.69, 95 % CI 0.60–0.79, P < 0.001), higher preoperative levels of iPTH (odds ratio 1.04, 95 % CI 1.00–1.07, P = 0.048), P (odds ratio 2.43, 95 % CI 1.49–3.95, P < 0.001) and ALP (odds ratio 1.08, 95 % CI 1.05–1.11, P < 0.001) were found to be independent predictors of occurrence of SH following PTX.
Conclusions
The readily obtainable preoperative laboratory parameters including Ca, iPTH, P, and ALP will allow identification of a subgroup of patients who are at greater risk for the development of SH following PTX.
This is a preview of subscription content, log in to check access.
Access options
Buy single article
Instant access to the full article PDF.
US$ 39.95
Price includes VAT for USA
Subscribe to journal
Immediate online access to all issues from 2019. Subscription will auto renew annually.
US$ 99
This is the net price. Taxes to be calculated in checkout.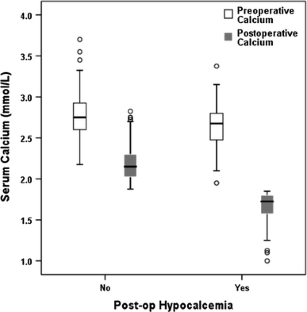 References
1.

Tsai WC, Peng YS, Yang JY, Hsu SP, Wu HY, Pai MF, Chang JF, Chen HY (2013) Short- and long-term impact of subtotal parathyroidectomy on the achievement of bone and mineral parameters recommended by clinical practice guidelines in dialysis patients: a 12-year single-center experience. Blood Purif 36(2):116–121. doi:10.1159/000353415

2.

Kestenbaum B, Andress DL, Schwartz SM, Gillen DL, Seliger SL, Jadav PR, Sherrard DJ, Stehman-Breen C (2004) Survival following parathyroidectomy among United States dialysis patients. Kidney Int 66(5):2010–2016. doi:10.1111/j.1523-1755.2004.00972.x

3.

Sharma J, Raggi P, Kutner N, Bailey J, Zhang R, Huang Y, Herzog CA, Weber C (2012) Improved long-term survival of dialysis patients after near-total parathyroidectomy. J Am Coll Surg 214(4):400–407; discussion 407–408. doi:10.1016/j.jamcollsurg.2011.12.046

4.

Mittendorf EA, Merlino JI, McHenry CR (2004) Post-parathyroidectomy hypocalcemia: incidence, risk factors, and management. Am Surg 70(2):114–119; discussion 119–120

5.

Torer N, Torun D, Torer N, Micozkadioglu H, Noyan T, Ozdemir FN, Haberal M (2009) Predictors of early postoperative hypocalcemia in hemodialysis patients with secondary hyperparathyroidism. Transpl Proc 41(9):3642–3646. doi:10.1016/j.transproceed.2009.06.207

6.

Strickland PL, Recabaren J (2002) Are preoperative serum calcium, parathyroid hormone, and adenoma weight predictive of postoperative hypocalcemia? Am Surg 68(12):1080–1082

7.

Viaene L, Evenepoel P, Bammens B, Claes K, Kuypers D, Vanrenterghem Y (2008) Calcium requirements after parathyroidectomy in patients with refractory secondary hyperparathyroidism. Nephron Clin Pract 110(2):c80–c85. doi:10.1159/000151722

8.

Goldfarb M, Gondek SS, Lim SM, Farra JC, Nose V, Lew JI (2012) Postoperative hungry bone syndrome in patients with secondary hyperparathyroidism of renal origin. World J Surg 36(6):1314–1319. doi:10.1007/s00268-012-1560-x

9.

Brasier AR, Nussbaum SR (1988) Hungry bone syndrome: clinical and biochemical predictors of its occurrence after parathyroid surgery. Am J Med 84(4):654–660

10.

Denda M, Finch J, Slatopolsky E (1996) Phosphorus accelerates the development of parathyroid hyperplasia and secondary hyperparathyroidism in rats with renal failure. Am J Kidney Dis 28(4):596–602

11.

Streja E, Lau WL, Goldstein L, Sim JJ, Molnar MZ, Nissenson AR, Kovesdy CP, Kalantar-Zadeh K (2013) Hyperphosphatemia is a combined function of high serum PTH and high dietary protein intake in dialysis patients. Kidney Intern Suppl 3(5):462–468. doi:10.1038/kisup.2013.96

12.

Sam AH, Dhillo WS, Donaldson M, Moolla A, Meeran K, Tolley NS, Palazzo FF (2011) Serum phosphate predicts temporary hypocalcaemia following thyroidectomy. Clin Endocrinol 74(3):388–393. doi:10.1111/j.1365-2265.2010.03949.x

13.

Ellul D, Townsley RB, Clark LJ (2013) Does the pre-operative serum phosphate level predict early hypocalcaemia following parathyroidectomy for primary hyperparathyroidism? Surgeon 11(3):125–129. doi:10.1016/j.surge.2012.12.002
Conflict of interest
The authors declare that they have no conflict of interest.
About this article
Cite this article
Tsai, W., Peng, Y., Chiu, Y. et al. Risk factors for severe hypocalcemia after parathyroidectomy in prevalent dialysis patients with secondary hyperparathyroidism. Int Urol Nephrol 47, 1203–1207 (2015). https://doi.org/10.1007/s11255-015-1016-y
Received:

Accepted:

Published:

Issue Date:
Keywords
Alkaline phosphatase

Hypocalcemia

Parathyroidectomy

Parathyroid hormone

Phosphorus