Abstract
Purpose
Live related renal donors with urolithiasis are made suitable for renal transplantation in two-stage procedure in most of the centers: first making the donor kidney stone free surgically or by ESWL and then proceeding to renal transplantation. To reduce the cost and morbidity of two surgical procedures in donors, we did a pilot study of removing subcentimeter renal calculi in live donors, after explanting the kidney, during bench surgery.
Materials and methods
We included all prospective renal donors with subcentimeter (4–10 mm) calculi in one kidney in our study (n = 14). All these patients underwent standard donor evaluation and metabolic work up. After the donor nephrectomy, bench retrograde intra-renal surgery (RIRS) with or without pyelotomy was done for stone clearance followed by renal transplantation.
Results
Stone clearance was achieved in 13 out of 14 donors. Donors and recipients were followed for 6–24 months. No stone recurrence or graft dysfunction was seen in the follow-up period.
Conclusion
We concluded that bench RIRS is an excellent modality in the management of small renal calculi in prospective renal donors who are not having metabolically active disease. This reduced the cost and morbidity to the donor and minimized waiting time for transplant.
This is a preview of subscription content, log in to check access.
Access options
Buy single article
Instant access to the full article PDF.
US$ 39.95
Price includes VAT for USA
Subscribe to journal
Immediate online access to all issues from 2019. Subscription will auto renew annually.
US$ 99
This is the net price. Taxes to be calculated in checkout.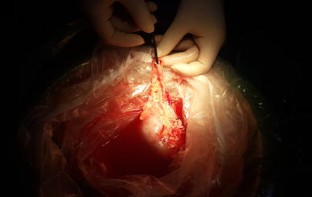 References
1.

Hesse A, Brandle E, Wilbert D et al (2003) Study on the prevalence and incidence of urolithiasis in Germany comparing the years 1979 vs. 2000. Eur Urol 44(6):709–713

2.

Strohmaier WL (2000) Course of calcium stone disease without treatment. What can we expect? Eur Urol 37(3):339–344

3.

Coe FL, Keck J, Norton ER (1977) The natural history of calcium urolithiasis. JAMA 238:1519–1523

4.

Johri N, Cooper B, Robertson W, Choong S, Rickards D, Unwin R (2010) An update and practical guide to renal stone management. Nephron Clin Pract 116:c159–c171

5.

Spivacow FR, Negri AL, Del Valle EE, Calvino I, Zanchetta JR (2010) Clinical and metabolic risk factor evaluation in young adults with kidney stones. Int Urol Nephrol 42:471–475

6.

Kim IK, Tan JC, Lapasia J, Elihu A, Busque S, Melcher ML (2011) Incidental kidney stones: a single center experience with kidney donor selection. Clin Transplant 26:558–563

7.

Martin G, Sundaram CP, Sharfuddin A, Govani M (2007) Asymptomatic urolithiasis in living donor transplant kidneys: initial results. Urology 70:2–5

8.

Martin G, Lipke MC, Sharfuddin A, Govani M, Sundaram P (2007) Asymptomatic unilateral urolithiasis in living donor transplant kidneys. Urology 70:2–5

9.

Ho KLV, Chow G (2005) Prevalence and early outcome of donor graft lithiasis in living renal transplants at the Mayo Clinic. J Urol 173:S439 (abstract 1622)

10.

Kasiske BL, Ravenscraft M, Ramos EL, Gaston RS, Bia MJ, Danovitch GM (1996) The evaluation of living renal transplant donors: clinical practice guidelines: Ad Hoc Clinical Practice Guidelines Subcommittee of the Patient Care and Education Committee of the American Society of Transplant Physicians. J Am Soc Nephrol 7:2288–2313

11.

Simpkins CE, Montgomery RA, Hawxby AM et al (2007) Cold ischemia time and allograft outcomes in live donor renal transplantation: is live donor organ transport feasible? Am J Transplant 7:99–107

12.

Vasdev N, Moir J, Dosani MT et al (2011) Endourological management of urolithiasis in donor kidneys prior to renal transplant. ISRN Urol 2011(242690):1–5

13.

Wong KA, Thomas K, Glass J et al (2011) Incidental renal calculi in potential live kidney donors: prevalence, assessment and role of ex vivo ureteroscopy. Br J Med Surg Urol 4(5):220

14.

Trivedi A, Patel S, Devra A, Rizvi J, Goel R, Modi P (2007) Management of calculi in a donor kidney. Transplant Proc 39:761–762

15.

Devasia A, Chacko N, Gnanaraj L, Cherian R, Gopalakrishnan G (2005) Stone-bearing live-donor kidneys for transplantation. BJU Int 95:394–397

16.

Rashid MG, Konnak JW, Wolf JS et al (2004) Ex vivo ureteroscopic treatment of calculi in donor kidneys at renal transplantation. J Urol 171:58–60

17.

Schade GR, Wolf JS, Faerber GJ (2011) Ex-vivo ureteroscopy at the time of live donor nephrectomy. J Endourol 25:1405–1409

18.

Olsburgh J, Thomas K, Wong K, Bultitude M, Glass J, Rottenberg G, Silas L et al (2013) Incidental renal stones in potential live kidney donors: prevalence, assessment and donation, including role of ex vivo ureteroscopy. BJU Int 111(5):784–792
Conflict of interest
None.
Ethical approval
All procedures performed in this study were in accordance with the ethical standards of the institutional and/or national research committee and with the 1964 Helsinki declaration and its later amendments or comparable ethical standards.
Informed consent
Informed consent was obtained from all individual participants included in the study.
About this article
Cite this article
Pushkar, P., Agarwal, A., Kumar, S. et al. Endourological management of live donors with urolithiasis at the time of donor nephrectomy: a single center experience. Int Urol Nephrol 47, 1123–1127 (2015). https://doi.org/10.1007/s11255-015-1007-z
Received:

Accepted:

Published:

Issue Date:
Keywords
Bench ureteroscopy

Renal transplantation

Ex vivo ureteroscopy