Abstract
Purpose
No safe ultrasound (US) parameters have been established to differentiate the causes of graft dysfunction.
Objectives
To define US parameters and identify the predictors of normal graft evolution, delayed graft function (DGF), and rejection at the early period after kidney transplantation.
Methods
Between June 2012 and August 2013, 79 renal transplant recipients underwent US examination 1–3 days posttransplantation. Resistive index (RI), power Doppler (PD), and RI + PD (quantified PD) were assessed. Patients were allocated into three groups: normal graft evolution, DGF, and rejection.
Results
Resistive index of upper and middle segments and PD were higher in the DGF group than in the normal group. ROC curve analysis revealed that RI + PD was the index that best correlated with DGF (cutoff = 0.84). In the high RI + PD group, time to renal function recovery (6.33 ± 6.5 days) and number of dialysis sessions (2.81 ± 2.8) were greater than in the low RI + PD group (2.11 ± 5.3 days and 0.69 ± 1.5 sessions, respectively), p = 0.0001. Multivariate analysis showed that high donor final creatinine with a relative risk (RR) of 19.7 (2.01–184.7, p = 0.009) and older donor age (RR = 1.17 (1.04–1.32), p = 0.007) correlated with risk DGF.
Conclusions
Quantified PD (RI + PD) was the best DGF predictor. PD quantification has not been previously reported .
This is a preview of subscription content, log in to check access.
Access options
Buy single article
Instant access to the full article PDF.
US$ 39.95
Price includes VAT for USA
Subscribe to journal
Immediate online access to all issues from 2019. Subscription will auto renew annually.
US$ 99
This is the net price. Taxes to be calculated in checkout.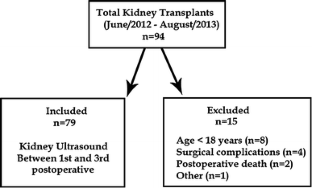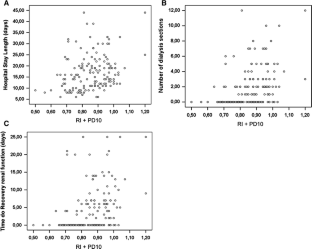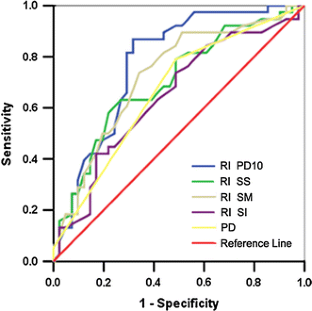 References
1.

Jimenez C, Lopez MO, Gonzalez E, Selgas R (2009) Ultrasonography in kidney transplantation: values and new developments. Transplant Rev (Orlando) 23(4):209–213

2.

Friedewald SM, Molmenti EP, Friedewald JJ, Dejong MR, Hamper UM (2005) Vascular and nonvascular complications of renal transplants: sonographic evaluation and correlation with other imaging modalities, surgery, and pathology. J Clin Ultrasound 33(3):127–139

3.

Irshad A, Ackerman S, Sosnouski D, Anis M, Chavin K, Baliga P (2008) A review of sonographic evaluation of renal transplant complications. Curr Probl Diagn Radiol 37(2):67–79

4.

Rubin JM, Bude RO, Carson PL, Bree RL (1994) Power Doppler US: a potentially useful alternative to mean frequency-based color Doppler US. Radiology 190(3):853–856

5.

Lechevallier E, Dussol B, Luccioni A, Thirion X, Vacher-Copomat H, Jaber K et al (1998) Posttransplantation acute tubular necrosis: risk factors and implications for graft survival. Am J Kidney Dis 32(6):984–991

6.

Kamali K, Abbasi MA, Ani A, Zargar MA, Shahrokh H (2012) Renal transplantation in allografts with multiple versus single renal arteries. Saudi J Kidney Dis Transplant 23(2):246–250

7.

Baxter GM, Rodger RS (1997) Doppler ultrasound in renal transplantation. Nephrol Dial Transplant 12(11):2449–2451

8.

Dunn EK (1992) Radioisotopic evaluation of renal transplants. Urol Radiol 14(2):115–126

9.

Aktaş A (2014) Transplanted kidney function evaluation. Semin Nucl Med 44(2):129–145

10.

Silva DM, Garcia JP, Ribeiro AR, Veronese FJ, Edelweiss MI, Gonçalves LF et al (2007) Utility of biopsy in kidney transplants with delayed graft function and acute dysfunction. Transplant Proc 39(2):376–377

11.

Pascual M, Vallhonrat H, Cosimi AB, Tolkoff-Rubin N, Colvin RB, Delmonico FL et al (1999) The clinical usefulness of the renal allograft biopsy in the cyclosporine era: a prospective study. Transplantation 67(5):737–741

12.

Pallardó Mateu LM, Sancho Calabuig A, Capdevila Plaza L, Franco Esteve A (2004) Acute rejection and late renal transplant failure: risk factors and prognosis. Nephrol Dial Transplant 19(3):38–42

13.

Hetzel GR, Klein B, Brause M, Westhoff A, Willers R, Sandmann W et al (2002) Risk factors for delayed graft function after renal transplantation and their significance for long-term clinical outcome. Transpl Int 15(1):10–16

14.

Koning OH, Ploeg RJ, van Bockel JH, Groenewegen M, van der Woude FJ, Persijn GG et al (1997) Risk factors for delayed graft function in cadaveric kidney transplantation: a prospective study of renal function and graft survival after preservation with University of Wisconsin solution in multi-organ donors. European multicenter study group. Transplantation 63(11):1620–1628

15.

Tranquart F, Lebranchu Y, Haillot O, Pourcelot D, Grezard O, Pourcelot L (1993) The use of perioperative Doppler ultrasound as a screening test for acute tubular necrosis. Transpl Int 6(1):14–17

16.

Naesens M, Heylen L, Lerut E, Claes K, De Wever L, Claus F et al (2013) Intrarenal resistive index after renal transplantation. N Engl J Med 369(19):1797–1806

17.

Chudek J, Kolonko A, Król R, Ziaja J, Cierpka L, Wiecek A (2006) The intrarenal vascular resistance parameters measured by duplex Doppler ultrasound shortly after kidney transplantation in patients with immediate, slow, and delayed graft function. Transplant Proc 38(1):42–45

18.

Chow L, Sommer FG, Huang J, Li KC (2001) Power Doppler imaging and resistance index measurement in the evaluation of acute renal transplant rejection. J Clin Ultrasound 29(9):483–490

19.

Wang HK, Chou YH, Yang AH, Chiou SY, Chiou HJ, Wu TH et al (2008) Evaluation of cortical perfusion in renal transplants: application of quantified power Doppler ultrasonography. Transplant Proc 40(7):2330–2332

20.

Shebel HM, Akl A, Dawood A, El-Diasty TA, Shokeir AA, Ghoneim MA (2014) Power Doppler sonography in early renal transplantation: does it differentiate acute graft rejection from acute tubular necrosis? Saudi J Kidney Dis Transplant 25(4):733–740
About this article
Cite this article
Contti, M.M., Garcia, P.D., Kojima, C.A. et al. Quantified power Doppler as a predictor of delayed graft function after renal transplantation. Int Urol Nephrol 47, 405–412 (2015). https://doi.org/10.1007/s11255-014-0896-6
Received:

Accepted:

Published:

Issue Date:
Keywords
Power Doppler

Resistive index

AKI

Delayed graft function

Renal transplantation