Abstract
Purpose
To evaluate the midterm outcomes of protection for upper urinary tract (UUT) function by augmentation enterocystoplasty (AE) using a grading system for upper urinary tract dilation (UUTD) and a descriptive system for all urinary tract dysfunction (AUTD) in patients with neurogenic bladder.
Methods
We retrospectively reviewed 120 cases of AE from our database, which was collected between 2005 and 2013. UUTD grading system was developed by magnetic resonance urography (MRU), and AUTD system was described by video-urodynamics, MRU, isotope renography, etc. UUT function was evaluated by these systems before operation, and at 6, 12, 24 and 36 months postoperatively. The indication, midterm outcomes and complications were evaluated.
Results
All patients had significant improvement for urodynamic parameters at 6 months postoperatively. Comparing the grades of UUTD and vesicoureteral reflux (VUR) before and after operation, the median grade of 95 UUTD ureters decreased from 3 to 0, and the percentage of 0 grade UUTD increased from 0 to 90.9 % at 36 months. The median grade of 96 VUR ureters decreased from 3 to 0, and the percentage of 0 grade VUR increased from 0 to 98.6 % at 36 months. The glomerular filtration rate of kidneys and serum creatinine level of patients had an increasing improvement after surgery.
Conclusions
The midterm follow-up using UUTD and AUTD systems indicates that AE is effective and safe for UUT protection. The patients with moderate and severe UUT deteriorations and renal function impairment resulting from VUR and UUTD have undergone the increasing improvement.
This is a preview of subscription content, log in to check access.
Access options
Buy single article
Instant access to the full article PDF.
US$ 39.95
Price includes VAT for USA
Subscribe to journal
Immediate online access to all issues from 2019. Subscription will auto renew annually.
US$ 99
This is the net price. Taxes to be calculated in checkout.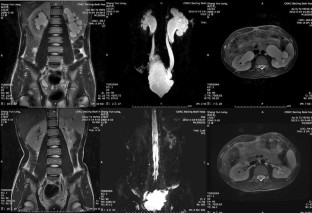 References
1.

Biers SM, Venn SN, Greenwell TJ (2012) The past, present and future of augmentation cystoplasty. BJU Int 109:1280–1293

2.

DeFoor W, Minevich E, McEnery P et al (2003) Lower urinary tract reconstruction is safe and effective in children with end stage renal disease. J Urol 170:1497–1500

3.

Zhang F, Liao L (2012) Sigmoidocolocystoplasty with ureteral reimplantation for treatment of neurogenic bladder. Urology 80:440–445

4.

Duckett JW, Bellinger MF (1982) A plea for standardized grading of vesicoureteral reflux. Eur Urol 8:74–77

5.

Fernbach SK, Maizels M, Conway JJ (1993) Ultrasound grading of hydronephrosis: introduction to the system used by the Society for Fetal Urology. Pediatr Radiol 23:478–480

6.

Abrams P, Cardozo L, Fall M et al (2002) The standardisation of terminology of lower urinary tract function. Neurourol Urodyn 21:167–178

7.

Liao LM (2010) A plea for classification of comprehensive urinary tract dysfunction for neurogenic bladder. Chin J Rehabil Theory Pract 16:1101–1102 (in Chinese)

8.

Liao LM, Zhang F (2012) Upper urinary tract dilation in the neurogenic bladder. In: Santucci RA, Chen M (eds) Urethers: anatomy physiology and disorders. Nova Science Publishers, New York, pp 99–110

9.

Liao LM, Zhang F, Chen GQ (2014) New grading system for upper urinary tract dilation using magnetic resonance urography in patients with neurogenic bladder. BMC Urol 14:38–44

10.

Kim SY, Kim MJ, Yoon CS et al (2013) Comparison of the reliability of two hydronephrosis grading systems: the Society for Foetal Urology grading system vs. the Onen grading system. Clin Radiol 68:484–490

11.

Hayashi Y, Yamataka A, Kaneyama K et al (2006) Review of 86 patients with myelodysplasia and neurogenic bladder who underwent sigmoidocolocystoplasty and were followed more than 10 years. J Urol 176:1806–1809

12.

Keays MA, Guerra LA, Mihill J et al (2008) Reliability assessment of society for fetal urology ultrasound grading system for hydronephrosis. J Urol 180:1680–1683

13.

Alfrey EJ, Salvatierra O Jr, Tanney DC et al (1997) Bladder augmentation can be problematic with renal failure and transplantation. Pediatr Nephrol 11:672–675

14.

Ivancić V, Defoor W, Jackson E et al (2010) Progression of renal insufficiency in children and adolescents with neuropathic bladder is not accelerated by lower urinary tract reconstruction. J Urol 184(4 Suppl):1768–1774

15.

Greenwell TJ, Venn SN, Mundy AR (2001) Augmentation cystoplasty. BJU Int 88:511–525

16.

Skinner DG, Studer UE, Okada K et al (1995) Which patients are suitable for continent diversion or bladder substitution following cystectomy or other definite local treatment? Int J Urol 2(Suppl 2):105–112

17.

Chen JL, Kuo HC (2009) Long-term outcomes of augmentation enterocystoplasty with an ileal segment in patients with spinal cord injury. J Formos Med Assoc 108:475–480

18.

Juhasz Z, Somogyi R, Vajda P et al (2008) Does the type of bladder augmentation influence the resolution of pre-existing vesicoureteral reflux? Urodynamic studies. Neurourol Urodyn 27:412–416

19.

N'Dow J, Leung HY, Marshall C et al (1998) Bowel dysfunction after bladder reconstruction. J Urol 159:1470–1474

20.

Shekarriz B, Upadhyay J, Demirbilek S et al (2000) Surgical complications of bladder augmentation: comparison between various enterocystoplasties in 133 patients. Urology 55:123–128
Acknowledgments
This study was supported by grants from the China National Key Technology R&D Program (No. 2012BAI34B02).
Conflict of interest
None.
About this article
Cite this article
Liao, L., Zhang, F. & Chen, G. Midterm outcomes of protection for upper urinary tract function by augmentation enterocystoplasty in patients with neurogenic bladder. Int Urol Nephrol 46, 2117–2125 (2014). https://doi.org/10.1007/s11255-014-0782-2
Received:

Accepted:

Published:

Issue Date:
Keywords
Upper urinary tract dysfunction

Augmentation enterocystoplasty

Follow-up

Neurogenic bladder

Magnetic resonance urography