Abstract
Purpose
Although the use of kidney allografts from expanded criteria donors (ECD) has increased in recent years, the reported discard rates are also growing. The influence of ECD characteristics on transplant outcomes is still underevaluated.
Methods
This retrospective study investigated the influence of preimplantation biopsy findings and delayed graft function (DGF) on patient and graft survivals and renal function at 36 months in a cohort of 372 ECD kidney transplant recipients.
Results
Patient and graft survivals were 91.6 and 68.9 %. The incidence of biopsy-proven acute rejection was 31 %. There were no differences in patient (88.6 vs. 91.1 vs. 94.7 vs. 78.6 %, p = 0.10) or graft (78.1 vs. 72.2 vs. 60.5 vs. 62.6 %, p = 0.14) survivals and renal function (41.7 ± 25.6 vs. 39.9 ± 29.9 vs. 38.1 ± 30.6 vs. 37.4 ± 29.2 mL/min, p = 0.79) comparing ECD kidneys with mild, moderate, and severe histological changes or with no preimplantation biopsy, respectively. However, severe scored transplants had the worst death-censored graft survival (OR 3.1, 95 % CI 1.4–6.9, p = 0.007). No significant differences in patient (86.2 vs. 83.4 %, p = 0.17) or graft (73.7 vs. 65.9 %, p = 0.06) survivals and renal function (38.9 ± 28.6 vs. 39.9 ± 28.4 mL/min, p = 0.72) were observed comparing patients with or without DGF. Multivariable analysis found diabetes history as the only independent risk factor for graft loss (OR 2.1, 95 % CI 1.3–3.3, p = 0.003) or patient death (OR 3.1, 95 % CI 1.5–5.8, p < 0.001).
Conclusions
Within the limitations of sample size and short follow-up time, in this cohort of ECD kidney transplant recipients the severity of histological changes observed in preimplantation biopsies was independently associated with graft loss.
This is a preview of subscription content, log in to check access.
Access options
Buy single article
Instant access to the full article PDF.
US$ 39.95
Price includes VAT for USA
Subscribe to journal
Immediate online access to all issues from 2019. Subscription will auto renew annually.
US$ 99
This is the net price. Taxes to be calculated in checkout.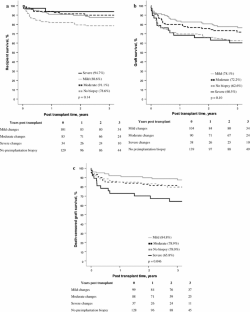 References
1.

Port FK, Bragg-Gresham JL, Metzger RA et al (2002) Donor characteristics associated with reduced graft survival: an approach to expanding the pool of kidney donors. Transplantation 74:1281–1286

2.

Metzger RA, Delmonico FL, Feng S, Port FK, Wynn JJ, Merion RM (2003) Expanded criteria donors for kidney transplantation. Am J Transplant 3(Suppl 4):114–125

3.

Rao PS, Ojo A (2009) The alphabet soup of kidney transplantation: SCD, DCD, ECD–fundamentals for the practicing nephrologist. Clin J Am Soc Nephrol 4:1827–1831

4.

Pascual J, Zamora J, Pirsch JD (2008) A systematic review of kidney transplantation from expanded criteria donors. Am J Kidney Dis 52(3):553–586

5.

Organ Procurement and Transplant Network. Wait list and transplant activity for liver, kidney, heart, and lung also in full set of slides, 1999–2008. www.ustransplant.org. Accessed 16 Aug 2011

6.

Rao PS, Schaubel DE, Guidinger MK et al (2009) A comprehensive risk quantification score for deceased donor kidneys: the kidney donor risk index. Transplantation 88(2):231–236

7.

Remuzzi G, Cravedi P, Perna A et al (2006) Long-term outcome of renal transplantation from older donors. N Engl J Med 354(4):343–352

8.

Fernandez-Lorente L, Riera L, Bestard O et al (2012) Long-term results of biopsy-guided selection and allocation of kidneys from older donors in older recipients. Am J Transplant 12:2781–2788

9.

Munivenkatappa RB, Schweitzer EJ, Papadimitriou JB et al (2008) The maryland aggregate pathology index: a deceased donor kidney biopsy scoring system for predicting graft failure. Am J Transplant 8:2316–2324

10.

Kayler LK, Magliocca J, Zendejas I et al (2011) Impact of cold ischemia time on graft survival among ECD transplant recipients: a paired kidney analysis. Am J Transplant 11:2647–2656

11.

Treckmann J, Moers C, Smits JM et al (2011) Machine perfusion versus cold storage for preservation of kidneys from expanded criteria donors after brain death. Transpl Int 24(6):548–554

12.

Flechner SM, Kobashigawa J, Klintmalm G (2008) Calcineurin inhibitor-sparing regimens in solid organ transplantation: focus on improving renal function and nephrotoxicity. Clin Transplant 22(1):1–15

13.

Siedlecki A, Irish W, Brennan DC (2011) Delayed graft function in the kidney transplant. Am J Transplant 11(11):2279–2296

14.

Gagandeep S, Matsuoka L, Mateo R et al (2006) Expanding the donor kidney pool: utility of renal allografts procured in a setting of uncontrolled cardiac death. Am J Transplant 6(7):1682–1688

15.

Racusen LC, Solez K, Colvin RB et al (1999) The Banff 97 working classification of renal allograft pathology. Kidney Int 55(2):713–723

16.

Cockcroft DW, Gault MH (1976) Prediction of creatinine clearance from serum creatinine. Nephron 16:31–41

17.

Remuzzi G, Grinyo J, Ruggenenti P et al (1999) Early experience with dual kidney transplantation in adults using expanded donor criteria. J Am Soc Nephrol 10:2591–2598

18.

Sung RS, Guidinger MK, Lake CD et al (2005) Impact of the expanded criteria donor allocation system on the use of expanded criteria donor kidneys. Transplantation 79(9):1257–1261

19.

Carter JT, Chan S, Roberts JP, Feng S (2005) Expanded criteria donor kidney allocation: marked decrease in cold ischemia and delayed graft function at a single center. Am J Transplant 5:2745–2753

20.

Glyda M, Wlodarczyk Z, Czapiewski W (2012) Results of renal transplantation from expanded criteria deceased donors—a single center experience. Ann Transplant 17(1):35–42

21.

Scientific Registry of Transplant Recipients (2012). Aggregate National Report for kidney transplants, March. www.srtr.org. Accessed 9 Feb 2013

22.

Khan TT, Akhtar F, Makni H (2013) ECD kidneys and re-transplantation. Ann Transplant 18:654–655

23.

La Manna G, Comai G, Cappuccilli ML, Liviano D'Arcangelo G, Fabbrizio B, Valentini C, Carretta E, Ravaioli M, Scolari MP, Ridolfi L, Feliciangeli G, Grigioni FW, Pinna AD, Stefoni S (2013) Prediction of three-year outcome of renal transplantation from optimal donors versus expanded criteria donors. Am J Nephrol 37(2):158–166

24.

Martínez-Vaquera S, Navarro Cabello MD, López-Andreu M, Jurado JMD, Haad CR, Salas RO et al (2013) Outcomes in renal transplantation with expanded-criteria donors. Transplant Proc 45(10):3595–3598

25.

Hofer J, Regele H, Böhmig GA, Gutjahr G, Kikić Z, Mühlbacher F, Kletzmayr J (2013) Pre-implant biopsy predicts outcome of single-kidney transplantation independent of clinical donor variables. Transplantation. Nov 26. (Epub ahead of print)

26.

Ramalho AL, Custodio FB, Tokuda BM, Caldas HC, Fernandes IM, Abbud-Filho M et al (2013) Clinical and histopathologic comparative analysis between kidney transplant recipients from expanded-criteria donors and standard-criteria donors. Transplant Proc 45(9):3234–3238

27.

Arnau A, Rodrigo E, Miñambres E, Ruiz JC, Ballesteros MA, Piñera C et al (2012) Prediction of kidney transplant outcome by donor quality scoring systems: expanded criteria donor and deceased donor score. Transplant Proc 44(9):2555–2557

28.

Pierobon ES, Sandrini S, De Fazio N, Rossini G, Fontana I, Boschiero L et al (2013) Optimizing utilization of kidneys from deceased donors over 60 years: five-year outcomes after implementation of a combined clinical and histological allocation algorithm. Transpl Int 26(8):833–841. Erratum in: Transpl Int 26(11):e109. (multiple author names corrected)

29.

Merion RM, Ashby VB, Wolfe RA et al (2005) Deceased-donor characteristics and the survival benefit of kidney transplantation. JAMA 294(21):2726–2733

30.

Anglicheau D, Loupy A, Lefaucheur C et al (2008) A simple clinico-histopathological composite scoring system is highly predictive of graft outcomes in marginal donors. Am J Transplant 8:2325–2334

31.

Smail N, Tchervenkov J, Paraskevas S, Baran D, Mucsi I, Hassanain M, Chaudhury P, Cantarovich M (2013) Impact of early graft function on 10-year graft survival in recipients of kidneys from standard- or expanded-criteria donors. Transplantation 96(2):176–181

32.

Balaz P, Rokosny S, Wohlfahrtova M, Wohlfahrt P, Bartonova A, Pokorna E et al (2013) Identification of expanded-criteria donor kidney grafts at lower risk of delayed graft function. Transplantation 96(7):633–638

33.

Frei U, Noeldeke J, Machold-Fabrizii V et al (2008) Prospective age-matching in elderly kidney transplant recipients: a 5-year analysis of the Eurotransplant Senior Program. Am J Transplant 8(1):50–57

34.

Giessing M, Fuller TF, Friedersdorff F et al (2009) Outcomes of transplanting deceased-donor kidneys between elderly donors and recipients. J Am Soc Nephrol 20(1):37–40

35.

Cosio FG, Hickson LJ, Griffin MD, Stegall MD, Kudva Y (2008) Patient survival and cardiovascular risk after kidney transplantation: the challenge of diabetes. Am J Transplant 8:593–599
Conflict of interest
The authors declare that they have no conflict of interest.
About this article
Cite this article
Assis-Borba, L., Cristelli, M.P., Paula, M.I. et al. Expanding the use of expanded criteria donors in kidney transplantation. Int Urol Nephrol 46, 1663–1671 (2014). https://doi.org/10.1007/s11255-014-0695-0
Received:

Accepted:

Published:

Issue Date:
Keywords
Expanded criteria donors

Graft histology

Kidney transplantation

Survival