Abstract
Objectives
To determine the metabolic risk factors in children and adults with urinary system stone disease.
Materials and methods
Between September 2008 and February 2011, 257 patients who underwent 24-h urine analysis because of urinary system stone disease were included in the present study. Group I and II include only adult patients. The first-time stone formers were named as Group I (n = 106), and recurrent stone formers were named as Group II (n = 107). Group III was occurred by pediatric patients (n = 44). Control group includes 105 people was called as Group IV. This group was divided into two subgroups. Group IVa includes 70 adult people, and Group IVb includes 35 children. The metabolic evaluation results of patients and control groups were compared.
Results
Hypercalciuria (35.8, 44.9, and 47.7 % for Group I, II, and III, respectively) and hypocitraturia (42.5, 40.2, and 50 % for Group I, II, and III, respectively) were most common risk factors for stone formation. However, unlike the literature, we have seen that hypomagnesiuria is also an important risk factor in adults and children. Hypomagnesiuria was defined at 36.4 % in Group I, 29 % in Group II, and 56.8 % in Group III (p < 0.05 for each group). These three parameters were significantly different between patient and control groups.
Conclusions
Hypomagnesiuria, hypocitraturia, and hypercalciuria are the most important risk factors for stone formation in adults and pediatric patients.
This is a preview of subscription content, log in to check access.
Access options
Buy single article
Instant access to the full article PDF.
US$ 39.95
Price includes VAT for USA
Subscribe to journal
Immediate online access to all issues from 2019. Subscription will auto renew annually.
US$ 99
This is the net price. Taxes to be calculated in checkout.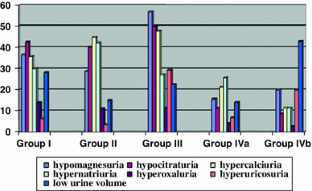 References
1.

Bandi G, Nakada SY, Penniston KL (2008) Practical approach to metabolic evaluation and treatment of the recurrent stone patient. WMJ 107:91–100

2.

Pearle MS, Lotan Y (2012) Urinary lithiasis: etiology, epidemiology and pathogenesis. In: Wein AJ, Kavoussi LR, Novick AC, Partin AW, Peters CA (eds) Campbell-Walsh urology, 10th edn. Saunders Elsevier, Philadelphia, pp 1257–1410

3.

Ferrari P, Piazza R, Ghidini N et al (2007) Lithiasis and risk factors. Urol Int 79:8–15

4.

Muslumanoglu AY, Binbay M, Yuruk E et al (2011) Updated epidemiologic study of urolithiasis in Turkey. I: changing characteristics of urolithiasis. Urol Res 39:309–314

5.

Erbagci A, Erbagci AB, Yilmaz M et al (2003) Pediatric urolithiasis-evaluation of risk factors in 95 children. Scand J Urol Nephrol 37:129–133

6.

Ljunghall S, Danielson BG (1984) A prospective study of renal stone recurrences. Br J Urol 56:122–124

7.

Oğuz U, Unsal A (2013) The efficacy of medical prophylaxis in children with calcium oxalate urolithiasis after percutaneous nephrolithotomy. J Endourol 27(1):92–95. doi:10.1089/end.2012.0243

8.

Ertan P, Tekin G, Oger N et al (2011) Metabolic and demographic characteristics of children with urolithiasis in Western Turkey. Urol Res 39:105–110

9.

Saita A, Bonaccorsi A, Motta M (2007) Stone composition: where do we stand? Urol Int 79:16–19

10.

Park S (2007) Medical management of urinary stone disease. Expert Opin Pharmacother 8:1117–1125

11.

Goyal M, Grossberg RI, O'Riordan MA et al (2009) Urolithiasis with topiramate in nonambulatory children and young adults. Pediatr Neurol 40:289–294

12.

Rivers K, Shetty S, Menon M (2000) When and how to evaluate a patient with nephrolithiasis. Urol Clin North Am 27:203–213

13.

Amaro CR, Goldberg J, Amaro JL et al (2005) Metabolic assessment in patients with urinary lithiasis. Int Braz J Urol 31:29–33

14.

Hess B, Hasler-Strub U, Acherman D et al (1997) Metabolic evaluation of patients with recurrent idiopathic calcium nephrolithiasis. Nepfrol Dial Transplant 12:1362–1368

15.

Spivacow FR, Negri AL, del Valle EE et al (2008) Metabolic risk factors in children with kidney stone disease. Pediatr Nephrol 23:1129–1133

16.

Serra A, Domingos F, Salgueiro C et al (2004) Metabolic evaluation of recurrent idiopathic calcium stone disease in Portugal. Acta Med Port 17:27–34

17.

Tefekli A, Esen T, Ziylan O et al (2003) Metabolic risk factors in pediatric and adult calcium oxalate urinary stone formers: is there any difference? Urol Int 70:273–277

18.

Spivacow FR, Negri AL, del Valle EE et al (2010) Clinical and metabolic risk factor evaluation in young adults with kidney stones. Int Urol Nephrol 42:471–475

19.

Alpay H, Ozen A, Gokce I et al (2009) Clinical and metabolic features of urolithiasis and microlithiasis in children. Pediatr Nephrol 24:2203–2209

20.

Park S, Pearle MS (2007) Pathophysiology and management of calcium stones. Urol Clin North Am 34:323–334

21.

Glémain P, Prunet D (2006) Identification of lithogenic risk factors by a simplified first-line laboratory assessment in urinary calculi patients. Prog Urol 16:542–545

22.

Sarica K (2006) Pediatric urolithiasis: etiology, specific pathogenesis and medical treatment. Urol Res 34:96–101

23.

Gürgöze MK, Sarı MY (2011) Results of medical treatment and metabolic risk factors in children with urolithiasis. Pediatr Nephrol 26:933–937

24.

Hosseini MM, Eshraghian A, Dehghanian I et al (2010) Metabolic abnormalities in patients with nephrolithiasis: comparison of first-episode with recurrent cases in Southern Iran. Int Urol Nephrol 42:127–131

25.

Dursun I, Poyrazoglu HM, Dusunsel R et al (2008) Pediatric urolithiasis: an 8-year experience of single centre. Int Urol Nephrol 40:3–9

26.

Stitchantrakul W, Kochakarn W, Ruangraksa C et al (2007) Urinary risk factors for recurrent calcium stone formation in Thai stone formers. J Med Assoc Thai 90:688–698

27.

Lande MB, Varade W, Erkan E et al (2005) Role of urinary supersaturation in the evaluation of children with urolithiasis. Pediatr Nephrol 20:491–494

28.

Battino BS, DeFOOR W, Coe F et al (2002) Metabolic evaluation of children with urolithiasis: are adult references for supersaturation appropriate? J Urol 168:2568–2571

29.

Lancina Martín JA, Rodríguez-Rivera García J, Novás Castro S et al (2002) Metabolic risk factors in calcium urolithiasis according to gender and age of the patients. Actas Urol Esp 26:111–120

30.

Goldfarber David S (1999) Prevention of recurrent nephrolithiasis. Am Fam Physician 60:2269–2276

31.

Pietrow PK, Pope JC 4th, Adams MC et al (2002) Clinical outcome of pediatric stone disease. J Urol 167:670–673
Conflict of interest
The authors declare that they have no conflict of interest.
About this article
Cite this article
Oğuz, U., Resorlu, B. & Unsal, A. Metabolic evaluation of patients with urinary system stone disease: a research of pediatric and adult patients. Int Urol Nephrol 46, 329–334 (2014). https://doi.org/10.1007/s11255-013-0539-3
Received:

Accepted:

Published:

Issue Date:
Keywords
Metabolic evaluation

Risk factors

Urolithiasis