Abstract
Background
Kidney transplantation is the best option for the treatment of end-stage renal disease in terms of survival and quality of life. These results can be influenced by the pretransplant dialysis modality. The aim of this study was to evaluate whether the pretransplantation dialysis modality influences patient and allograft survival beyond 10 years and examine the potential risk factors associated with the outcomes.
Methods
We conducted an observational, retrospective, single-center clinical study that included 236 patients [118 undergoing peritoneal dialysis (PD) and 118 undergoing hemodialysis (HD)] who proceeded to transplantation during the period December 1990–2002. Donor and recipient data were collected from our hospital's clinical registries. The follow-up period extended to the patient's death, the loss of the allograft, or loss to follow-up. The end date of the study was set at March 2012.
Results
In the multivariate analysis, the long-term patient survival rate was higher for the PD group than for the HD group [HR = 2.62 (1.01–6.8); p = 0.04]; however, the allograft survival rate was not significantly different between the two groups [HR = 0.68 (0.41–1.10); p = 0.12].
Conclusion
Pretransplantation dialysis modality is associated with long-term patient survival, with outcomes favoring peritoneal dialysis over hemodialysis. However, the pretransplant dialysis modality does not influence long-term graft loss risk.
This is a preview of subscription content, log in to check access.
Access options
Buy single article
Instant access to the full article PDF.
US$ 39.95
Price includes VAT for USA
Subscribe to journal
Immediate online access to all issues from 2019. Subscription will auto renew annually.
US$ 99
This is the net price. Taxes to be calculated in checkout.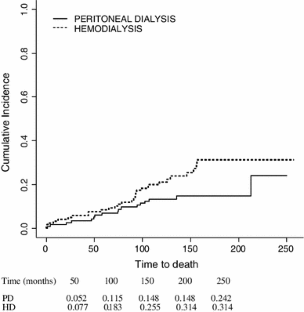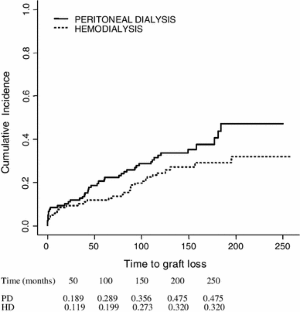 References
1.

Domínguez-Gil B, de la Valentín MO, Martín EM, Cruzado JM, Pascual J, Fernández FG (2010) Present situation of living-donor kidney transplantation in Spain and other countries: past, present and future of an excellent therapeutic option. Nefrologia 30(suppl 2):3–13

2.

Ohtani S, Komatsuda A, Satoh S, Tsuchiya N, Sato K, Habuchi HT, Kato T (2004) Influence of pretransplant dialysis modality on the change of lymphocyte subset populations and acute rejection rates after renal transplantation. Int J Urol 11:825–830

3.

Fontán MP, Rodríguez-Carmona A, Falcón TG, Moncalián J, Oliver J, Valdés F (1996) Renal transplantation in patients undergoing chronic peritoneal dialysis. Perit Dial Int 16:48–51

4.

Bleyer AJ, Burkart JM, Russell GB, Adams PL (1999) Dialysis modality and delayed graft function after cadaveric renal transplantation. J Am Soc Nephrol 10:154–159

5.

Caliskan Y, Yazici H, Gorgulu N, Yelken B, Emre T, Turkmen A et al (2009) Effect of pre transplant dialysis modality on kidney transplantation outcome. Perit Dial Int 29:S117–S122

6.

Snyder JJ, Kasiske BL, Gilbertson DT, Collins AJ (2002) A comparison of transplant outcomes in peritoneal and hemodialysis patients. Kidney Int 62:1423–1430

7.

Sezer S, Karakan S, Özdemir Acar FN, Haberal M (2011) Dialysis as a bridge therapy to renal transplantation: comparison of graft outcomes according to mode of dialysis treatment. Transpl Proc 43:485–487

8.

Freitas C, Fructuoso M, Martins LS, Almeida M, Pedroso S, Dias L et al (2011) Posttransplant outcomes of peritoneal dialysis versus hemodialysis patients. Transpl Proc 43:113–116

9.

Yang Q, Zhao S, Chen W, Mao H, Huang F, Zheng Z et al (2009) Influence of dialysis modality on renal transplant complications and outcomes. Clin Nephrol 72:62–68

10.

Molnar MZ, Mehrotra R, Duong U, Bunnapradist S, Lukowsky LR, Krishnan M et al (2012) Dialysis modality and outcomes in kidney transplant recipients. Clin J Am Soc Nephrol 7:332–341

11.

Van Loo AA, Vanholder RC, Bernaert PR, Vermassen FE, Van der Vennet M, Lameire H (1998) Pretransplantation hemodialysis strategy influences early renal graft function. J Am Soc Nephrol 9:473–481

12.

O'Donoghue D, Manos J, Pearson R, Scott P, Bakran A, Johnson R et al (1992) Continuous ambulatory peritoneal dialysis and renal transplantation: a 10-year experience in a single center. Perit Dial Int 12:242–249

13.

Goldfarb-Rumyantzev AS, Hurdle JF, Scandling JD, Baird BC, MStat MS, Alfred K, Cheung AK (2005) The role of pretransplantation renal replacement therapy modality in kidney allograft and recipient survival. Am J Kidney Dis 46:537–549

14.

Schwenger V, Döhler B, Morath C, Zeier M, Opelz G (2011) The role of pretransplant dialysis modality on renal allograft outcome. Nephrol Dial Transpl 26:3761–3766

15.

von Elm E, Altman DG, Egger M, Pocock SJ, Gøtzsche PC, Vandenbroucke JP (2007) For the STROBE initiative. The strengthening the reporting of observational studies in epidemiology (STROBE) statement: guidelines for reporting observational studies. Ann Intern Med 147:573–577

16.

McDonald SP, Marshall MR, Johnson DW, Polkinghorne KR (2009) Relationship between dialysis modality and mortality. J Am Soc Nephrol 20:155–163

17.

Lievense H, Kalantar-Zadeh K, Lukowsky LR, Molnar MZ, Duong U, Nissenson A et al (2012) Relationship of body size and initial dialysis modality on subsequent transplantation, mortality and weight gain of ESRD patients. Nephrol Dial Transpl 27:3631–3638

18.

Escuin F, Del Peso G, Pérez FM, Rodriguez-Carmona A, Martínez A, Lanuza M et al (1996) A comparative survey on the incidence of kidney graft primary vascular thrombosis among CAPD and haemodialysis patients [letter]. Nephrol Dial Transpl 11:1896–1897

19.

Fontán MP, Rodríguez-Carmona A, Falcón TG, Tresancos C, Bouza P, Valdés F (1998) Peritoneal dialysis is not a risk factor for primary vascular graft thrombosis after renal transplantation. Perit Dial Int 18:311–316

20.

Murphy BG, Hill CM, Middleton D, Doherty CC, Brown JH, Nelson WE et al (1994) Increased renal allograft thrombosis in CAPD patients. Nephrol Dial Transpl 9(8):1166–1169

21.

Vanholder R, Heering P, Van Loo A, Van Biesen W, Lambert MC, Hesse U et al (1999) Reduced incidence of acute renal graft failure in patients treated with peritoneal dialysis compared with hemodialysis. Am J Kidney Dis 33:934–940

22.

Marlies N, Jager KJ (2012) Survival comparisons between hemodialysis and peritoneal dialysis. Nephrol Dial Transpl 27:3385–3387
Acknowledgments
The authors would like to thank Juliette Siegfried and her team at ServingMed.com for their editing of the manuscript. The authors would like to thank Astellas Pharma for their unrestricted grant for this study.
Conflict of interest
The authors declare that they have no conflicts of interest.
About this article
Cite this article
López-Oliva, M.O., Rivas, B., Pérez-Fernández, E. et al. Pretransplant peritoneal dialysis relative to hemodialysis improves long-term survival of kidney transplant patients: a single-center observational study. Int Urol Nephrol 46, 825–832 (2014). https://doi.org/10.1007/s11255-013-0521-0
Received:

Accepted:

Published:

Issue Date:
Keywords
Peritoneal dialysis

Hemodialysis

Kidney transplantation

Outcomes