Abstract
Purpose
In this study, gap junction expression and the effects of estrogen deficiency and gap junction inhibitors were investigated in overactive bladder models which were created by bladder outlet obstruction.
Methods
In our study, we created four groups as control, ovariectomy, bladder outlet obstruction (BOO), and ovariectomy + BOO. We investigated the effects of oxybutynin and 18-alpha glycyrrhetinic acid (18-α-GA) which is a gap junction blocker on isolated detrusor strips. Western blot method was used to measure the level of connexin-43 in detrusor.
Results
Bladder weights were significantly increased in the BOO and ovariectomy + BOO groups (p < 0.05). There was no statistically significant difference in the maximal contraction responses to carbachol between ovariectomy and control groups. In BOO and ovariectomy + BOO groups, contractile responses were significantly prominent with higher doses of carbachol. Oxybutynin-induced relaxant responses of BOO and ovariectomy + BOO groups were significantly higher than control group (p < 0.05). The relaxation effect of 18-a-GA was more effective in the obstruction groups. Among those two groups, the relaxation observed in BOO group was higher than ovariectomy + BOO group in higher doses of 18-a-GA. Connexin-43 expression was increased in BOO group compared with the control group (p = 0.006). Ovariectomy did not change connexin-43 expression alone; however, when combined with BOO, connexin-43 expression decreased significantly (p = 0.023).
Conclusions
Ovariectomy had no effect on the gap junctions in the bladder and bladder overactivity alone. Therefore, obstruction is the main factor that increases the amount of gap junctions, and gap junction blockers are thus more effective in obstruction. However, ovariectomy was shown to decrease the expression of gap junctions and relaxation effect of gap junction blockers, when combined with BOO.
This is a preview of subscription content, log in to check access.
Access options
Buy single article
Instant access to the full article PDF.
US$ 39.95
Price includes VAT for USA
Subscribe to journal
Immediate online access to all issues from 2019. Subscription will auto renew annually.
US$ 99
This is the net price. Taxes to be calculated in checkout.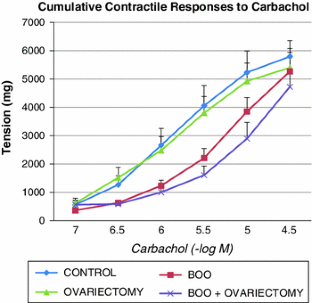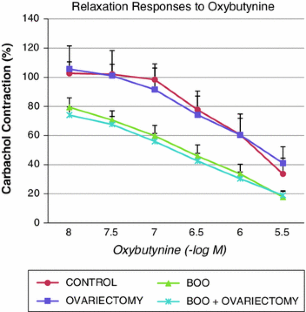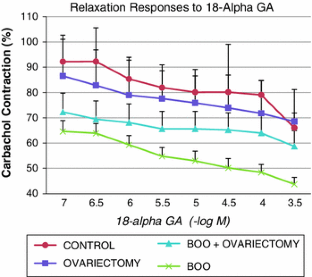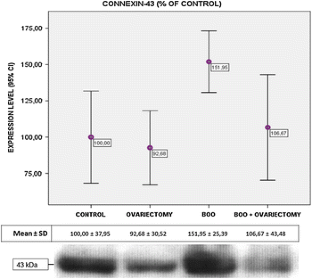 References
1.

Miyazato M, Sugaya K, Nishijima S, Kadekawa K, Machida N, Oshiro Y et al (2009) Changes of bladder activity and connexin 43-derived gap junctions after partial bladder-outlet obstruction in rats. Int Urol Nephrol 41(4):815–821. doi:10.1007/s11255-008-9516-7

2.

Christ GJ, Day NS, Day M, Zhao W, Persson K, Pandita RK et al (2003) Increased connexin43-mediated intercellular communication in a rat model of bladder overactivity in vivo. Am J Physiol Regul Integr Comp Physiol 284(5):R1241–R1248. doi:10.1152/ajpregu.00030.2002284/5/R1241

3.

Kim SJ, Park EY, Hwang TK, Kim JC (2011) Therapeutic effects of connexin inhibitors on detrusor overactivity induced by bladder outlet obstruction in rats. Urology. 78(2):475 e471–477. doi: 10.1016/j.urology.2011.03.029

4.

Li L, Jiang C, Hao P, Li W, Song C, Song B (2007) Changes of gap junctional cell–cell communication in overactive detrusor in rats. Am J Physiol Cell Physiol 293(5):C1627–C1635. doi:10.1152/ajpcell.00122.2007

5.

Miyazato M, Sugaya K, Nishijima S, Oda M, Ogawa Y (2006) A gap junction blocker inhibits isolated whole bladder activity in normal rats and rats with partial bladder outlet obstruction. Biomed Res 27(5):203–209

6.

Haefliger JA, Tissieres P, Tawadros T, Formenton A, Beny JL, Nicod P et al (2002) Connexins 43 and 26 are differentially increased after rat bladder outlet obstruction. Exp Cell Res 274(2):216–225

7.

Robinson D, Cardozo L (2011) Estrogens and the lower urinary tract. Neurourol Urodyn 30(5):754–757. doi:10.1002/nau.21106

8.

Cardozo L, Lose G, McClish D, Versi E, de Koning Gans H (2001) A systematic review of estrogens for recurrent urinary tract infections: third report of the hormones and urogenital therapy (HUT) committee. Int Urogynecol J Pelvic Floor Dysfunct 12(1):15–20

9.

Eriksen PS, Rasmussen H (1992) Low-dose 17 beta-estradiol vaginal tablets in the treatment of atrophic vaginitis: a double-blind placebo controlled study. Eur J Obstet Gynecol Reprod Biol 44(2):137–144

10.

Laws MJ, Taylor RN, Sidell N, DeMayo FJ, Lydon JP, Gutstein DE et al (2008) Gap junction communication between uterine stromal cells plays a critical role in pregnancy-associated neovascularization and embryo survival. Development. 135(15):2659–2668. doi:10.1242/dev.019810

11.

Hashim H, Abrams P (2007) Overactive bladder: an update. Curr Opin Urol 17(4):231–236

12.

Mori K, Noguchi M, Matsuo M, Nomata K, Suematsu T, Kanetake H (2005) Decreased cellular membrane expression of gap junctional protein, connexin 43, in rat detrusor muscle with chronic partial bladder outlet obstruction. Urology. 65(6):1254–1258. doi:10.1016/j.urology.2005.01.043

13.

Parekh MH, Chichester P, Lobel RW, Aikawa K, Levin RM (2004) Effects of castration on female rabbit bladder physiology and morphology. Urology. 64(5):1048–1051. doi:10.1016/j.urology.2004.06.014

14.

Patra PB, Thorneloe KS, Laping NJ (2009) Effect of estrogen and progesterone on urodynamics in the conscious rat. Urology 74(2):463–466. doi:10.1016/j.urology.2008.12.046

15.

Matsumoto M, Watanabe T, Miyagawa I (2007) Effects of long-term estradiol treatment on the contractile response to muscarine and muscarinic receptor subtypes in the bladder of aged female rats. Biomed Res 28(6):309–314

16.

Palea S, Angel I (1997) The effect of ovariectomy on the contractile response of the rat isolated detrusor muscle and urethra. Life Sci 61(1):PL21–PL26

17.

Longhurst PA, Kauer J, Leggett RE, Levin RM (1992) The influence of ovariectomy and estradiol replacement on urinary bladder function in rats. J Urol 148(3):915–919
Conflict of interest
The authors declare that they have no conflict of interest.
About this article
Cite this article
Babaoglu, M., Zumrutbas, A.E., Acar, I.C. et al. Gap junction expression and the effects of gap junction inhibitors in overactive bladder models: does ovariectomy have a role?. Int Urol Nephrol 45, 1001–1008 (2013). https://doi.org/10.1007/s11255-013-0488-x
Received:

Accepted:

Published:

Issue Date:
Keywords
Antimuscarinics

Gap junctions

Gap junction inhibitors

Ovariectomy

Overactive bladder

Partial bladder outlet obstruction