This is a preview of subscription content, log in to check access.
Access options
Buy single article
Instant access to the full article PDF.
US$ 39.95
Price includes VAT for USA
Subscribe to journal
Immediate online access to all issues from 2019. Subscription will auto renew annually.
US$ 99
This is the net price. Taxes to be calculated in checkout.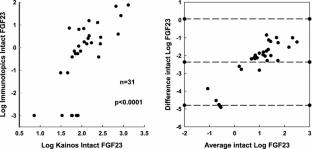 References
1.

Wolf M (2010) Forging forward with 10 burning questions on FGF23 in kidney disease. J Am Soc Nephrol 21:1427–1435

2.

Sinha MD, Turner C, Dalton RN, Rasmussen P, Waller S, Booth CJ, Goldsmith DJ (2012) Investigating FGF23 levels and its relationship with declining renal function in paediatric patients with pre-dialysis CKD stage 3–5. Nephrol Dial Transplant. doi:10.1093/ndt/gfs109

3.

Wesseling-Perry K (2011) FGF23: is it ready for prime time? Clin Chem 57(11):1476–1477

4.

Imel EA, Peacock M, Pitukcheewanont P, Heller HJ, Ward LM, Shulman D, Kassem M, Rackoff P, Zimering M, Dalkin A, Drobny E, Colussi G, Shake JL, Hoogendoorn EH, Hui SL, Econs MJ (2006) Sensitivity of fibroblast growth factor 23 measurements in tumor-induced osteomalacia. J Clin Endocrinol Metab 91:2055–2061

5.

Ito N, Fukumoto S, Takeuchi Y, Yasuda T, Hasegawa Y, Takemoto F, Tajima T, Dobashi K, Yamazaki Y, Yamashita T, Fujita T (2005) Comparison of two assays for fibroblast growth factor (FGF)-23. J Bone Miner Metab 23(6):435–440

6.

Garrett G, Sardiwal S, Lamb EJ, Goldsmith DJA (2012) PTH—a particularly tricky hormone: why measure it at all in kidney patients? CJASN. doi:10.2215/CJN.09580911

7.

Kidney Disease: Improving Global Outcomes (KDIGO) CKD–MBD Work Group (2009) KDIGO clinical practice guideline for the diagnosis, evaluation, prevention, and treatment of chronic kidney disease–mineral and bone disorder (CKD–MBD). Kidney Int 76(Suppl 113):S1–S130

8.

Binkley N, Krueger D, Gemar D, Drezner MK (2008) Correlation among 25-hydroxyvitamin D assays. J Clin Endocrinol Metab 93:1804–1808
Acknowledgments
The research was funded/supported by the National Institute for Health Research (NIHR), Biomedical Research Centre based at Guy's and St Thomas' NHS Foundation Trust and King's College London. The views expressed are those of the author(s) and not necessarily those of the NHS, the NIHR or the Department of Health.
Conflict of interest
None.
About this article
Cite this article
Sinha, M.D., Turner, C. & Goldsmith, D.J. FGF23 concentrations measured using "intact" assays similar but not interchangeable. Int Urol Nephrol 45, 1821–1823 (2013). https://doi.org/10.1007/s11255-013-0451-x
Received:

Accepted:

Published:

Issue Date:
Keywords
Chronic Kidney Disease

FGF23 Level

Interassay Coefficient

Adverse Cardiovascular Outcome

FGF23 Concentration