Abstract
Purpose
Premature ejaculation (PE) and erectile dysfunction (ED) are both frequent diseases with several questions about the aetiological factors for these disorders. Lumbar disc herniation (LDH), which can cause both neurological and physiological impairments, may be a causative reason. We prospectively tried to evaluate the presence of PE and ED in patients with LDH and identify the effect of both surgical and physical therapy treatments for LDH on PE and ED.
Methods
A total of 50 patients with LDH and a corresponding control group without LDH at an age of 18–50 years were included in the study. Both PE and ED were evaluated with premature ejaculation diagnostic tool (PEDT) and International Index of Erectile Function. Mean intravaginal ejaculatory latency time (IELT) was calculated at their 5 consecutive intercourse. Physical therapy or microdiscectomy was performed according to indication. After 6 months of follow-up, patients in treatment group were re-evaluated for PE and ED.
Results
Mean age of study and control group was 34.1 ± 3.3 and 34.2 ± 4.0 years, respectively (p = 0.979). In LDH group, IELT was <1 min in 12 (24 %), 1–2 (16 %) min in 8, 2–3 min in 7 (14 %), 3–4 min in 7 (14 %) and 4 or more minutes in 16 (32 %) patients. These numbers were 11 (22 %), 8 (16 %), 5 (10 %), 9 (18 %) and 17 (34 %) in control group, respectively. Mean PEDT score of patients who had IELT < 1 min was 11.9 ± 2.1 and 10.7 ± 2.1 in study and control group, whereas it decreased to 1.0 ± 2.8 and 0.5 ± 1.8 as IELT increased over 4 min, respectively. There were 11 (22 %) patients with ED in LDH group, whereas there were only 2 (4 %) in control group (p = 0.017). Twenty patients with LDH underwent surgery while 30 had been taken into physical therapy. After 6 months, patients with PE significantly decreased in both surgery and physical therapy group (p = 0.025 and p = 0.046). Patients with ED also decreased after treatment, but the numbers were so limited for statistical evaluation.
Conclusion
Although ED was more frequent in patients with LDH, PE was similar in both study and control groups, but the treatment of LDH had positive effects on PE and ED.
This is a preview of subscription content, log in to check access.
Access options
Buy single article
Instant access to the full article PDF.
US$ 39.95
Price includes VAT for USA
Subscribe to journal
Immediate online access to all issues from 2019. Subscription will auto renew annually.
US$ 99
This is the net price. Taxes to be calculated in checkout.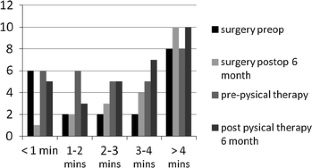 References
1.

Carson C, Gunn K (2006) Premature ejaculation: definition and prevalence. Int J Impot Res 18(Suppl 1):5–13

2.

American Psychiatric Association (2000) Diagnostic criteria from DSM-IV-TR. American Psychiatric Association, Washington

3.

McMahon CG, Althof S, Waldinger MD, Porst H, Dean J, Sharlip I, Adaikan PG, Becher E, Broderick GA, Buvat J, Dabees K, Giraldi A, Giuliano F, Hellstrom WJ, Incrocci L, Laan E, Meuleman E, Perelman MA, Rosen R, Rowland D, Segraves R, International Society for Sexual Medicine Ad Hoc Committee for Definition of Premature Ejaculation (2008) An evidence-based definition of lifelong premature ejaculation: report of the International Society for Sexual Medicine Ad Hoc Committee for the Definition of Premature Ejaculation. BJU Int 102(3):338–350

4.

Akbaş NB, Dalbayrak S, Külcü DG, Yilmaz M, Yilmaz T, Naderi S (2010) Assessment of sexual dysfunction before and after surgery for lumbar disc herniation. J Neurosurg Spine 13(5):581–586

5.

Jin BF, Zhang XD, Huang YF, Zhou YC, Xia XY, Shang XJ, Xu FS (2009) Correlation of premature ejaculation with central lumber intervertebral disc herniation. Zhonghua Nan Ke Xue 15(3):244–247. Abstract

6.

Kulaksizoglu H, Kaptan H (2010) An unappreciated correlation: surgical treatment of lumbosacral disc disease and erectile dysfunction. J Korean Neurosurg Soc 47(4):282–286

7.

Yakut E, Düger T, Oksüz C, Yörükan S, Ureten K, Turan D, Frat T, Kiraz S, Krd N, Kayhan H, Yakut Y, Güler C (2004) Validation of the Turkish version of the Oswestry Disability Index for patients with low back pain. Spine (Phila Pa 1976) 29(5):581–585 (discussion 585)

8.

Turunç T, Deveci S, Güvel S, levent peşkircioğlu (2007) Uluslararasi cinsel işlev indeksinin 5 soruluk versiyonunun (IIEF-5) Türkçe geçerlilik çalişmasinin değerlendirilmesi. The assessment of Turkish validation with 5 question version of international index of erectile function (IIEF-5). Türk Üroloji Dergisi 33(1):45–49

9.

Serefoglu EC, Cimen HI, Ozdemir AT, Symonds T, Berktas M, Balbay MD (2009) Turkish validation of the premature ejaculation diagnostic tool and its association with intravaginal ejaculatory latency time. Int J Impot Res 21(2):139–144

10.

Gurkan L, Oommen M, Hellstrom WJ (2008) Premature ejaculation: current and future treatments. Asian J Androl 10(1):102–109

11.

Montague DK, Jarow J, Broderick GA, Dmochowski RR, Heaton JP, Lue TF, Nehra A, Sharlip ID, AUA Erectile Dysfunction Guideline Update Panel (2004) AUA guideline on the pharmacologic management of premature ejaculation. J Urol 172(1):290–294

12.

World Health Organization (1993) The ICD-10 classification of mental and behavioral disorders: diagnostic criteria for research. World Health Organization, Geneva

13.

Allard J, Truitt WA, McKenna KE, Coolen LM (2005) Spinal cord control of ejaculation. World J Urol 23(2):119–26 (Review)

14.

McKenna K (1999) Ejaculation. In: Knobil E, Neill J (eds) Encyclopedia of reproduction. Academic Press, New York, pp 1002–1008

15.

Truitt WA, Coolen LM (2002) Identification of a potential ejaculation generator in the spinal cord. Science 297:1566–1569

16.

Truitt WA, Shipley MT, Veening JG, Coolen LM (2003) Activation of a subset of lumbar spinothalamic neurons after copulatory behavior in male but not female rats. J Neurosci 23:325–331

17.

Wiley RG, Lappi DA (1999) Targeting neurokinin-1 receptor-expressing neurons with [Sar9, Met(O2)11 substance P-saporin. Neurosci Lett 277:1–4

18.

World Health Organization (1994) International classification of diseases and related health problems, 10th edn. World Health Organization, Geneva

19.

Poole H, White S, Blake C, Murphy P, Bramwell R (2009) Depression in chronic pain patients: prevalence and measurement. Pain Pract 9(3):173–80

20.

Bar-Or D, Salottolo KM, Orlando A, Winkler JV, Tramadol ODT Study Group (2012) A randomized double-blind, placebo-controlled multicenter study to evaluate the efficacy and safety of two doses of the tramadol orally disintegrating tablet for the treatment of premature ejaculation within less than 2 minutes. Eur Urol 61(4):736–743

21.

de Araujo AC, da Silva FG, Salvi F, Awad MC, da Silva EA, Damião R (2009) The management of erectile dysfunction with placebo only: does it work? J Sex Med 6(12):3440–3448
Conflict of interest
There are no conflict of interest and financial support for study.
About this article
Cite this article
Yazici, C.M., Sarifakioglu, B., Guzelant, A. et al. An unresolved discussion: presence of premature ejaculation and erectile dysfunction in lumbar disc hernia. Int Urol Nephrol 45, 659–667 (2013). https://doi.org/10.1007/s11255-013-0411-5
Received:

Accepted:

Published:

Issue Date:
Keywords
Premature ejaculation

Erectile dysfunction

Lumbar disc herniation

Microdiscectomy

Physical therapy