Abstract
Primary squamous cell carcinoma of seminal vesicle is extremely rare, and most cases regarding seminal vesicle tumors failed to address this kind of tumor. A 54-year-old male patient presented with intermittent painless visual hematuria for 6 months was hospitalized. Ultrasonography, computerized tomography and magnetic resonance imaging demonstrated a 4.4 cm × 3.6 cm × 3.0 cm mixed tumorous lesion in the left seminal vesicle. A transrectal needle biopsy revealed severe chronic inflammation. The mass was completely resected in a laparoscopic approach and was verified as a moderately differentiated squamous cell carcinoma in the seminal vesicle by post-surgical histopathological examination. The patient received totally 5 cycles of chemotherapy. A rectal metastasis was detected 7 months after the surgery.
This is a preview of subscription content, log in to check access.
Access options
Buy single article
Instant access to the full article PDF.
US$ 39.95
Price includes VAT for USA
Subscribe to journal
Immediate online access to all issues from 2019. Subscription will auto renew annually.
US$ 99
This is the net price. Taxes to be calculated in checkout.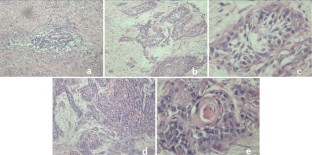 References
1.

Lorber G, Pizov G, Gofrit ON, Pode D (2011) Seminal vesicle cystadenoma: a rare clinical perspective. Eur Urol 60(2):388–391

2.

Yanagisawa N, Saegusa M, Yoshida T, Okayasu I (2002) Squamous cell carcinoma arising from a seminal vesicular cyst: possible relationship between chronic inflammation and tumor development. Pathol Int 52(3):249–253

3.

Tabata K, Irie A, Ishii D, Yanagisawa N, Iwamura M, Baba S (2002) Primary squamous cell carcinoma of the seminal vesicle. Urology 59(3):445

4.

Wang ZJ, Wang KZ, Che FZ (2001) A case report of congenital hypospadias, seminal vesicle huge stones and squamous cell carcinoma of seminal vesicle. Clin Med China 17(7):499 (in Chinese)

5.

Cormack DH (1987) Ham's histology, 9th edn. J. B. Lippincott, Philadelphia

6.

Okuda Y, Tanaka H, Takeuchi H, Yoshida O (1992) Papillary adenocarcinoma in a seminal vesicle cyst associated with ipsilateral renal agenesis: a case report. J Urol 148:1543–1545

7.

Qhrnori T, Okada K, Tabei R et al (1994) CA125-producing adenocarcinoma of the seminal vesicle. Pathol Int 44:333–337

8.

Dalgaard JB, Giertsen JC (1956) Primary carcinoma of the seminal vesicle: case and survey. Acta Pathol Microbiol Scand 39:255–267

9.

Benson RC, Clark WR, Farrow GM (1984) Carcinoma of the seminal vesicle. J Urol 132:483–485
Conflict of interest
The authors have nothing to disclose.
Additional information
Jianzhong Wang and Xuan Yue contributed equally to this work and should be considered co-first authors.
About this article
Cite this article
Wang, J., Yue, X., Zhao, R. et al. Primary squamous cell carcinoma of seminal vesicle: an extremely rare case report with literature review. Int Urol Nephrol 45, 135–138 (2013). https://doi.org/10.1007/s11255-012-0373-z
Received:

Accepted:

Published:

Issue Date:
Keywords
Squamous cell carcinoma

Seminal vesicle carcinoma

Seminal vesicle tumor

Hematuria