Abstract
Hepatic vitamin K-dependent proteins (e.g., Factors II, VII, IX and X) form part of the clotting cascade. Factor II (FII)/Prothrombin incorporates 10 Glu residues on the N-terminal region that are γ-carboxylated to Gla residues by the action of γ-glutamyl carboxylase to confer biological activity. Vitamin K is also required for the normal function of Matrix Gla Protein (MGP)—one of several non-clotting-related extra-hepatic vitamin K-dependent proteins. MGP is known to have protective action against vascular calcification—indeed it is a powerful tissue-bound inhibitory mechanism and can be found in blood vessel walls. The mature protein is also dependent on activation by γ-glutamyl carboxylase enzyme to convert Glu residues in its amino acid sequence to Gla. This reaction can only take place when the enzyme is activated in the presence of vitamin K. It is of great potential interest to investigate whether subtle deficiencies of vitamin K may, through its effect on the action of MGP, be a contributing factor to vascular calcification in CKD patients, in whom CV disease is greatly accelerated and in whom vascular calcification is not only common, but progresses aggressively, and is something for which as yet there is no clinically applicable remedy.
This is a preview of subscription content, log in to check access.
Access options
Buy single article
Instant access to the full article PDF.
US$ 39.95
Price includes VAT for USA
Subscribe to journal
Immediate online access to all issues from 2019. Subscription will auto renew annually.
US$ 99
This is the net price. Taxes to be calculated in checkout.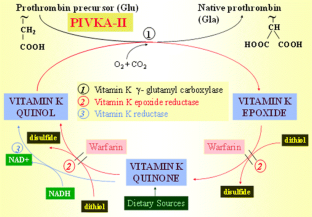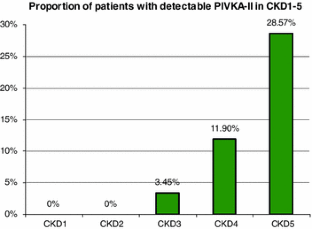 References
1.

Greer FR (2010) Vitamin K the basics–what's new? Early Hum Dev 86(Suppl 1):43–47

2.

Brenner B, Kuperman AA, Watzka M, Oldenburg J (2009) Vitamin K-dependent coagulation factors deficiency. Semin Thromb Hemost 35(4):439–446

3.

Leonard O, Spaak J, Goldsmith DJA (2012) Vascular calcification and its treatment in chronic kidney disease and end-stage renal failure. Br J Clin Pharmacol. doi:10.1111/bcp.12014

4.

Chatrou ML, Reutelingsperger CP, Schurgers LJ (2011) Role of vitamin K-dependent proteins in the arterial vessel wall. Hamostaseologie 31(4):251–257

5.

Hajhosseiny R, Khavandi K, Goldsmith DJ (2013) Cardiovascular disease in chronic kidney disease: untying the Gordian knot. Int J Clin Pract 67(1):14–31. doi:10.1111/j.1742-1241.2012.02954.x

6.

Russo D, Corrao S, Battaglia Y, Andreucci M, Caiazza A, Carlomagno A, Lamberti M, Pezone N, Pota A, Russo L, Sacco M, Scognamiglio B (2011) Progression of coronary artery calcification and cardiac events in patients with chronic renal disease not receiving dialysis. Kidney Int 80(1):112–118

7.

Russo D, Morrone L, Russo L (2011) Coronary artery calcification and cardiovascular mortality in predialysis patients. Kidney Int 79(2):258

8.

Manghat P, Souleimanova I, Cheung J, Wierzbicki AS, Harrington DJ, Shearer MJ, Chowienczyk P, Fogelman I, Goldsmith D, Hampson G (2011) Association of bone turnover markers and arterial stiffness in pre-dialysis chronic kidney disease (CKD). Bone 48(5):1127–1132

9.

Manghat P, Fraser WD, Wierzbicki AS, Fogelman I, Goldsmith DJ, Hampson G (2010) Fibroblast growth factor-23 is associated with C-reactive protein, serum phosphate and bone mineral density in chronic kidney disease. Osteoporos Int 21(11):1853–1861

10.

Clarke P, Mitchell SJ, Wynn R, Sundaram S, Speed V, Gardener E, Roeves D, Shearer MJ (2006) Vitamin K prophylaxis for preterm infants: a randomized, controlled trial of 3 regimens. Pediatrics 118(6):e1657–e1666

11.

Clarke P, Shearer MJ (2007) Vitamin K deficiency bleeding: the readiness is all. Arch Dis Child 92(9):741–743 Epub 2007 May 23

12.

Clarke P, Mitchell SJ, Sundaram S, Sharma V, Wynn R, Shearer MJ (2005) Vitamin K status of preterm infants with a prolonged prothrombin time. Acta Paediatr 94(12):1822–1824

13.

Covic A, Kanbay M, Voroneanu L, Turgut F, Serban DN, Serban IL, Goldsmith DJ (2010) Vascular calcification in chronic kidney disease. Clin Sci (Lond) 119(3):111–121

14.

Ohya M, Otani H, Kimura K, Saika Y, Fujii R, Yukawa S, Shigematsu T (2011) Vascular calcification estimated by aortic calcification area index is a significant predictive parameter of cardiovascular mortality in hemodialysis patients. Clin Exp Nephrol 15(6):877–883

15.

Schlieper G, Westenfeld R, Krüger T, Cranenburg EC, Magdeleyns EJ, Brandenburg VM, Djuric Z, Damjanovic T, Ketteler M, Vermeer C, Dimkovic N, Floege J, Schurgers LJ (2011) Circulating nonphosphorylated carboxylated matrix gla protein predicts survival in ESRD. J Am Soc Nephrol 22(2):387–395

16.

Shea MK, O'Donnell CJ, Vermeer C, Magdeleyns EJ, Crosier MD, Gundberg CM, Ordovas JM, Kritchevsky SB, Booth SL (2011) Circulating uncarboxylated matrix gla protein is associated with vitamin K nutritional status, but not coronary artery calcium, in older adults. J Nutr 141(8):1529–1534

17.

Pham TT, Saudan P (2012) Is the use of vitamin K antagonists harmful in patients with CDK? Rev Med Suisse 8(330):462–465

18.

Palaniswamy C, Sekhri A, Aronow WS, Kalra A, Peterson SJ (2011) Association of warfarin use with valvular and vascular calcification: a review. Clin Cardiol 34(2):74–81

19.

Stankowiak-Kulpa H, Krzyżanowska P, Kozioł L, Grzymisławski M, Wanic-Kossowska M, Moczko J, Walkowiak J (2011) Vitamin K status in peritoneally dialyzed patients with chronic kidney disease. Acta Biochim Pol 58(4):617–620

20.

Westenfeld R, Krueger T, Schlieper G, Cranenburg EC, Magdeleyns EJ, Heidenreich S, Holzmann S, Vermeer C, Jahnen-Dechent W, Ketteler M, Floege J, Schurgers LJ (2012) Effect of vitamin K2 supplementation on functional vitamin K deficiency in hemodialysis patients: a randomized trial. Am J Kidney Dis 59(2):186–195

21.

Cranenburg EC, Schurgers LJ, Uiterwijk HH, Beulens JW, Dalmeijer GW, Westerhuis R, Magdeleyns EJ, Herfs M, Vermeer C, Laverman GD (2012) Vitamin K intake and status are low in hemodialysis patients. Kidney Int 82(5):605–610

22.

Fusaro M, Noale M, Viola V, Galli F, Tripepi G, Vajente N, Plebani M, Zaninotto M, Guglielmi G, Miotto D, Dalle Carbonare L, D'Angelo A, Naso A, Grimaldi C, Miozzo D, Giannini S, Gallieni M, for the VItamin K Italian (VIKI) Dialysis Study Investigators (2012) Vitamin K, vertebral fractures, vascular calcifications and mortality: Vitamin K Italian (VIKI) dialysis study. J Bone Miner Res 27(11):2271–2278. doi:10.1002/jbmr.1677

23.

Holden RM, Morton AR, Garland JS, Pavlov A, Day AG, Booth SL (2010) Vitamins K and D status in stages 3–5 chronic kidney disease. Clin J Am Soc Nephrol 5(4):590–597
Acknowledgments
Drs Padmini Manghat and Geeta Hampson for the biobanked blood samples. Ms Maximilian Tjockis Nerdlander for inestimable input.
Conflict of interest
The authors have no relevant disclosures to make in respect of this work.
About this article
Cite this article
Voong, K., Harrington, D. & Goldsmith, D. Vitamin K status in chronic kidney disease: a report of a study and a mini-review. Int Urol Nephrol 45, 1339–1344 (2013). https://doi.org/10.1007/s11255-012-0367-x
Received:

Accepted:

Published:

Issue Date:
Keywords
PIVKA

Vitamin K

Calcification

Chronic kidney disease