Abstract
A 17-year-old male with attention deficit hyperactivity disorder was admitted to the hospital with generalized weakness. Vital signs and physical examination were normal. Laboratory data were notable for a creatinine of 4.5 mg/dL (baseline 0.6 mg/dL), estimated glomerular filtration rate of 18 ml/min/1.73 m² and hemoglobin 10 g/dL. Urinalysis revealed only 30 mg/dL protein. Serology for autoimmune workup was negative. Renal ultrasound was normal. Kidney biopsy showed noncaseating granulomas and acute on chronic tubulointerstitial nephritis (TIN) with lymphocytes, macrophages, plasma cells and no eosinophils. Acid fast bacilli and Grocott's methenamine silver stains were negative. Granulomatous interstitial nephritis (GIN) was diagnosed. Prednisone at 60 mg/day was started and tapered. He was then noted to have diarrhea. Colonoscopy showed active enteritis with granulomatous inflammation consistent with Crohn's disease (CD). Azathioprine was started but due to worsening renal function and diarrhea, it was discontinued. He did not tolerate continued higher doses of prednisone because of mood swings and cushingoid features. Infliximab was initiated with improvement in renal function. There was rapid worsening of renal function when infliximab therapy was interrupted but improved when both prednisone and inflixamb were reinitiated.
This is a preview of subscription content, log in to check access.
Access options
Buy single article
Instant access to the full article PDF.
US$ 39.95
Price includes VAT for USA
Subscribe to journal
Immediate online access to all issues from 2019. Subscription will auto renew annually.
US$ 99
This is the net price. Taxes to be calculated in checkout.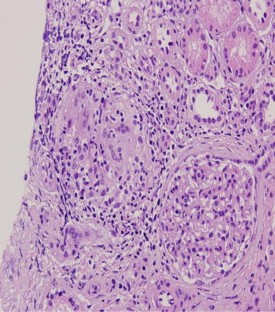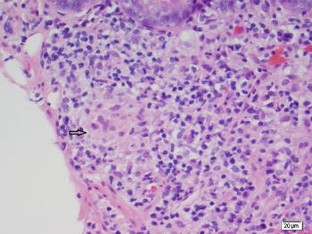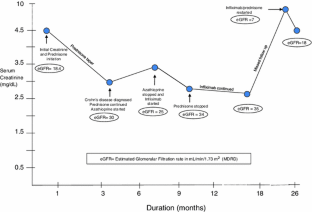 References
1.

Serra I, Oller B, Mañosa M, Naves JE, Zabana Y, Cabré E et al (2010) Systemic amyloidosis in inflammatory bowel disease: retrospective study on its prevalence, clinical presentation, and outcome. J Crohns Colitis 4(3):269–274

2.

Kane S (2006) Urogenital complications of Crohn's disease. Am J Gastroenterol 101(12 Suppl):S640–S643

3.

Filiopoulos V, Trompouki S, Hadjiyannakos D, Paraskevakou H, Kamperoglou D, Vlassopoulos D (2010) IgA nephropathy in association with Crohn's disease: a case report and brief review of the literature. Ren Fail 32(4):523–527

4.

Ram R, Swarnalatha G, Prasad N, Prayaga A (2009) Dakshina Murthy KV. Granulomatous interstitial nephritis after prolonged use of phenytoin. Saudi J Kidney Dis Transpl 20(1):131–133

5.

Joss N, Morris S, Young B, Geddes C (2007) Granulomatous interstitial nephritis. Clin J Am Soc Nephrol 2(2):222–230

6.

El-Reshaid KA, Al-Khaldi EH, Madda JP (2000) Granulomatous Interstitial Nephritis and Acute Renal Failure due to Renal-limited Sarcoidosis. Saudi J Kidney Dis Transpl 11(1):48–52

7.

Brouillard M, Gheerbrant JD, Gheysens Y, Fleury D, Devred M, Hazzan M et al (1998) "Chronic interstitial nephritis and mesalazine: 3 new cases?". Gastroenterol Clin Biol 22(8–9):724–726

8.

Calviño J, Romero R, Pintos E, Losada E, Novoa D, Güimil D et al (1998) Mesalazine-associated tubulointerstitial nephritis in inflammatory bowel disease. Clin Nephrol 49(4):265–267

9.

Witte T, Olbricht CJ, Koch KM (1994) Interstitial nephritis associated with 5-aminosalicylic acid. Nephron 67(4):481–482

10.

Gisbert JP, Luna M, González-Lama Y, Pousa ID, Velasco M, Moreno-Otero R et al (2008) Effect of 5-aminosalicylates on renal function in patients with inflammatory bowel disease: 4-year follow-up study. Gastroenterol Hepatol 31(8):477–484

11.

Elseviers MM, D'Haens G, Lerebours E, Plane C, Stolear JC, Riegler G et al (2004) 5-ASA Study Group. Renal impairment in patients with inflammatory bowel disease: association with aminosalicylate therapy? Clin Nephrol 61(2):83–89

12.

Bijol V, Mendez GP, Nosé V, Rennke HG (2006) Granulomatous interstitial nephritis: a clinicopathologic study of 46 cases from a single institution. Int J Surg Pathol 14(1):57–63

13.

Izzedine H, Simon J, Piette AM, Lucsko M, Baumelou A, Charitanski D, et al. Primary chronic interstitial nephritis in Crohn's disease

14.

Marcus SB, Brown JB, Melin-Aldana H, Strople JA (2008) Tubulointerstitial nephritis: an extraintestinal manifestation of Crohn disease in children. J Pediatr Gastroenterol Nutr 46(3):338–341

15.

Hanauer SB, Lichtenstein GR, Mayer L et al (2001) Extraintestinal manifestations of Crohn's disease: response to infliximab (Remicade) in the ACCENT I trial through 30 weeks (abstract). Am J Gastroenterol A96:A26

16.

Kothary N, Diak IL, Brinker A, Bezabeh S, Avigan M, Pan GD.(2011) Progressive multifocal leukoencephalopathy associated with efalizumab use in psoriasis patients.J Am Acad Dermatol. 21 [Epub ahead of print]

17.

Alshekhlee A, Basiri K, Miles JD, Ahmad SA, Katirji B (2010) Chronic inflammatory demyelinating polyneuropathy associated with tumor necrosis factor-alpha antagonists. Muscle Nerve 41(5):723–727
About this article
Cite this article
Saha, M.K., Tarek, H., Sagar, V. et al. Role of tumor necrosis factor inhibitor in granulomatous interstitial nephritis secondary to Crohn's disease. Int Urol Nephrol 46, 229–233 (2014). https://doi.org/10.1007/s11255-012-0362-2
Received:

Accepted:

Published:

Issue Date:
Keywords
Crohn's

Infliximab

Interstitial nephritis