Abstract
Objective
Impaired core I β3-Gal-T-specific molecular chaperone (Cosmc) expression-caused IgA1 aberrant O-glycosylation is one of the main pathogeneses of IgA nephropathy (IgAN).This study tried to elucidate whether mycophenolic acid (MPA) could up-regulate Cosmc expression of peripheral lymphocytes in IgAN patients and reverse the dys-O-glycosylation.
Method
Peripheral lymphocytes of eighteen IgAN patients and twelve normal controls were isolated and cultured for 3–7 days with or without lipopolysaccharide (LPS) and MPA. Cosmc mRNA and protein expression levels were measured by real-time RT-PCR and western blot. IgA1 and O-glycosylation level were determined by enzyme-linked immunosorbent assay (ELISA) and VV lectin-binding test. Correlation analysis was performed between Cosmc expression levels and IgA1 O-glycosylation level.
Results
Cosmc mRNA expression and IgA1 O-glycosylation level in IgAN patients were significantly lower than normal controls. Treatment of LPS could obviously inhibit the Cosmc expression and increase the IgA1 secretion in peripheral lymphocytes of IgAN patients, which resulted in a significantly increase in IgA1 aberrant glycosylation level. Addition of MPA could significantly increase the Cosmc expression level along with a decrease in IgA1 secretion, leading to a reverse of aberrant glycosylation. A significant positive correlation between the Cosmc expression and IgA1 O-glycosylation level was noticed.
Conclusion
MPA can up-regulate the Cosmc expression and reverse the IgA1 aberrant O-glycosylation level in peripheral lymphocytes of IgAN patients, which might be the underlying mechanism of mycophenolate mofetil (MMF) therapy used in treating IgAN.
This is a preview of subscription content, log in to check access.
Access options
Buy single article
Instant access to the full article PDF.
US$ 39.95
Price includes VAT for USA
Subscribe to journal
Immediate online access to all issues from 2019. Subscription will auto renew annually.
US$ 99
This is the net price. Taxes to be calculated in checkout.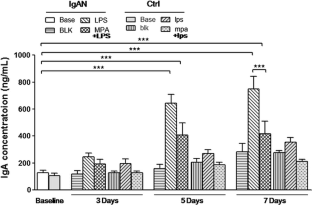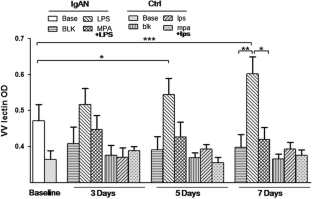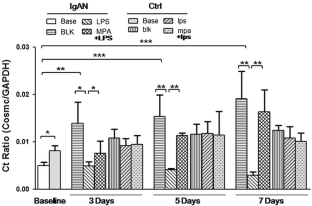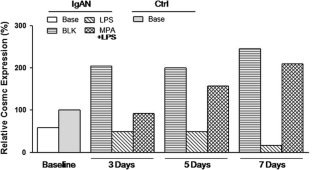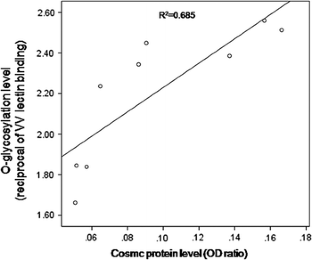 References
1.

Barratt J, Feehally J (2005) IgA nephropathy. J Am Soc Nephrol 16(7):2088–2097

2.

Giannakakis K, Feriozzi S, Perez M et al (2007) Aberrantly glycosylated IgA1 in glomerular immune deposits of IgA nephropathy. J Am Soc Nephrol 18(12):3139–3146

3.

Narita I, Gejyo F (2008) Pathogenetic significance of aberrant glycosylation of IgA1 in IgA nephropathy. Clin Exp Nephrol 12(5):332–338

4.

Allen AC, Topham PS, Harper SJ et al (1997) Leucocyte beta 1,3 galactosyltransferase activity in IgA nephropathy. Nephrol Dial Transplant 12(4):701–706

5.

Qin W, Zhou Q, Yang LC et al (2005) Peripheral B lymphocyte beta1, 3-galactosyltransferase and chaperone expression in immunoglobulin A nephropathy. J Intern Med 258(5):467–477

6.

Qin W, Zhong X, Fan JM et al (2008) External suppression causes the low expression of the Cosmc gene in IgA nephropathy. Nephrol Dial Transplant 23(5):1608–1614

7.

Xie LS, Qin W, Fan JM et al (2011) The role of C1GALT1C1 in lipopolysaccharide-induced IgA1 aberrant O-glycosylation in IgA nephropathy. Clin Invest Med 33(1):E5–E13

8.

Pfaffl MW (2001) A new mathematical model for relative quantification in real-time RT-PCR. Nucleic Acids Res 29(9):e45

9.

Moriyama T, Nakayama K, Iwasaki C et al (2012) Severity of nephrotic IgA nephropathy according to the Oxford classification. Int Urol Nephrol 44(4):1177–1184

10.

Zhu C, Mertens PR (2012) IgA nephropathy and oxidative stress: news on clinically evaluated biomarkers hits the stage. Int Urol Nephrol 44(4):1277–1280

11.

Xu LX, Zhao MH (2005) Aberrantly glycosylated serum IgA1 are closely associated with pathologic phenotypes of IgA nephropathy. Kidney Int 68(1):167–172

12.

Ju T, Cummings RD (2002) A unique molecular chaperone Cosmc required for activity of the mammalian core 1 beta 3-galactosyltransferase. Proc Natl Acad Sci USA 99(26):16613–16618

13.

Felner KM, Dinter A, Cartron JP et al (1998) Repressed beta-1,3-galactosyltransferase in the Tn syndrome. Biochim Biophys Acta 1406(1):115–125

14.

Tang SC, Tang AW, Wong SS et al (2010) Long-term study of mycophenolate mofetil treatment in IgA nephropathy. Kidney Int. 77(6): 543–549

15.

Tang S, Leung JC, Chan LY et al (2005) Mycophenolate mofetil alleviates persistent proteinuria in IgA nephropathy. Kidney Int 68(2):802–812

16.

Xu G, Tu W, Jiang D et al (2009) Mycophenolate mofetil treatment for IgA nephropathy: a meta-analysis. Am J Nephrol 29(5):362–367

17.

Allison AC (2005) Mechanisms of action of mycophenolate mofetil. Lupus 14(Suppl 1):s2–s8

18.

Inoue TH, Sugiyama M, Kitagawa et al (2011) Abnormalities of glycogenes in tonsillar lymphocytes in IgA nephropathy. Adv Otorhinolaryngol 72:71–74
Acknowledgments
Our sincere thanks go to Professor Zhangxue Hu, Baihai Su and all the staff of Nephrology Division for their help. This work was supported by National Natural Science Foundation of China (No. 30800527 and 81270793).
Additional information
Linshen Xie and Chunyu Tan have been equally contributed to this paper.
About this article
Cite this article
Xie, L., Tan, C., Fan, J. et al. Mycophenolic acid reverses IgA1 aberrant glycosylation through up-regulating Cosmc expression in IgA nephropathy. Int Urol Nephrol 45, 571–579 (2013). https://doi.org/10.1007/s11255-012-0313-y
Received:

Accepted:

Published:

Issue Date:
Keywords
IgA nephropathy

Glycosylation

Cosmc

Mycophenolic acid