Abstract
Purpose
To investigate whether there is a difference between urachal and non-urachal adenocarcinomas in terms of patient survival and to determine the significant prognostic factors.
Methods
Thirty-four patients with histologically proven adenocarcinoma of the urinary bladder were treated at Huashan hospital between 1999 and 2010. 13 cases were excluded, including 12 patients with metastatic involvement from gastrointestinal or reproductive tracts and one without follow-up data after the initial consultation. Life tables, Kaplan–Meier, Cox regression analysis and log-rank test were used.
Results
The difference between patients with urachal adenocarcinoma and patients with non-urachal adenocarcinoma was not statistically significant using the Kaplan–Meier estimates (P = 0.0763). Clinical stage had a significant influence on survival (P = 0.0320, Fig. 2). Patients with surgical resection including partial and radical cystectomy did not have a better prognosis (P = 0.7992, Fig. 3). However, the difference is statistically significant between patients who received partial cystectomy and patients who received radical cystectomy (P = 0.0123, Fig. 4).
Conclusion
Survival of Patients with adenocarcinoma is correlated with clinical stage. Patients with urachal adenocarcinoma and non-urachal adenocarcinoma may have similar survival outcome. Tumor stage was a highly significant predictor of outcome (P = 0.0320). Surgical resection seems to be more important than chemotherapy in the cases of adenocarcinoma of the urinary bladder. We are in favor of radical cystectomy for all patients.
This is a preview of subscription content, log in to check access.
Access options
Buy single article
Instant access to the full article PDF.
US$ 39.95
Price includes VAT for USA
Subscribe to journal
Immediate online access to all issues from 2019. Subscription will auto renew annually.
US$ 99
This is the net price. Taxes to be calculated in checkout.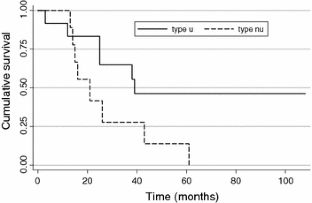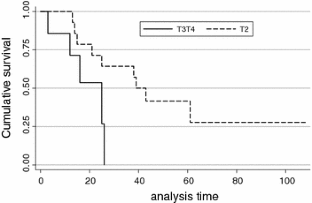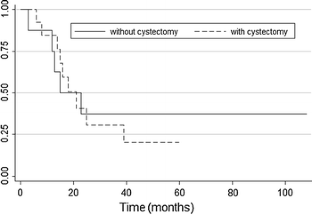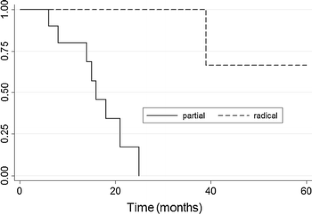 References
1.

Nielsen K, Nielsen KK (1983) Adenocarcinoma in exstrophy of the bladder-the last case in Scandinavia? A case report and review of the literature. J Urol 130:1180–1182

2.

Sauter G, Algaba F, Amin M et al (2004) Tumour of urinary system: non-invasive urothelial neoplasia. In: Eble JN, Sauter G, Epstein J, Sesterhenn I (eds) WHO classification of classification of tumour of urinary system and male genital organs. IARCC Press, Lyon

3.

Johnson DE, Hodge GB, Abdul-Karim FW, Ayala AG (1985) Urachal carcinoma. Urology 26:218–221

4.

Petersen RO (1992) Urologic pathology, 2nd edn. Lippineott, Philadelphia, pp 268–270

5.

Ploeg M, Aben KK, Hulsbergen-van de Kaa CA et al (2010) Clinical epidemiology of nonurothelial bladder cancer: analysis of The Netherlands Cancer Registry. J Urol 183:915–920

6.

Ghoneim MA, Abdel-Latif M, el-Mekresh M et al (2008) Radical cystectomy for carcinoma of the bladder: 2,720 consecutive cases 5 years later. J Urol 180:121–127

7.

Mostofi FK, Thomson RV, Dean AL Jr (1955) Mucous adenocarcinoma of the urinary bladder. Cancer 4:741–758

8.

Wheeler JD, Hill WT (1954) Adenocarcinoma involving the urinary bladder. Cancer 7:119–135

9.

Wright JL, Porter MP, Li CI et al (2006) Differences in survival among patients with urachal and nonurachal adenocarcinomas of the bladder. Cancer 107:721–728

10.

Dandekar NP, Dalal AV, Tongaonkar HB et al (1997) Adenocarcinoma of bladder. Eur J Surg Oncol 23:157–160

11.

De Santis M, Bachner M (2007) New developments in first- and second-line chemotherapy for transitional cell, squamous cell and adenocarcinoma of the bladder. Curr Opin Urol 17:363–368

12.

Rajput MZ, Kamat AM, Clavell-Hernandez J et al (2011) Perioperative outcomes of laparoscopic radical nephroureterectomy and regional lymphadenectomy in patients with upper urinary tract urothelial carcinoma after neoadjuvant chemotherapy. Urology 78(1):61–67 Epub 2011 Feb 26

13.

Kakizoe T, Matsumoto K, Andoh M, Nishio Y, Kishi K (1983) Adenocarcinoma of urachus: report of 7 cases and review of literature. Urology 21:360–366
Acknowledgment
National Key Clinical Specialty Project, funded by Ministry of Health (MOH), P.R. China.
Conflict of interest
The authors have declared that no conflict of interest exists.
About this article
Cite this article
Zhang, H., Jiang, H., Wu, Z. et al. Primary adenocarcinoma of the urinary bladder: a single site analysis of 21 cases. Int Urol Nephrol 45, 107–111 (2013). https://doi.org/10.1007/s11255-012-0305-y
Received:

Accepted:

Published:

Issue Date:
Keywords
Bladder cancer

Survival

Recurrence

Urachus

Adenocarcinoma