Abstract
Transient hypophosphatemia is frequently observed during the first months after renal transplantation and is usually asymptomatic. Phosphate diabetes is defined as inadequate tubular phosphorus reabsorption leading to persistent renal phosphorus wasting, which is an important but overlooked cause of osteodystrophy in the post-renal transplantation population. We report the case of a 58-year-old male who presented with severe multiple osteoarticular pains within 3 months after successful first kidney transplantation. Bone disease was attributed initially to mild hyperparathyroidism secondary to vitamin D deficiency. Despite the correction of the hyperparathyroidism, the withdrawal of corticosteroids, and the reduction of immunosuppressive treatment to tacrolimus-based monotherapy, the osteoarticular pains persisted. Skeletal investigations at month 9 post-transplantation demonstrated a significant bone mineral density loss associated with osteomalacia and osteoporosis on the bone biopsy. Laboratory data showed persistent hypophosphatemia, and phosphate diabetes was then diagnosed explaining the post-transplant bone disease. A tacrolimus-induced renal tubular disorder was suspected to contribute to the excessive renal phosphorus wasting. The replacement of tacrolimus by sirolimus, in addition to oral phosphorus and vitamin D supplementations, led to the disappearance of pains, the normalization of urinary and plasma phosphate level, and a significant improvement of bone mineralization.
This is a preview of subscription content, log in to check access.
Access options
Buy single article
Instant access to the full article PDF.
US$ 39.95
Price includes VAT for USA
Subscribe to journal
Immediate online access to all issues from 2019. Subscription will auto renew annually.
US$ 99
This is the net price. Taxes to be calculated in checkout.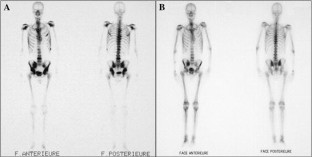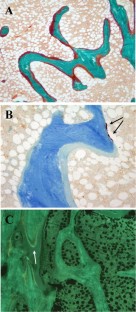 References
1.

Ghanekar H, Welch BJ, Moe OW, Sakhaee K (2006) Post-renal transplantation hypophosphatemia: a review and novel insights. Curr Opin Nephrol Hypertens 15(2):97–104

2.

K/DOQI (2003) Clinical practice guidelines for bone metabolism and disease in chronic kidney disease. Am J Kidney Dis 42(4 Suppl 3):S1–S201

3.

Walton RJ, Bijvoet OL (1975) Nomogram for derivation of renal threshold phosphate concentration. Lancet 2(7929):309–310

4.

Heaf JG (2003) Bone disease after renal transplantation. Transplantation 75(3):315–325

5.

Monier-Faugere MC, Mawad H, Qi Q, Friedler RM, Malluche HH (2000) High prevalence of low bone turnover and occurrence of osteomalacia after kidney transplantation. J Am Soc Nephrol 11(6):1093–1099

6.

Bouvard B, Audran M, Legrand E, Chappard D (2009) Ultrastructural characteristics of glucocorticoid-induced osteoporosis. Osteoporos Int 20(6):1089–1092

7.

Laroche M, Boyer JF (2005) Phosphate diabetes, tubular phosphate reabsorption and phosphatonins. Joint Bone Spine 72(5):376–381

8.

Evenepoel P, Meijers BK, de Jonge H, Naesens M, Bammens B, Claes K et al (2008) Recovery of hyperphosphatoninism and renal phosphorus wasting one year after successful renal transplantation. Clin J Am Soc Nephrol 3(6):1829–1836

9.

Al-Ibrahim A, Sanjed S, Al-Abbad A, Al-Sabban E, Al-Shaibani K (2004) Post renal transplantation tubulopathies in children: a 9-year experience at a tertiary care centre. Saudi J Kidney Dis Transpl 15(1):27–33

10.

Bayrakci US, Baskin E, Ozcay F, Ozdemir BH, Karakayali H, Haberal M (2008) Renal Fanconi syndrome and myopathy after liver transplantation: drug-related mitochondrial cytopathy? Pediatr Transplant 12(1):109–112

11.

Simon N, Morin C, Urien S, Tillement JP, Bruguerolle B (2003) Tacrolimus and sirolimus decrease oxidative phosphorylation of isolated rat kidney mitochondria. Br J Pharmacol 138(2):369–376

12.

Falkiewicz K, Kaminska D, Nahaczewska W, Boratynska M, Owczarek H, Klinger M et al (2006) Renal function and tubular phosphate handling in long-term cyclosporine- and tacrolimus-based immunosuppression in kidney transplantation. Transplant Proc 38(1):119–122

13.

Schwarz C, Bohmig GA, Steininger R, Mayer G, Oberbauer R (2001) Impaired phosphate handling of renal allografts is aggravated under rapamycin-based immunosuppression. Nephrol Dial Transplant 16(2):378–382
Conflict of interest
The authors declare that they have no conflict of interest.
About this article
Cite this article
Sayegh, J., Augusto, J., Chappard, D. et al. A case of severe osteomalacia secondary to phosphate diabetes in a renal transplant recipient. Int Urol Nephrol 45, 1795–1799 (2013). https://doi.org/10.1007/s11255-012-0283-0
Received:

Accepted:

Published:

Issue Date:
Keywords
Hypophosphatemia

Kidney transplantation

Osteomalacia

Phosphate diabetes

Tacrolimus

Sirolimus