Abstract
Purpose
The optimal target for glycemic control has not been established for diabetic maintenance hemodialysis (MHD) patients.
Methods
A 6-year cohort (October 2001– December 2006) of 347 diabetic MHD patients with HbA1c data was examined for associations between HbA1c and mortality. Death hazard ratios (HR) were estimated using Cox regressions and cubic splines.
Results
In these 347 patients (age, 59 ± 11 years; 49 % women; 28 % African Americans; and 55 % Hispanics), each 0.5 % decline in HbA1c below 6 % was associated with a 4.7 times higher death risk (HR = 4.7; 95 % CI 1.7–12.7) in the fully adjusted model. Factors associated with lower HbA1c levels (<6 % compared to 6–7 %) were: Hispanic ethnicity (OR = 2.9; 95 % CI 1.1–7.9), higher mid-arm muscle circumstance (OR = 1.1; 95 % CI 1.0–1.3), higher total iron-binding capacity (OR = 1.03; 95 % CI 1.01–1.05), and higher iron saturation ratio (OR = 1.14; 95 % CI 1.03–1.26). HbA1c levels >7 % showed a consistent trend toward elevated mortality risk (HR = 1.18; 95 % CI 0.99–1.41) after multivariate adjustment.
Conclusions
In diabetic MHD patients with burnt-out diabetes, characterized by HbA1c <6 %, even lower HbA1c levels are associated with significantly higher death risk. Additional studies are needed to determine the optimal target for HbA1c levels in different subgroups of diabetic MHD patients.
This is a preview of subscription content, log in to check access.
Access options
Buy single article
Instant access to the full article PDF.
US$ 39.95
Price includes VAT for USA
Subscribe to journal
Immediate online access to all issues from 2019. Subscription will auto renew annually.
US$ 99
This is the net price. Taxes to be calculated in checkout.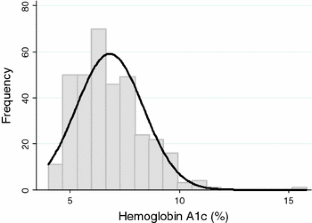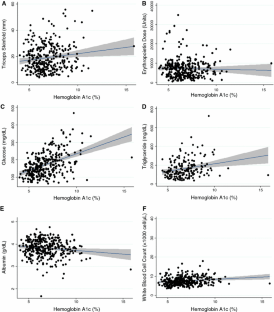 References
1.

Foley RN, Collins AJ (2007) End-stage renal disease in the United States: an update from the United States renal data system. J Am Soc Nephrol 18:2644–2648

2.

U.S. Renal Data System (USRDS) (2008) Annual data report: atlas of chronic kidney disease and end-stage renal disease in the United States. National Institutes of Health, National Institute of Diabetes and Digestive and Kidney Diseases, Bethesda

3.

Lasker RD (1993) The diabetes control and complications trial. Implications for policy and practice. N Engl J Med 329:1035–1036

4.

Ohkubo Y, Kishikawa H, Araki E, Miyata T, Isami S, Motoyoshi S, Kojima Y, Furuyoshi N, Shichiri M (1995) Intensive insulin therapy prevents the progression of diabetic microvascular complications in Japanese patients with non-insulin-dependent diabetes mellitus: a randomized prospective 6-year study. Diabetes Res Clin Pract 28:103–117

5.

UK Prospective Diabetes Study (UKPDS) Group (1998) Intensive blood-glucose control with sulphonylureas or insulin compared with conventional treatment and risk of complications in patients with type 2 diabetes (UKPDS 33). Lancet 352:837–853

6.

Nathan DM, Cleary PA, Backlund JY, Genuth SM, Lachin JM, Orchard TJ, Raskin P, Zinman B (2005) Intensive diabetes treatment and cardiovascular disease in patients with type 1 diabetes. N Engl J Med 353:2643–2653

7.

Kelly TN, Bazzano LA, Fonseca VA, Thethi TK, Reynolds K, He J (2009) Glucose control and cardiovascular disease in type 2 diabetes. Ann Intern Med 151:394–403

8.

Morioka T, Emoto M, Tabata T, Shoji T, Tahara H, Kishimoto H, Ishimura E, Nishizawa Y (2001) Glycemic control is a predictor of survival for diabetic patients on hemodialysis. Diabetes Care 24:909–913

9.

Oomichi T, Emoto M, Tabata T, Morioka T, Tsujimoto Y, Tahara H, Shoji T, Nishizawa Y (2006) Impact of glycemic control on survival of diabetic patients on chronic regular hemodialysis: a 7-year observational study. Diabetes Care 29:1496–1500

10.

Hayashino Y, Fukuhara S, Akiba T, Akizawa T, Asano Y, Saito A, Bragg-Gresham JL, Ramirez SP, Port FK, Kurokawa K (2007) Diabetes, glycaemic control and mortality risk in patients on haemodialysis: the Japan dialysis outcomes and practice pattern study. Diabetologia 50:1170–1177

11.

Ishimura E, Okuno S, Kono K, Fujino-Kato Y, Maeno Y, Kagitani S, Tsuboniwa N, Nagasue K, Maekawa K, Yamakawa T, Inaba M, Nishizawa Y (2009) Glycemic control and survival of diabetic hemodialysis patients–importance of lower hemoglobin A1C levels. Diabetes Res Clin Pract 83:320–326

12.

Williams ME, Lacson E Jr, Teng M, Ofsthun N, Lazarus JM (2006) Hemodialyzed type I and type II diabetic patients in the US: characteristics, glycemic control, and survival. Kidney Int 70:1503–1509

13.

Kalantar-Zadeh K, Kopple JD, Regidor DL, Jing J, Shinaberger CS, Aronovitz J, McAllister CJ, Whellan D, Sharma K (2007) A1C and survival in maintenance hemodialysis patients. Diabetes Care 30:1049–1055

14.

Gerstein HC, Miller ME, Byington RP, Goff DC Jr, Bigger JT, Buse JB, Cushman WC, Genuth S, Ismail-Beigi F, Grimm RH Jr, Probstfield JL, Simons-Morton DG, Friedewald WT (2008) Effects of intensive glucose lowering in type 2 diabetes. N Engl J Med 358:2545–2559

15.

Patel A, MacMahon S, Chalmers J, Neal B, Billot L, Woodward M, Marre M, Cooper M, Glasziou P, Grobbee D, Hamet P, Harrap S, Heller S, Liu L, Mancia G, Mogensen CE, Pan C, Poulter N, Rodgers A, Williams B, Bompoint S, de Galan BE, Joshi R, Travert F (2008) Intensive blood glucose control and vascular outcomes in patients with type 2 diabetes. N Engl J Med 358:2560–2572

16.

Kalantar-Zadeh K, Derose SF, Nicholas S, Benner D, Sharma K, Kovesdy CP (2009) Burnt-out diabetes: impact of chronic kidney disease progression on the natural course of diabetes mellitus. J Ren Nutr 19:33–37

17.

Kovesdy CP, Park JC, Kalantar-Zadeh K (2010) Glycemic control and burnt-out diabetes in ESRD. Semin Dial 23:148–156

18.

Kovesdy CP, Sharma K, Kalantar-Zadeh K (2008) Glycemic control in diabetic CKD patients: where do we stand? Am J Kidney Dis 52:766–777

19.

Colman S, Bross R, Benner D, Chow J, Braglia A, Arzaghi J, Dennis J, Martinez L, Baldo DB, Agarwal V, Trundnowski T, Zitterkoph J, Martinez B, Khawar OS, Kalantar-Zadeh K (2005) The nutritional and inflammatory evaluation in dialysis patients (NIED) study: overview of the NIED study and the role of dietitians. J Ren Nutr 15:231–243

20.

Rattanasompattikul M, Feroze U, Molnar MZ, Dukkipati R, Kovesdy CP, Nissenson AR, Norris KC, Kopple JD, Kalantar-Zadeh K (2011) Charlson comorbidity score is a strong predictor of mortality in hemodialysis patients. Int Urol Nephrol [Epub ahead of print]

21.

Bross R, Chandramohan G, Kovesdy CP, Oreopoulos A, Noori N, Golden S, Benner D, Kopple JD, Kalantar-Zadeh K (2010) Comparing body composition assessment tests in long-term hemodialysis patients. Am J Kidney Dis 55:885–896

22.

Kalantar-Zadeh K, Dunne E, Nixon K, Kahn K, Lee GH, Kleiner M, Luft FC (1999) Near infra-red interactance for nutritional assessment of dialysis patients. Nephrol Dial Transplant 14:169–175

23.

Raj DS, Shah VO, Rambod M, Kovesdy CP, Kalantar-Zadeh K (2009) Association of soluble endotoxin receptor CD14 and mortality among patients undergoing hemodialysis. Am J Kidney Dis 54:1062–1071

24.

Rambod M, Kovesdy CP, Bross R, Kopple JD, Kalantar-Zadeh K (2008) Association of serum prealbumin and its changes over time with clinical outcomes and survival in patients receiving hemodialysis. Am J Clin Nutr 88:1485–1494

25.

Kalantar-Zadeh K, Block G, Humphreys MH, McAllister CJ, Kopple JD (2004) A low, rather than a high, total plasma homocysteine is an indicator of poor outcome in hemodialysis patients. J Am Soc Nephrol 15:442–453

26.

Duong U, Mehrotra R, Molnar MZ, Noori N, Kovesdy CP, Nissenson AR, Kalantar-Zadeh K (2011) Glycemic control and survival in peritoneal dialysis patients with diabetes mellitus. Clin J Am Soc Nephrol 6:1041–1048

27.

Ricks J, Molnar MZ, Kovesdy CP, Shah A, Nissenson AR, Williams M, Kalantar-Zadeh K (2012) Glycemic control and cardiovascular mortality in hemodialysis patients with diabetes: a 6-year cohort study. Diabetes 61:708–715

28.

Mehrotra R, Kalantar-Zadeh K, Adler S (2011) Assessment of glycemic control in dialysis patients with diabetes: glycosylated hemoglobin or glycated albumin? Clin J Am Soc Nephrol 6:1520–1522

29.

Gerstein HC, Miller ME, Genuth S, Ismail-Beigi F, Buse JB, Goff DC Jr, Probstfield JL, Cushman WC, Ginsberg HN, Bigger JT, Grimm RH Jr, Byington RP, Rosenberg YD, Friedewald WT (2011) Long-term effects of intensive glucose lowering on cardiovascular outcomes. N Engl J Med 364:818–828
Acknowledgments
We thanks DaVita Clinical Research and DaVita dietitians in Wild West, Gold Coast, and Surf and Sun divisions for supporting the study and the staff at Harbor-UCLA General Clinic Research Center Core Laboratories for the management of blood samples and measuring inflammatory markers. The study was supported by KKZ's research grant from the American Heart Association grant (0655776Y). KKZ's other funding sources include the National Institute of Diabetes, Digestive and Kidney Disease of the National Institute of Health (R01 DK078106); a research grant from DaVita Clinical Research and a philanthropic grant from Mr. Harold Simmons. This study was supported by a National Institutes of Health grant (R21 DK078012) from NIH-NIDDK to Dr Kalantar-Zadeh and by the General Clinical Research Center grant M01-RR00425 from the NIH National Centers for Research Resources. MZM received grants from the National Developmental Agency (KTIA-OTKA-EU 7KP-HUMAN-MB08-A-81231) from the Research and Technological Innovation Fund and is recipient of the Hungarian Eötvös Scholarship (MÖB/77-2/2012).
Conflict of interests
Dr. Kalantar-Zadeh is the medical director of DaVita Harbor-UCLA/MFI in Long Beach, CA. Other authors have not declared any conflict of interest.
Additional information
Youngmee Kim and Jong Chan Park contributed equally to this work.
Electronic supplementary material
Below is the link to the electronic supplementary material.
About this article
Cite this article
Kim, Y., Park, J.C., Molnar, M.Z. et al. Correlates of low hemoglobin A1c in maintenance hemodialysis patients. Int Urol Nephrol 45, 1079–1090 (2013). https://doi.org/10.1007/s11255-012-0208-y
Received:

Accepted:

Published:

Issue Date:
Keywords
Diabetes mellitus

Burnt-out diabetes

Glucose

Hemoglobin A1c

Hemodialysis

Mortality

Malnutrition-inflammation complex syndrome