Abstract
Background
It is unclear whether any significant changes in the epidemiology of chronic kidney disease (CKD), possibly resulting from the exceedingly rapid economic development and the aggressive prevention and treatment of kidney diseases in the Chinese population, have occurred over the past two decades.
Methods
The medical records of 173 CKD patients from 1990–1991 and 956 patients from 2009–2010 were retrospectively analyzed.
Results
In patients from 1990–1991, CKD occurred at an earlier age, with severely decreased kidney function. On average, these patients progressed to end-stage renal disease 4.5 years faster. Diabetes and hypertension have become the most common causes of CKD in elderly patients in 2009–2010 period, representing 39.5 % and 24.2 % of all CKD causes, respectively. In the 1990–1991 period, CKD was characterized by a high frequency of severe anemia in stage 4 and 5 patients. The mean arterial pressure in patients with CKD stage 4 and stage 5 decreased significantly in. Although the number of dyslipidemia patients in stage 4 and 5 was significantly higher in the 2009–2010 period, there were no substantial differences in the average levels of serum triglycerides and total cholesterol in the two cohorts. Hypoproteinemia also became less common than before. The occurrence of cardiovascular events was significantly reduced in stage 4 and stage 5 patients in 2009–2010.
Conclusions
Diabetes and hypertension have increased and become the leading causes of CKD in elderly Chinese patients. Improvement in the control of CKD complications has been significant, mainly regarding anemia, hypertension, dyslipidemia, and hypoproteinemia.
This is a preview of subscription content, log in to check access.
Access options
Buy single article
Instant access to the full article PDF.
US$ 39.95
Price includes VAT for USA
Subscribe to journal
Immediate online access to all issues from 2019. Subscription will auto renew annually.
US$ 99
This is the net price. Taxes to be calculated in checkout.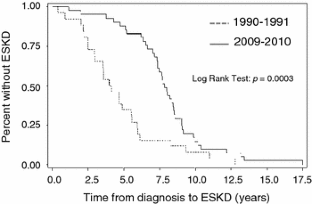 References
1.

El Nahas AM, Bello AK (2005) Chronic kidney disease: the global challenge. Lancet 365:331–340

2.

Dialysis and Transplantation Registration Group CSoNCMA (2001) The report about the registration of dialysis and transplantation in China 1999. Chin J Nephrol 17:77–78

3.

Wu YK, Lu CQ, Gao RQ (1982) Nation-wide hypertension screening in China during 1979–1980. Chin Med J 95:101108

4.

Fourth National Health and Nutrition Examination Survey Working Group (2004) Results from the Fourth National Health and Nutrition Examination Survey of China. Acta Nutr Sin 26:417–420

5.

Liu LS, Chen MQ, Zeng GY et al (2002) A forty-year study on hypertension. Acta Acad Med Sin 24:401–408

6.

Kidney Disease Outcome Quality Initiative (2002) K/DOQI clinical practice guidelines for chronic kidney disease: evaluation classification stratification. Am J Kidney Dis 39(Suppl 2):S1–S246

7.

Ma YC, Zuo L, Chen JH et al (2006) Modified glomerular filtration rate estimating equation for Chinese patients with chronic kidney disease. J Am Soc Nephrol 17:2937–2944

8.

Go AS, Chertow GM, Fan DJ et al (2004) Chronic kidney disease and the risks of death, cardiovascular events and hospitalization. N Engl J Med 351:1296–1305

9.

Wang Y, Zhang L, Li X et al (2009) Improvement of awareness, treatment and control of hypertension among chronic kidney disease patients in China from 1999 to 2005. Hypertens Res 32:444–449

10.

PRC National Blood Pressure Survey Cooperative Group (1995) Hypertension prevalence, the status of people awareness, treatment, control in China: a national-wide survey in 1991. Chin J Hypertens 3(Suppl 1):S14–S18

11.

Gu D, Reynolds K, Wu X et al (2002) Prevalence awareness, treatment, and control of hypertension in China. Hypertension 40:920–927

12.

Pan XR, Yang WY, Li GW et al (1997) Prevalence of diabetes and its risk factor in China, 1994. Diabetes Care 20:1664–1669

13.

Yang W, Lu J, Weng J et al (2010) Prevalence of diabetes among men and women in China. N Engl J Med 362:1090–1101

14.

Ruggenenti P, Schieppati A, Remuzzi G (2001) Progression, remission, and regression of chronic renal diseases. Lancet 357:1601–1608

15.

Bakris GL, Williams M, Dworkin L et al (2000) Preserving renal function in adults with hypertension and diabetes: a consensus approach. Am J Kidney Dis 36:646–661

16.

Kidney Disease Outcome Quality Initiative (2004) Clinical practice guidelines on hypertension and anti-hypertensive agents in chronic kidney disease. Am J Kidney Dis 43(Suppl 2):1–290

17.

Fried LF, Orchard TJ, Kasiske BL et al (2001) Effects of lipid reduction on the progression of renal disease: a meta-analysis. Kidney Int 59:260–269

18.

Barsoum RS (2006) Chronic kidney disease in the developing world. N Engl J Med 354:997–999
About this article
Cite this article
Cao, Y., Li, W., Yang, G. et al. Diabetes and hypertension have become leading causes of CKD in Chinese elderly patients: a comparison between 1990–1991 and 2009–2010. Int Urol Nephrol 44, 1269–1276 (2012). https://doi.org/10.1007/s11255-012-0194-0
Received:

Accepted:

Published:

Issue Date:
Keywords
Chronic kidney disease

Glomerulonephritis

Diabetes

End-stage renal disease

Hypertension