Abstract
Purpose
Immunosuppressive and anti-inflammatory agents have recently become increasingly popular in the treatment of encapsulating peritoneal sclerosis (EPS). The aim of our study was to investigate the effects of sirolimus on EPS in a rat model.
Methods
We separated 32 non-uremic rats into four groups: 1 control group, 2 ml isotonic saline injected IP daily for 3 weeks; 2 chlorhexidine gluconate (CG) group, 2 ml 0,1 % CG and 15 % ethanol dissolved in saline injected IP daily for 3 weeks; 3 resting group, CG (weeks 0–3) plus peritoneal rest (weeks 3–6); 4 sirolimus group, CG (weeks 0–3), plus 0.2 ml (1 mg/ml) sirolimus (weeks 3–6). Pathological samples were examined by using hematoxylin eosin (HE) and Masson's trichrome stains. Peritoneal thickness, fibrosis, vascular changes, and inflammation were evaluated by light microscopy. Finally, tissue metalloproteinase (MMP)-2 levels were measured by enzyme-linked immunoassay.
Results
In the CG group, there was a significant increase in peritoneal thickness, inflammatory activity, and fibrosis score compared to the control group (p < 0.05). We also observed a lower fibrosis score and less peritoneal thickening in the sirolimus group compared to the resting and CG groups (p < 0.05). There was no difference in histopathologic findings, except for the inflammatory activity in the sirolimus group, compared to the control group. Although the CG group had higher tissue MMP-2 levels than the control group, the tissue MMP-2 levels were not significantly different from the other groups.
Conclusions
Sirolimus has a beneficial effect on peritoneal fibrosis induced by CG. This suggests that sirolimus may have therapeutic value in the management of EPS.
This is a preview of subscription content, log in to check access.
Access options
Buy single article
Instant access to the full article PDF.
US$ 39.95
Price includes VAT for USA
Subscribe to journal
Immediate online access to all issues from 2019. Subscription will auto renew annually.
US$ 99
This is the net price. Taxes to be calculated in checkout.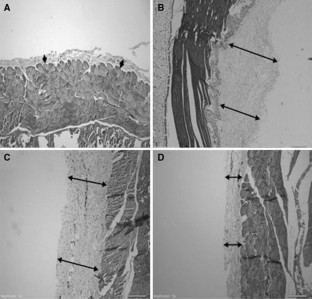 References
1.

Krediet RT (2007) 30 years of peritoneal dialysis development: the past and the future. Perit Dial Int 27:35–41

2.

Hirahara I, Inoue M, Okuda K, Ando Y, Muto S, Kusano E (2007) The potential of matrix metalloproteinase–2 as a marker of peritoneal injury increased solute transport, or progression to encapsulating peritoneal sclerosis during peritoneal dialysis—a multicentre study in Japan. Nephrol Dial Transplant 22:560–567

3.

Goodlad C, Brown EA (2011) Encapsulating peritoneal sclerosis: what have we learned? Semin Nephrol 31:183–198

4.

Bozkurt D, Sipahi S, Cetin P et al (2009) Does immunosuppressive treatment ameliorate morphology changes in encapsulating peritoneal sclerosis? Perit Dial Int 29:206–210

5.

Ro Y, Hamada C, Inaba M, Io H, Kaneko K, Tomino Y (2007) Inhibitory effects of matrix metalloproteinase inhibitor ONO-4817 on morphological alterations in chlorhexidine gluconate-induced peritoneal sclerosis rats. Nephrol Dial Transplant 22:2838–2848

6.

Morath C, Arns W, Schwenger V et al (2007) Sirolimus in renal transplantation. Nephrol Dial Transplant 22:61–65

7.

Guba M, von Breitenbuch P, Steinbauer M et al (2002) Rapamycin inhibits primary and metastatic tumor growth by antiangiogenesis: involvement of vascular endothelial growth factor. Nat Med 8:128–135

8.

Rangan GK, Coombes JD (2007) Renoprotective effects of sirolimus in non-immune initiated focal segmental glomerulosclerosis. Nephrol Dial Transplant 22:2175–2182

9.

Damião MJ, Bertocchi AP, Monteiro RM et al (2007) The effects of rapamycin in the progression of renal fibrosis. Transplant Proc 39:457–459

10.

Neef M, Ledermann M, Saegesser H, Schneider V, Reichen J (2006) Low-dose oral rapamycin treatment reduces fibrogenesis, improves liver function, and prolongs survival in rats with established liver cirrhosis. J Hepatol 45:786–796

11.

Simler NR, Howell DC, Marshall RP et al (2002) The rapamycin analogue SDZ RAD attenuates bleomycin-induced pulmonary fibrosis in rats. Eur Respir J 19:1124–1127

12.

Wong CF (2006) Clinical experience with tamoxifen in encapsulating peritoneal sclerosis. Perit Dial Int 26:183–184

13.

Wong CF, Beshir S, Khalil A, Pai P, Ahmad R (2005) Successful treatment of encapsulating peritoneal sclerosis with azathioprine and prednisolone. Perit Dial Int 25:285–287

14.

Ishii Y, Sawada T, Shimizu A et al (2001) An experimental sclerosing encapsulating peritonitis model in mice. Nephrol Dial Transplant 16:1262–1266

15.

Williams JD, Craig KJ, Topley N et al (2002) Morphologic changes in the peritoneal membrane of patients with renal disease. J Am Soc Nephrol 13:470–479

16.

Hawinkels LJAC, Verspaget HW, van Duijn W et al (2007) Tissue level, activation and cellular localisation of TGF-β1 and association with survival in gastric cancer patients. Br J Cancer 97:398–404

17.

Kawanishi H, Watanabe H, Moriishi M, Tsuchiya S (2005) Successful surgical management of encapsulating peritoneal sclerosis. Perit Dial Int 25:39–47

18.

Duman S, Bozkurt D, Sipahi S et al (2008) Effects of everolimus as an antiproliferative agent on regression of encapsulating peritoneal sclerosis in a rat model. Adv Perit Dial 24:104–110

19.

Winbanks CE, Grimwood L, Gasser A, Darby IA, Hewitson TD, Becker GJ (2007) Role of the phosphatidylinositol 3-kinase and mTOR pathways in the regulation of renal fibroblast function and differentiation. Int J Biochem Cell Biol 39:206–219

20.

Schmidt DW, Flessner MF (2008) Pathogenesis and treatment of encapsulating peritoneal sclerosis: basic and translational research. Perit Dial Int 28:10–15

21.

Waller JR, Bicknell GR, Nicholson ML (2002) Sirolimus attenuates the expression of metalloproteinase-2 and -9 and inhibits intimal hyperplasia following balloon angioplasty. Transplant Proc 34:2881–2883

22.

Khanna A, Plummer M, Bromberek C, Bresnahan B, Hariharan S (2002) Expression of TGF-beta and fibrogenic genes in transplant recipients with tacrolimus and cyclosporine nephrotoxicity. Kidney Int 62:2257–2263

23.

Kawanishi H, Kawaguchi Y, Fukui H et al (2004) Encapsulating peritoneal sclerosis in Japan: a prospective, controlled, multicenter study. Am J Kidney Dis 44:729–737
About this article
Cite this article
Ceri, M., Unverdi, S., Dogan, M. et al. Effect of sirolimus on the regression of peritoneal sclerosis in an experimental rat model. Int Urol Nephrol 44, 977–982 (2012). https://doi.org/10.1007/s11255-012-0167-3
Received:

Accepted:

Published:

Issue Date:
Keywords
Chlorhexidine gluconate

Fibrosis

Peritoneal dialysis

Sirolimus