Abstract
Objective
We aimed to investigate significance of smoking regarding pathologic and biochemical outcomes following radical prostatectomy (RP).
Materials and methods
We reviewed data of 1,165 patients who underwent RP without any neoadjuvant or adjuvant therapy at our institution. Patients were categorized into two groups for our analysis: smoking (current smoker at admission for surgery) and nonsmoking (never smoked or former smokers) group. Association of smoking status with adverse pathologic features and biochemical recurrence-free survival were analyzed according to patients' body mass index (BMI) as well as in total patients.
Results
In multivariate analyses, smoking was not found to be significantly associated with various adverse pathologic features and biochemical recurrence-free survival among total patients (all P > 0.05). However, when only the patients with BMI ≥25 kg/m2 were analyzed, smoking at RP was observed to be an independent preoperative predictor of high (≥8) pathologic Gleason score (P = 0.025) and biochemical recurrence-free survival (P = 0.016) in multivariate analyses.
Conclusions
Although smoking was not observed to be significantly associated with worse pathologic and biochemical outcome among overall patients who underwent RP, smoking was found to be a significant preoperative predictor of more aggressive disease and worse biochemical outcome among those with relatively higher BMI.
This is a preview of subscription content, log in to check access.
Access options
Buy single article
Instant access to the full article PDF.
US$ 39.95
Price includes VAT for USA
Subscribe to journal
Immediate online access to all issues from 2019. Subscription will auto renew annually.
US$ 99
This is the net price. Taxes to be calculated in checkout.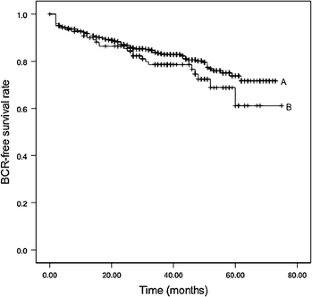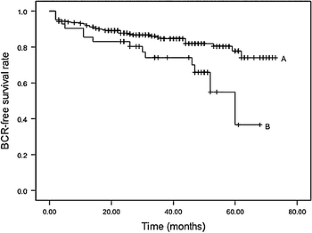 References
1.

Hickey K, Do KA, Green A (2001) Smoking and prostate cancer. Epidemiol Rev 23(1):115–125

2.

Levi F, La Vecchia C (2001) Tobacco smoking and prostate cancer: time for an appraisal. Ann Oncol 12(6):733–738

3.

Zu K, Giovannucci E (2009) Smoking and aggressive prostate cancer: a review of the epidemiologic evidence. Cancer Causes Control 20(10):1799–1810

4.

Giovannucci E, Liu Y, Platz EA, Stampfer MJ, Willett WC (2007) Risk factors for prostate cancer incidence and progression in the health professionals follow-up study. Int J Cancer 121(7):1571–1578

5.

Hsing AW, McLaughlin JK, Hrubec Z, Blot WJ, Fraumeni JF Jr (1991) Tobacco use and prostate cancer: 26-year follow-up of US veterans. Am J Epidemiol 133(5):437–441

6.

Coughlin SS, Neaton JD, Sengupta A (1996) Cigarette smoking as a predictor of death from prostate cancer in 348, 874 men screened for the Multiple Risk Factor Intervention Trial. Am J Epidemiol 143(10):1002–1006

7.

Rodriguez C, Tatham LM, Thun MJ, Calle EE, Heath CW Jr (1997) Smoking and fatal prostate cancer in a large cohort of adult men. Am J Epidemiol 145(5):466–475

8.

Giovannucci E, Rimm EB, Ascherio A et al (1999) Smoking and risk of total and fatal prostate cancer in United States health professionals. Cancer Epidemiol Biomarkers Prev 8(4 Pt 1):277–282

9.

Batty GD, Kivimaki M, Gray L et al (2008) Cigarette smoking and site-specific cancer mortality: testing uncertain associations using extended follow-up of the original Whitehall study. Ann Oncol 19(5):996–1002

10.

Spitz MR, Strom SS, Yamamura Y et al (2000) Epidemiologic determinants of clinically relevant prostate cancer. Int J Cancer 89(3):259–264

11.

Plaskon LA, Penson DF, Vaughan TL, Stanford JL (2003) Cigarette smoking and risk of prostate cancer in middle-aged men. Cancer Epidemiol Biomarkers Prev 12(7):604–609

12.

Roberts WW, Platz EA, Walsh PC (2003) Association of cigarette smoking with extraprostatic prostate cancer in young men. J Urol 169(2):512–516 discussion 516

13.

Pickles T, Liu M, Berthelet E et al (2004) The effect of smoking on outcome following external radiation for localized prostate cancer. J Urol 171(4):1543–1546

14.

Pantarotto J, Malone S, Dahrouge S, Gallant V, Eapen L (2007) Smoking is associated with worse outcomes in patients with prostate cancer treated by radical radiotherapy. BJU Int 99(3):564–569

15.

McNeal JE, Redwine EA, Freiha FS, Stamey TA (1988) Zonal distribution of prostatic adenocarcinoma. Correlation with histologic pattern and direction of spread. Am J Surg Pathol 12(12):897–906

16.

Cookson MS, Aus G, Burnett AL et al (2007) Variation in the definition of biochemical recurrence in patients treated for localized prostate cancer: the American Urological Association Prostate Guidelines for Localized Prostate Cancer Update Panel report and recommendations for a standard in the reporting of surgical outcomes. J Urol 177(2):540–545

17.

Freedland SJ, Aronson WJ, Kane CJ et al (2004) Impact of obesity on biochemical control after radical prostatectomy for clinically localized prostate cancer: a report by the Shared Equal Access Regional Cancer Hospital database study group. J Clin Oncol 22(3):446–453

18.

World Health Organization, Western Pacific Region, International Association for the Study of Obesity (2000) The Asia-Pacific perspective: redefining obesity and its treatment. Health Communications Australia Pty Limited, Sydney, Australia

19.

Daniell HW (1995) A worse prognosis for smokers with prostate cancer. J Urol 154(1):153–157

20.

Yu GP, Ostroff JS, Zhang ZF, Tang J, Schantz SP (1997) Smoking history and cancer patient survival: a hospital cancer registry study. Cancer Detect Prev 21(6):497–509

21.

Oefelein MG, Resnick MI (2004) Association of tobacco use with hormone refractory disease and survival of patients with prostate cancer. J Urol 171(6 Pt 1):2281–2284

22.

Merrick GS, Butler WM, Wallner KE et al (2004) Effect of cigarette smoking on biochemical outcome after permanent prostate brachytherapy. Int J Radiat Oncol Biol Phys 58(4):1056–1062

23.

Gong Z, Agalliu I, Lin DW, Stanford JL, Kristal AR (2008) Cigarette smoking and prostate cancer-specific mortality following diagnosis in middle-aged men. Cancer Causes Control 19(1):25–31

24.

Moreira DM, Antonelli JA, Presti JC Jr et al (2010) Association of cigarette smoking with interval to biochemical recurrence after radical prostatectomy: results from the SEARCH database. Urology 76(5):1218–1223

25.

Freedman DM, Sigurdson AJ, Rajaraman P et al (2006) The mortality risk of smoking and obesity combined. Am J Prev Med 31(5):355–362

26.

Zmuda JM, Cauley JA, Kriska A et al (1997) Longitudinal relation between endogenous testosterone and cardiovascular disease risk factors in middle-aged men. A 13-year follow-up of former Multiple Risk Factor Intervention Trial participants. Am J Epidemiol 146(8):609–617

27.

Shin BS, Hwang EC, Im CM et al (2010) Is a decreased serum testosterone level a risk factor for prostate cancer? A cohort study of Korean men. Korean J Urol 51(12):813–823

28.

Enokida H, Shiina H, Urakami S et al (2006) Smoking influences aberrant CpG hypermethylation of multiple genes in human prostate carcinoma. Cancer 106(1):79–86

29.

Heeschen C, Jang JJ, Weis M et al (2001) Nicotine stimulates angiogenesis and promotes tumor growth and atherosclerosis. Nat Med 7(7):833–839

30.

Mehta H, Nazzal K, Sadikot RT (2008) Cigarette smoking and innate immunity. Inflamm Res 57(11):497–503
Conflict of interest
None.
About this article
Cite this article
Oh, J.J., Hong, S.K., Jeong, C.W. et al. Significance of smoking status regarding outcomes after radical prostatectomy. Int Urol Nephrol 44, 119–124 (2012). https://doi.org/10.1007/s11255-011-9964-3
Received:

Accepted:

Published:

Issue Date:
Keywords
Prostate

Prostatic neoplasms

Prostatectomy

Smoking