Abstract
Context
Non-technical skills are important behavioural aspects that a urologist must be fully competent at to minimise harm to patients. The majority of surgical errors are now known to be due to errors in judgment and decision making as opposed to the technical aspects of the craft.
Evidence acquisition
The authors reviewed the published literature regarding decision-making theory and in practice related to urology as well as the current tools available to assess decision-making skills. Limitations include limited number of studies, and the available studies are of low quality.
Evidence synthesis
Decision making is the psychological process of choosing between alternative courses of action. In the surgical environment, this can often be a complex balance of benefit and risk within a variable time frame and dynamic setting. In recent years, the emphasis of new surgical curriculums has shifted towards non-technical surgical skills; however, the assessment tools in place are far from objective, reliable and valid. Surgical simulators and video-assisted questionnaires are useful methods for appraisal of trainees.
Conclusion
Well-designed, robust and validated tools need to be implemented in training and assessment of decision-making skills in urology. Patient safety can only be ensured when safe and effective decisions are made.
This is a preview of subscription content, log in to check access.
Access options
Buy single article
Instant access to the full article PDF.
US$ 39.95
Price includes VAT for USA
Subscribe to journal
Immediate online access to all issues from 2019. Subscription will auto renew annually.
US$ 99
This is the net price. Taxes to be calculated in checkout.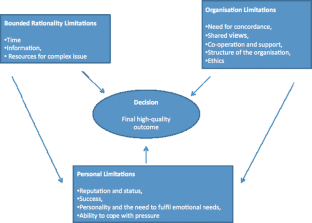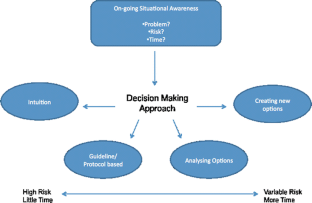 References
1.

Sevdalis N, McCulloch P (2006) Teaching evidence-based decision-making. Surg Clin N Am 86(1):59–70 viii

2.

Jacklin R et al (2008) Mapping surgical practice decision making: an interview study to evaluate decisions in surgical care. Am J Surg 195(5):689–696

3.

Cuschieri A et al (2001) What do master surgeons think of surgical competence and revalidation? Am J Surg 182(2):110–116

4.

Thomas EJ, Orav EJ, Brennan TA (2000) Hospital ownership and preventable adverse events. J Gen Intern Med 15(4):211–219

5.

Vincent C, Neale G, Woloshynowych M (2001) Adverse events in British hospitals: preliminary retrospective record review. BMJ 322(7285):517–519

6.

Vincent CA, Pincus T, Scurr JH (1993) Patients' experience of surgical accidents. Qual Health Care 2(2):77–82

7.

Vincent C et al (2004) Systems approaches to surgical quality and safety: from concept to measurement. Ann Surg 239(4):475–482

8.

Vincent C, Taylor-Adams S, Stanhope N (1998) Framework for analysing risk and safety in clinical medicine. BMJ 316(7138):1154–1157

9.

Wilson (1999) A practical guide to risk management in surgery: developing and planning. In: Health care risk resources international. The Royal College of Surgeons of England

10.

Vlek C (1984) What constitutes 'a good decision'? A panel discussion among Ward Edwards, István Kiss, Giandomenico Majone and Masanao Toda. Acta Psychol 56(1–3):5–27

11.

Mishra A, Catchpole K, McCulloch P (2009) The Oxford NOTECHS System: reliability and validity of a tool for measuring teamwork behaviour in the operating theatre. Qual Saf Health Care 18(2):104–108

12.

Sackett DL et al (1996) Evidence based medicine: what it is and what it isn't. BMJ 312(7023):71–72

13.

Braddock CH 3rd et al (1999) Informed decision making in outpatient practice: time to get back to basics. JAMA 282(24):2313–2320

14.

Britten N et al (2000) Misunderstandings in prescribing decisions in general practice: qualitative study. BMJ 320(7233):484–488

15.

Marshall JC (2006) Surgical decision-making: integrating evidence, inference, and experience. Surg Clin N Am 86(1):201–215 xii

16.

Bell David RH (1988) Decision making: descriptive, normative, and prescriptive interactions. Cambridge University Press, Cambridge, p 623

17.

Gigerenzer G, Gaissmaier W (2011) Heuristic decision making. Annu Rev Psychol 62:451–482

18.

Reaby LL (1998) Breast restoration decision making: enhancing the process. Cancer Nurs 21(3):196–204

19.

Croskerry P (2002) Achieving quality in clinical decision making: cognitive strategies and detection of bias. Acad Emerg Med 9(11):1184–1204

20.

Smith W, Dowell J (2000) A case study of co-ordinative decision-making in disaster management. Ergonomics 43(8):1153–1166

21.

Flin R, Youngson G, Yule S (2007) How do surgeons make intraoperative decisions? Qual Saf Health Care 16(3):235–239

22.

Francis DM (2009) Surgical decision making. ANZ J Surg 79(12):886–891

23.

Brehmer M, Tolley D (2002) Validation of a bench model for endoscopic surgery in the upper urinary tract. Eur Urol 42(2):175–179 discussion 180

24.

Sinuff T et al (2007) Facilitating clinician adherence to guidelines in the intensive care unit: a multicenter, qualitative study. Crit Care Med 35(9):2083–2089

25.

Freeborn DK et al (1997) Primary care physicians' use of lumbar spine imaging tests: effects of guidelines and practice pattern feedback. J Gen Intern Med 12(10):619–625

26.

Kahol K et al (2008) Effect of fatigue on psychomotor and cognitive skills. Am J Surg 195(2):195–204

27.

Taffinder NJ et al (1998) Effect of sleep deprivation on surgeons' dexterity on laparoscopy simulator. Lancet 352(9135):1191

28.

Arora S et al (2010) The impact of stress on surgical performance: a systematic review of the literature. Surgery 147(3):318–330 330 e1-6

29.

Wetzel CM et al (2006) The effects of stress on surgical performance. Am J Surg 191(1):5–10

30.

Arora S et al (2009) Managing intraoperative stress: what do surgeons want from a crisis training program? Am J Surg 197(4):537–543

31.

Berguer R, Smith WD, Chung YH (2001) Performing laparoscopic surgery is significantly more stressful for the surgeon than open surgery. Surg Endosc 15(10):1204–1207

32.

Healey AN, Undre S, Vincent CA (2004) Developing observational measures of performance in surgical teams. Qual Saf Health Care 13(Suppl 1):i33–i40

33.

Sevdalis N, Healey AN, Vincent CA (2007) Distracting communications in the operating theatre. J Eval Clin Pract 13(3):390–394

34.

Johnson ETA (1983) Affect, generalization, and the perception of risk. J Pers Soc Psychol 45(1):20–31

35.

Damasio (1995) Descartes' error: emotion, reason, and the human brain, 2nd edn. Harper Perennial, p 336

36.

Kirby R, Dasgupta P, Beacock C The case of the boiled bladder—or, how to avoid medical errors. BJU Int 106(3):299–300

37.

Nakata Y et al (2000) Risk attitudes of anesthesiologists and surgeons in clinical decision making with expected years of life. J Clin Anesth 12(2):146–150

38.

Szatmary P, Arora S, Sevdalis N (2010) To operate or not to operate? A multi-method analysis of decision-making in emergency surgery. Am J Surg 200(2):298–304

39.

Poulose BK et al (2005) Resident work hour limits and patient safety. Ann Surg 241(6):847–856 discussion 856-60

40.

England RCoSo (2005) The new intercollegiate surgical curriculum for surgical education [cited 2011 10.01.2011], Available from: http://www.Iscp.ac.uk

41.

Martin JA et al (1997) Objective structured assessment of technical skill (OSATS) for surgical residents. Br J Surg 84(2):273–278

42.

Reznick R et al (1997) Testing technical skill via an innovative "bench station" examination. Am J Surg 173(3):226–230

43.

Adrales GL et al (2003) A valid method of laparoscopic simulation training and competence assessment. J Surg Res 114(2):156–162

44.

Vogt VY et al (2003) Is a resident's score on a videotaped objective structured assessment of technical skills affected by revealing the resident's identity? Am J Obstet Gynecol 189(3):688–691

45.

Matsumoto ED et al (2001) A novel approach to endourological training: training at the Surgical Skills Center. J Urol 166(4):1261–1266

46.

Matsumoto ED et al (2002) The effect of bench model fidelity on endourological skills: a randomized controlled study. J Urol 167(3):1243–1247

47.

Brehmer M, Swartz R (2005) Training on bench models improves dexterity in ureteroscopy. Eur Urol 48(3):458–463 discussion 463

48.

Samuelson ML, Cadeddu JA, Matsumoto ED (2006) Laparoscopic decision making: impact of preoperative reading and laparoscopic experience. J Urol 176(4 Pt 1):1553–1557

49.

Chatterjee S et al (2009) Assessing the surgical decision making abilities of novice and proficient urologists. J Urol 181(5):2251–2256

50.

Sevdalis N et al (2008) Reliability of a revised NOTECHS scale for use in surgical teams. Am J Surg 196(2):184–190

51.

Sharma B et al (2011) Non-technical skills assessment in surgery. Surg Oncol 20(3):169–177

52.

Ahmed K et al (2010) Assessment and maintenance of competence in urology. Nat Rev Urol 7(7):403–413

53.

Mishra A et al (2008) The influence of non-technical performance on technical outcome in laparoscopic cholecystectomy. Surg Endosc 22(1):68–73
Acknowledgments
Prokar Dasgupta acknowledges financial support from the Department of Health via the National Institute for Health Research (NIHR) comprehensive Biomedical Research Centre award to Guy's and St Thomas' NHS Foundation Trust in partnership with King's College, London, and King's College Hospital, NHS Foundation Trust. He also acknowledges the support of the MRC Centre for Transplantation and programme grants from Olympus, The London Deanery and The School of Surgery, London.
Additional information
Kamran Ahmed and Hamid Abboudi contributed equally to this manuscript.
About this article
Cite this article
Abboudi, H., Ahmed, K., Normahani, P. et al. Decision making in urological surgery. Int Urol Nephrol 44, 701–710 (2012). https://doi.org/10.1007/s11255-011-0101-0
Received:

Accepted:

Published:

Issue Date:
Keywords
Decision making

Skills

Urology

Training

Assessment