Abstract
Introduction
There is little reported on sexual functional outcome following photoselective vaporisation of the prostate using the 120 W lithium triborate laser.
Objective
The objective of this study was to evaluate changes in sexual function at 3 and 12 months following PVP.
Material and Methods
The primary outcome measures were changes in voiding parameters and changes in erectile function in the international index of erectile function (IIEF-5). Change in erectile function was defined as mild (<5 IIEF points) or major (≥5 points).
Results
Results found that 75% of men had an IIEF-5 < 17 at baseline. At 3 months, the mean post-operative IIEF-5 score was unchanged compared to baseline (P = 0.13). A major decline in erectile function was seen in 12.4 and 24% of men at 3 and 12 months, respectively, and a major improvement in erectile function was seen in 8.3 and 6% at 3 and 12 months, respectively. There was no correlation in change in erectile function with urinary function, quality of life and loss of emission on orgasm. Loss of emission on orgasm was reported in 65% of respondents.
Conclusion
Significant changes in erectile function are observed following PVP although a cause and effect relationship remains unclear.
This is a preview of subscription content, log in to check access.
Access options
Buy single article
Instant access to the full article PDF.
US$ 39.95
Price includes VAT for USA
Subscribe to journal
Immediate online access to all issues from 2019. Subscription will auto renew annually.
US$ 99
This is the net price. Taxes to be calculated in checkout.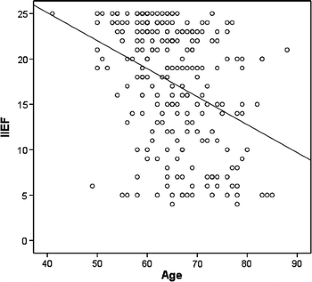 References
1.

Richard F, Lukas B, Jardin A, Lanson Y, Navratil H (2000) Assessing sexual function and urinary symptoms: results of an epidemiological survey in 3,500 French men aged 50 to 80 years. J Urol 163:249–258

2.

Rosen RC, Wei JT, Althol SE, Seftel AD, Miner M, Perelman MA (2009) Association of sexual dysfunction with lower urinary tract symptoms of BPH and BPH medical therapies: result from the BPH registry. Urol 73:562–566

3.

Kok ET, Schouten BW, Bohnen AM, Groeneveld FP, Thomas S, Bosch JL (2009) Risk factors for lower urinary tract symptoms suggestive of benign prostatic hyperplasia in a community based population of healthy aging men: the Krimpen study. J Urol 181:710–716

4.

Poulakis V, Ferakis N, Witzsch U, de Vries R, Becht E (2006) Erectile dysfunction after transurethral prostatectomy for lower urinary tract symptoms: results from a centre with over 500 patients. Asian J Urol 8:69–74

5.

Soleimani M, Hosseine SY, Aliasgari M, Dadkhah F, Lashay A, Amini E (2009) Erectile dysfunction after prostatectomy: an evaluation of the risk factors. Scand J Urol Nephrol 43:277–281

6.

Rassweiler J, Teber D, Kuntz R, Hofman R (2006) Complications of transurethral resection of the prostate. Incidence, management and prevention. Eur Urol 50:969–979

7.

Mebust WK, Holthrewe HL, Cockett AT, Peters PC (2002) Transurethral prostatectomy: Immediate and post-operative complications. A cooperative study of 13 participating institutions evaluating 3,885 patients. J Urol 167:999–1004

8.

Muntener M, Aellig S, Kuettel R, Gehrlach C, Sulser T, Strebel RT (2007) Sexual function after transurethral resection of the prostate (TURP): results of an independent prospective multicentre assessment of outcomes. Eur Urol 52(2):510–515

9.

Soderdahl DW, Knight RW, Hansberry KL (1996) Erectile dysfunction following transurethral resection of the prostate. J Uro 156:1354–1356

10.

Wasson JH, Reda DJ, Bruskewitz RC, Ellison J, Kelly N (1995) Henderson WG for the Veterans affairs cooperative study group on transurethral resection of the prostate. N Engl J Med 322:75–79

11.

Leliefeld HH, Stoevelaar HJ, McDonnell J (2002) Sexual function before and after various treatments for symptomatic benign prostatic hyperplasia. BJUI 89:208–213

12.

Horasanli K, Silay MS, Altay B, Tanriverdi O, Sarica K, Miroglu C (2008) Photoselective potassium titanyl phosphate (KTP) laser vaporization versus transurethral resection of the prostate for prostates larger than 70 ml: a short term prospective randomized trial. Urology 71:247–251

13.

Spaliverio M, Araki M, Culkin DJ, Wong C (2009) Incidence, management and prevention of peri-operative complications of Greenlight HPS laser photoselective vaporization prostatectomy: experience in the first 70 patients. J Endourol 23:495–502

14.

Kavoussi PK, Hermans MR (2008) Maintenance of erectile function after photoselective vaporization of the prostate for obstructive benign prostatic hyperplasia. J Sex Med 5:2669–2671

15.

Hamann MF, Naumann CM, van der Horst CS, Junermann KP, Braun PM (2008) Functional outcome following photoselective vaporization of the prostate (PVP): urodynamic findings within 12 months follow-up. Eur Urol 54:902–910

16.

Te AE, Malloy TR, Stein BS, Ulchaket JC, Nseyo UO, Hai MA, Malek RS (2004) Photoselective vaporization of the prostate for the treatment of benign prostatic hyperplasia: 12 month results from the first United States multi-center prospective trial. J Urol 172:1404–1408

17.

Bouchier-Hayes DM, Anderson P, Van Appledorn S, Bugeja P, Costello AJ (2006) KTP laser versus transurethral resection: early results of a randomized trial. J Endo Urol 20:580–585

18.

Malek RS, Kuntzman RS, Barrett DM (2005) Photoselective potassium titanyl phosphate laser vaporization of the benign obstructive prostate: observations on long term outcomes. J Urol 174:1344–1348

19.

Stovsky MD, Griffiths RI, Duff SB (2006) A clinical outcomes and cost analysis comparing photoselective vaporization of the prostate to alternative minimally invasive therapies and transurethral prostate resection for the treatment of benign prostatic hyperplasia. J Urol 176:1500–1506

20.

Spaliviero M, Strom KH, Gu X, Araki M, Culkin D, Wong C (2010) Does greenlight HPS laser photoselective vaporization prostatectomy affect sexual function? J Endourol 24(12):2051–2057

21.

Bruyère F, Puichaud A, Pereira H, Faivre d'Arcier B, Rouanet A, Floc'h AP, Bodin T, Brichart N (2010) Influence of photoselective vaporization of the prostate on sexual function: results of a prospective analysis of 149 patients with long-term follow-up. Eur Urol 58:207–211

22.

Andersson KE (2003) Erectile physiology and pathophysiology pathways involved in erectile dysfunction. J Urol 170:S6–S14

23.

Guven EO, Balbay MD, Mete K, Serefoglu EC (2009) Uroflowmetric assessment of acute effects of sildenafil on the voiding of men with erectile dysfunction and symptomatic benign prostatic hyperplasia. Int Urol Nephrol 41:287–292
About this article
Cite this article
Hossack, T.A., Woo, H.H. Sexual function outcome following photoselective vaporisation of the prostate. Int Urol Nephrol 44, 359–364 (2012). https://doi.org/10.1007/s11255-011-0029-4
Received:

Accepted:

Published:

Issue Date:
Keywords
Erectile dysfunction

Laser

Photoselective vaporisation of prostate

Prostatectomy

Sexual dysfunction