Abstract
Gitelman syndrome (GS) is an autosomal recessive disorder characterized by hypokalemia, metabolic alkalosis, hypomagnesemia and hypocalciuria. Glomerulonephritis associated with GS is rarely documented in the literature. We present an adult patient with GS whose renal biopsy revealed focal segmental glomerulosclerosis.
This is a preview of subscription content, log in to check access.
Access options
Buy single article
Instant access to the full article PDF.
US$ 39.95
Price includes VAT for USA
Subscribe to journal
Immediate online access to all issues from 2019. Subscription will auto renew annually.
US$ 99
This is the net price. Taxes to be calculated in checkout.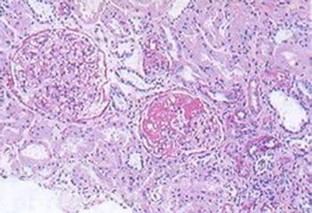 References
1.

Gitelman HJ, Graham JB, Welt LG (1966) A new familial disorder characterized by hypokalemia and hypomagnesemia. Trans Assoc Am Physicians 79:221–235

2.

Simon DB, Nelson-Williams C, Bia MJ, Ellison D, Karet FE, Molina AM, Vaara I, Iwata F, Cushner HM, Koolen M, Gainza FJ, Gitleman HJ, Lifton RP (1996) Gitelman's variant of Bartter's syndrome, inherited hypokalaemic alkalosis, is caused by mutations in the thiazide-sensitive Na–Cl cotransporter. Nat Genet 12:24–30

3.

Riveira-Munoz E, Chang Q, Bindels RJ, Devuyst O (2007) Gitelman's syndrome: towards genotype-phenotype correlations? Pediatr Nephrol 22:326–332

4.

Shaer AJ (2001) Inherited primary renal tubular hypokalemic alkalosis: a review of Gitelman and Bartter syndromes. Am J Med Sci 322:316–332

5.

Calò LA, Marchini F, Davis PA, Rigotti P, Pagnin E, Semplicini A (2003) Kidney transplant in Gitelman's syndrome: report of the first case. J Nephrol 16:144–147

6.

Bonfante L, Davis PA, Spinello M, Antonello A, D'Angelo A, Semplicini A, Calò L (2001) Chronic renal failure, end-stage renal disease, and peritoneal dialysis in Gitelman's syndrome. Am J Kidney Dis 38:165–168

7.

Bulucu F, Vural A, Yenicesu M, Caglar K (1998) Association of Gitelman's syndrome and focal glomerulosclerosis. Nephron 79:244

8.

Hanevold C, Mian A, Dalton R (2006) C1q nephropathy in association with Gitelman syndrome: a case report. Pediatr Nephrol 21:1904–1908

9.

Zelikovic I (2003) Hypokalemic salt-losing tubulopathies: an evolving story. Nephrol Dial Transpl 18:1696–1700

10.

Klahr S, Morrissey J (1998) Angiotensin II and gene expression in the kidney. Am J Kidney Dis 31:171–176

11.

Rerolle JP, Vigneau C, Hertig A, Berrou J, Rondeau E (2001) Plasminogen activator inhibitor type 1: physiology and role in renal physiopathology. Nephrologie 22:5–13

12.

Wolf G, Butzmann U, Wenzel UO (2003) The renin-angiotensin system and progression of renal disease: from hemodynamics to cell biology. Nephron Physiol 93:3–13

13.

Yamamoto T, Noble NA, Cohen AH, Nast CC, Hishida A, Gold LI, Border WA (1996) Expression of transforming growth factor-beta isoforms in human glomerular diseases. Kidney Int 49:461–469

14.

Yamamoto T, Watanabe T, Ikegaya N, Fujigaki Y, Matsui K, Masaoka H, Nagase M, Hishida A (1998) Expression of types I, II, and III TGF-beta receptors in human glomerulonephritis. J Am Soc Nephrol 9:2253–2261
About this article
Cite this article
Ceri, M., Unverdi, S., Altay, M. et al. Focal segmental glomerulosclerosis in association with Gitelman syndrome. Int Urol Nephrol 43, 905–907 (2011). https://doi.org/10.1007/s11255-010-9802-z
Received:

Accepted:

Published:

Issue Date:
Keywords
Gitelman syndrome

Proteinuria

Focal segmental glomerulosclerosis