Abstract
A man with a history of alcoholism presented on two different occasions with mental changes, clinical signs of volume depletion, elevated serum osmolal gap, metabolic acidosis with high anion gap, metabolic alkalosis, hyponatremia, and azotemia after binge drinking of only ethanol. In both episodes, the serum contained ethanol, acetone, and 2-propanol (isopropanol), but no methanol or ethylene glycol. In the first episode, the rates of excretion of acetoacetate and 3-hydroxybutyrate in the urine were greatly increased. Volume repletion was the only treatment. In both episodes, azotemia and metabolic acidosis were rapidly reversed, while modest metabolic alkalosis was noted after treatment. The triad of azotemia, elevated osmolal gap, and high anion gap metabolic acidosis, which characterizes intoxication with methanol or ethylene glycol, can also develop in alcoholic ketoacidosis (AKA), an entity with substantially different management and outcome. Finding 2-propanol in the serum of patients with AKA indicates either concomitant 2-propanol ingestion or formation of 2-propanol from acetone.
This is a preview of subscription content, log in to check access.
Access options
Buy single article
Instant access to the full article PDF.
US$ 39.95
Price includes VAT for USA
Subscribe to journal
Immediate online access to all issues from 2019. Subscription will auto renew annually.
US$ 99
This is the net price. Taxes to be calculated in checkout.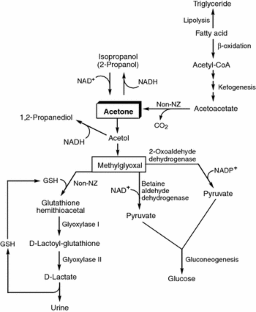 References
1.

Winchester JF (1990) Methanol, isopropyl alcohol, higher alcohols, ethylene glycol, cellosolves, acetone, and oxalate. In: Haddad LM, Winchester JF (eds) Clinical management of poisons and drug overdose, 2nd edn. WB Saunders, Philadelphia, pp 687–706

2.

Kraut JA, Kurtz I (2008) Toxic alcohol ingestions: clinical features, diagnosis, and management. Clin J Am Soc Nephrol 3:208–225

3.

Liu JJ, Daya MR, Mann NC (1999) Methanol-related deaths in Ontario. J Toxicol Clin Toxicol 37:69–73

4.

Litovitz TL, Klein-Schwartz W, White S et al (2000) 1999 annual report of the American association of poison control centers toxic exposure surveillance system. Am J Emerg Med 18:517–574

5.

Barceloux DG, Bond GR, Krenzelok EP et al (2002) American academy of clinical toxicology practice guidelines on the treatment of methanol poisoning. J Toxicol Clin Toxicol 40:415–446

6.

Barceloux DG, Krenzelok EP, Olson K et al (1999) American academy of clinical toxicology practice guidelines on the treatment of ethylene glycol poisoning. J Toxicol Clin Toxicol 37:537–560

7.

Smithline N, Gardner KD (1976) Gaps: anionic and osmolal. JAMA 40:137–143

8.

Kanbay M, Kasapoglu B, Perazella MA (2010) Acute tubular necrosis and pre-renal acute kidney injury: utility of urine microscopy in their evolution—a systematic review. Int Urol Nephrol 42(2):425–433

9.

Fulop M, Bock J, Ben-Ezra J et al (1986) Plasma lactate and 3-hydroxybutyrate levels in patients with acute ethanol intoxication. Am J Med 80:191–194

10.

Wrenn KD, Slovis CM, Minion GE et al (1991) The syndrome of alcoholic ketoacidosis. Am J Med 91:119–128

11.

Umpierrez GE, DiGirolamo M, Tuvlin JA et al (2000) Differences in metabolic and hormonal milieu in diabetic- and alcohol-induced ketoacidosis. J Crit Care 15:52–59

12.

Braden GL, Strayhorn CH, Germain MJ (1993) Increased osmolal gap in alcoholic acidosis. Arch Intern Med 153:2377–2380

13.

Vujasinovic M, Kocar M, Kramer K et al (2007) Poisoning with 1-propanol and 2-propanol. Hum Exp Toxicol 26:975–978

14.

Lacouture PG, Wason S, Abrams A et al (1983) Acute isopropyl alcohol intoxication: diagnosis and management. Am J Med 75:680–686

15.

Jones AE, Summers RL (2000) Detection of isopropyl alcohol in a patient with diabetic ketoacidosis. J Emerg Med 19:165–168

16.

Watson WA, Litovitz TL, Rodgers GC et al (2004) 2004 annual report of the American association of poison control centers toxic exposure surveillance system. Am J Emerg Med 23:589–666

17.

Lewis GD, Laufman AK, McNalley BH et al (1984) Metabolism of acetone to isopropyl alcohol in rats and humans. J Forensic Sci 29:541–549

18.

Vander Jagt DL (2008) Methylglyoxal, diabetes mellitus and diabetic complications. Drug Metabol Drug Interact 23:93–123

19.

Kalapos MP, Riba P, Garzo T et al (1996) Glucose formation from methylglyoxal in hepatocytes from streptozotocin-induced diabetic mice: the effect of insulin. Cell Mol Life Sci 52:827–830

20.

Elisaf M, Merkouropoulos M, Tsianos EV, Siamopoulos KC (1994) Acid-base and electrolyte abnormalities in alcoholic patients. Miner Electrolyte Metab 20:274–281

21.

Madias NE, Ayus JC, Adrogue HJ (1979) Increased anion gap in metabolic alkalosis. N Engl J Med 300:1421–1423

22.

Kraut JA, Madias NE (2007) Serum anion gap: its uses and limitations in clinical medicine. Clin J Am Soc Nephrol 2:162–174
Acknowledgments
We thank Lucy Hunsaker for drafting the figure in this report.
About this article
Cite this article
Prevost, M., Sun, Y., Servilla, K.S. et al. Repeated intoxication presenting with azotemia, elevated serum osmolal gap, and metabolic acidosis with high anion gap: differential diagnosis, management, and prognosis. Int Urol Nephrol 44, 309–314 (2012). https://doi.org/10.1007/s11255-010-9796-6
Received:

Accepted:

Published:

Issue Date:
Keywords
Alcoholic ketoacidosis

Acetone

Azotemia

2-propanol

Metabolic acidosis

Anion gap

Osmolal gap