Abstract
Background
Posterior reversible encephalopathy syndrome (PRES) is characterized by abnormalities in cerebral white matter and neurologic symptoms. It can be caused by immunosuppressive drugs or autoimmune diseases. We describe a case of PRES in a kidney transplantation patient treated with rapamycin.
Case
A 24-year-old woman, who received kidney transplantation 8 years ago, presented hypertension (220/120 mmHg), blindness, paralysis of left extremities, vomiting, convulsions and unconsciousness after rapamycin treatment. Magnetic resonance imaging (MRI) showed brain lesions suggestive of PRES. Rapamycin was withdrawn, and repeated MRI indicated progressive resolution within 2 months.
Conclusion
Although neurotoxicity of rapamycin is relatively low, it can induce PRES in kidney transplantation patients.
This is a preview of subscription content, log in to check access.
Access options
Buy single article
Instant access to the full article PDF.
US$ 39.95
Price includes VAT for USA
Subscribe to journal
Immediate online access to all issues from 2019. Subscription will auto renew annually.
US$ 99
This is the net price. Taxes to be calculated in checkout.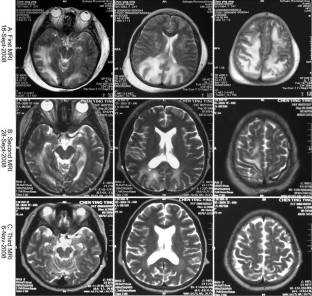 References:
1.

Kahan BD (2008) Fifteen years of clinical studies and clinical practice in renal transplantation: reviewing outcomes with de novo use of sirolimus in combination with cyclosporine. Transplant Proc 40(10):S17–S20

2.

Serkova N, Christians U, Flogel U, Pfeuffer J, Leibfritz D (1997) Assessment of the mechanism of astrocyte swelling induced by the macrolide immunosuppressant sirolimus using multinuclear nuclear magnetic resonance spectroscopy. Chem Res Toxicol 10(12):1359–1363

3.

Hinchey J, Chaves C, Appignani B, Breen J, Pao L, Wang A et al (1996) A reversible posterior leukoencephalopathy syndrome. N Engl J Med 334(8):494–500

4.

de Oliveira RA, Fechine LM, Neto FC, Nicodemus JM, Silva GB Jr, Silva LS (2008) Posterior reversible encephalopathy syndrome (PRES) induced by cyclosporine use in a patient with collapsing focal glomerulosclerosis. Int Urol Nephrol 40(4):1095–1098

5.

Donmez FY, Basaran C, Kayahan Ulu EM, Yildirim M, Coskun M (2008) MRI features of posterior reversible encephalopathy syndrome in 33 patients. J Neuroimaging 20(1):22–28

6.

Mankad K, Hoey E, Yap KS (2010) Reversible leukoencephalopathy syndrome. Am J Emerg Med 28:386.e3–386.e5

7.

Roth C, Ferbert A (2009) Posterior reversible encephalopathy syndrome – long-term follow-up. J Neurol Neurosurg Psychiatry. doi:10.1136/jnnp.2009.189647

8.

Sheth KN, Wu GF, Messe SR, Wolf RL, Kasner SE (2003) Dialysis disequilibrium: another reversible posterior leukoencephalopathy syndrome? Clin Neurol Neurosurg 105(4):249–252

9.

Bodkin CL, Eidelman BH (2007) Sirolimus-induced posterior reversible encephalopathy. Neurology 68(23):2039–2040
Conflict of interest statement
Institutional Review Board (IRB)/Ethics Committee approval has been obtained. There is no conflict of interest.
Additional information
Wei Qin and Chun Yu Tan contribute equally to this article.
About this article
Cite this article
Qin, W., Tan, C.Y., Huang, X. et al. Rapamycin-induced posterior reversible encephalopathy in a kidney transplantation patient. Int Urol Nephrol 43, 913–916 (2011). https://doi.org/10.1007/s11255-010-9757-0
Received:

Accepted:

Published:

Issue Date:
Keywords
PRES

Rapamycin

Kidney transplantation