Abstract
A 43-year-old woman with autosomal-dominant polycystic kidney disease (ADPKD) received octreotide for 12 months, and this was associated with a 6.3% reduction in liver volume, an 8% reduction in total kidney volume and stabilization of renal function. There was also a reduction of cyst size in fibrocystic disease of breast. These data suggest that the cyst fluid accumulation in different organs from patients with ADPKD is a dynamic process which can be reversed by octreotide. This is the first report of a case of simultaneous reduction in hepatic, renal and breast cystic volume with preservation of renal function in a patient with ADPKD receiving octreotide.
This is a preview of subscription content, log in to check access.
Access options
Buy single article
Instant access to the full article PDF.
US$ 39.95
Price includes VAT for USA
Subscribe to journal
Immediate online access to all issues from 2019. Subscription will auto renew annually.
US$ 99
This is the net price. Taxes to be calculated in checkout.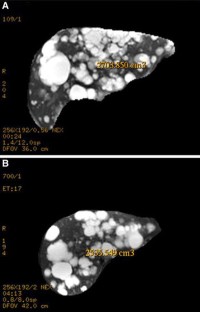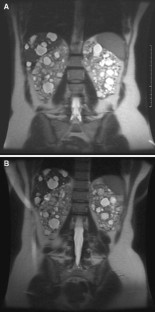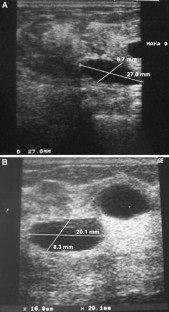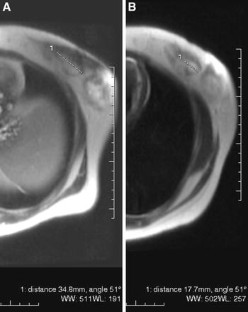 References
1.

Maleki D, Ghafari A (2009) Cystic changes of breast in a family with autosomal dominant polycystic kidney disease. Iran J Kidney Dis 3:246–248

2.

Vargas HI, Vargas MP, Gonzalez KD, Eldrageely K, Khalkhali I (2004) Outcomes of sonography-based management of breast cysts. Am J Surg 188:443–447

3.

Masyuk TV, Masyuk AI, Torres VE, Harris PC, Larusso NF (2007) Octreotide inhibits hepatic cystogenesis in a rodent model of polycystic liver disease by reducing cholangiocyte adenosine 3′,5′-cyclic monophosphate. Gastroenterology 132:1104–1116

4.

Ruggenenti P, Remuzzi A, Ondei P et al (2005) Safety and efficacy of long-acting somatostatin treatment in autosomal-dominant polycystic kidney disease. Kidney Int 68:206–216

5.

van Keimpema LV, Nevens F, Vanslembrouck R, van Oijen MG, Hoffmann AL, Dekker HM, de Man RA, Drenth JP (2009) Lanreotide reduces the volume of polycystic liver: a randomized, double-blind, placebo-controlled trial. Gastroenterology 137:1661–1668

6.

Grantham JJ, Torres VE, Chapman AB, CRISP Investigators et al (2006) Volume progression in polycystic kidney disease. N Engl J Med 354:2122–2130

7.

Kistler AD, Poster D, Krauer F, Weishaupt D, Raina S, Senn O, Binet I, Spanaus K, Wüthrich RP, Serra AL (2009) Increases in kidney volume in autosomal dominant polycystic kidney disease can be detected within 6 months. Kidney Int 75:235–241

8.

van Keimpema L, de Man RA, Drenth JP (2008) Somatostatin analogues reduce liver volume in polycystic liver disease. Gut 57:1338–1339

9.

Lamberts SW, van der Lely AJ, de Herder WW, Hofland LJ (1996) Octreotide. N Engl J Med 334:246–254

10.

Peces R, Peces C, Pérez-Dueñas V, Cuesta-López E, Azorín S, Selgas R (2009) Rapamycin reduces kidney volume and delays the loss of renal function in a patient with autosomal-dominant polycystic kidney disease. Nephrol Dial Transpl PLUS 2:133–135

11.

Qian Q, Du H, King BF, Kumar S, Dean PG, Cosio FG, Torres VE (2008) Sirolimus reduces polycystic liver volume in ADPKD patients. J Am Soc Nephrol 19:631–638

12.

AUl Haque, Moatasim A (2008) Adult polycystic kidney disease: a disorder of connective tissue? Int J Clin Exp Pathol 1:84–90

13.

Olteanu D, Hovater MB, Schwiebert EM (2007) Intraluminal autocrine purinergic signaling within cysts: implications for the progression of diseases that involve encapsulated cyst formation. Am J Physiol Renal Physiol 292:F11–F14

14.

Hurley DK, Bandy SM, Glew RH, Morris DM, Gardner KD Jr (1997) Kidney and breast cysts: a comparative study of fluids. Nephron 77:304–308
Acknowledgments
This work has been supported in part by grants from the Instituto de Salud Carlos III from Ministerio de Ciencia e Innovación (EC08/00236) and Programa Intensificación Actividad Investigadora (Agencia Laín-Entralgo/CM) to R.P.
Conflict of interest statements
None.
About this article
Cite this article
Peces, R., Cuesta-López, E., Peces, C. et al. Octreotide reduces hepatic, renal and breast cystic volume in autosomal-dominant polycystic kidney disease. Int Urol Nephrol 43, 565–569 (2011). https://doi.org/10.1007/s11255-010-9748-1
Received:

Accepted:

Published:

Issue Date:
Keywords
ADPKD

cAMP

Fibrocystic disease of breast

Octreotide

Renal function

Volume change