Abstract
The epidemiology of renal stones has changed all over the world toward a predominance of calcium oxalate stones. However, studies evaluating the influence of age and gender on the distribution of the various types of urinary calculi are scarce. We will present the results of a study based on 205 calculi (from 122 boys and 83 girls) analyzed by infrared spectroscopy between 1993 and 2007. 90% of stones were collected by surgery, whereas only 6% by spontaneous passage. The biological exploration was performed in only 126 cases. Etiology was metabolic in 13.5%. 10.7% of stones were infectious, 13.1% were endemic and 54.9% were idiopathic. 7.8% were secondary to urinary stasis with malformation but no infection. Calcium oxalate (CaOx) was the predominant constituent in 54.7% of stones, followed by calcium phosphate and purines 14.6% in each of the cases. We found an increasing prevalence of calcium oxalate stones with age in both genders (42.9% in infant vs. 59.3% in child) (P < 0.05). Struvite stones were more frequent in infant than children. Purine stones were predominant in 20% of cases, but its prevalence decreases with age. The increase in calcium oxalate stone in school age children and the decrease in struvite and purine stones confirm the change on the etiology of urolithiasis according to age.
This is a preview of subscription content, log in to check access.
Access options
Buy single article
Instant access to the full article PDF.
US$ 39.95
Price includes VAT for USA
Subscribe to journal
Immediate online access to all issues from 2019. Subscription will auto renew annually.
US$ 99
This is the net price. Taxes to be calculated in checkout.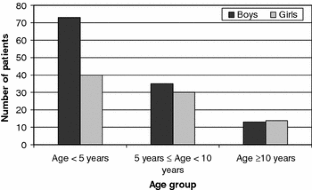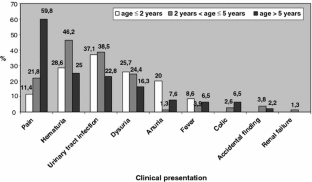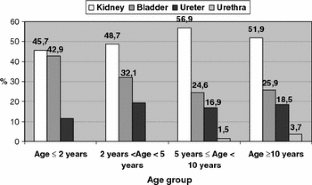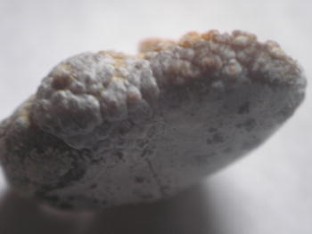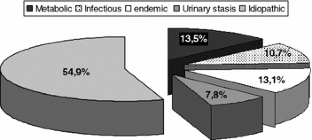 References
1.

Basaklar AC, Kale N (1991) Experience with childhood urolithiasis. Report of 196 cases. Br J Urol 67:203–205

2.

Gearhart JP, Herzberg GZ, Jeffs RD (1991) Childhood urolithiasis: experiences and advances. Pediatrics 87:445–450

3.

Milliner DS, Murphy ME (1993) Urolithiasis in pediatric patients. Mayo Clin Proc 68:241–248

4.

Leumann E, Hoppe B (1997) Urolithiasis in childhood. In: Proesmans W (ed) Therapeutic strategies in children with renal diseases. Baillieres Clin Paediatr; p 655–674

5.

Jungers P, Daudon M, Conort P (1999) Lithiase rénale diagnostic et traitement. Flammarion Médecine-Sciences, Paris

6.

Daudon M, Doré B (1999) Cristallographie des calculs urinaires. Aspects néphrologiques et urologiques. Encycl Méd Chir (Elsevier, Paris). Néphrol Urol 18-104-A-25:1–17

7.

Rodman JS (1991) Management of uric acid calculi in the elderly patient. Geriatric Nephrol Urol 1:129–137

8.

Daudon M (2003) Évolution de la composition et de la localisation des calculs chez le sujet âgé. Feuill Biol 251:51–54

9.

Daudon M (1993) Comment analyser un calcul et comment interpréter le résultat. L'eurobiologiste 203:35–46

10.

Daudon M, Bounxouei B, Santa Cruz F et al (2004) Composition des calculs observés aujourd'hui dans les pays non industrialisés. Prog Urol 14(6):1151–1161

11.

Jabouirik F, Aitoumar H, Belhadj MH (2003) Lithiase urinaire de l'enfant: analyse chimique a propos de 47 cas. Rev Maghr Pédiatr 13:289–294

12.

Harrache D, Mesri Z, Addou A et al (1997) La lithiase urinaire chez l'enfant dans l'ouest algérien. Ann Urol 31(2):84–85

13.

Daudon M (2000) L'analyse morphoconstitutionnelle des calculs dans le diagnostic étiologique d'une lithiase urinaire de l'enfant. Arch Pédiatr 7(8):855–865

14.

Jallouli M, Jouini R, Mekki M et al (2004) Particularités de la lithiase urinaire du nourrisson en Tunisie. A propos de 64 observations. Prog Urol 14(3):376–379

15.

Alaya A, Belgith M, Jouini R et al (2006) La lithiase urinaire de l'enfant en Tunisie. Aspects actuels à propos de 104 cas. Prog Urol 16:474–480

16.

Alaya A, Nouri A, Najjar MF (2008) Paediatric renal stone disease in Tunisia: a 12 years experience. Arch Ita Urol Androl 80(2):50–55

17.

Ben Romdhane H, Khaldi R, Oueslati A et al (2002) Transition épidémiologique et transition alimentaire et nutritionnelle en Tunisie. Options Mediteraneennes 41:7–27

18.

Najjar MF, Najjar F, Boukef K, Ouelati A, Memmi J, Bechraoui T (1986) La lithiase infantile dans la région de Monastir étude clinique et biologique. Le Biologiste 165:31–39

19.

Kamoun A, Daudon M, Abdelmoula J et al (1999) Urolithiasis in Tunisian children: a study of 120 cases based on stone composition. Pediatr Nephrol 13(9):920–925

20.

Daudon M (2001) Les lithiases urinaires secondaires à des maladies héréditaires. Biologie et Santé 1:141–156

21.

Biggs AW, Norflet CM, Garvey FK (1955) Urolithiasis reviews of there Hundred. Cases Trans Southast Seek A US. p 76

22.

Giannakopoulos X, Evangelou A, Tsoumanis PHI et al (1996) L'infection urinaire chez les lithiasiques dans le département d'Epirus (Grèce du Nord-Ouest). Ann Urol 30:118–123

23.

Oussama A, Kzaiber F, Mernari B et al (2000) Analyse de la lithiase de l'enfant dans le moyen Atlas Marocain par spectrométrie infrarouge. Ann Urol 34(6):384–390

24.

Cachat F, Barbey F, Guignard JP (2004) Epidémiologie de la lithiase urinaire chez l'enfant. Rev Med Suisse Romande 124(8):433–437

25.

Daudon M, Doré JC, Jungers P et al (2004) Changes in stone composition according to age and gender of patients: a multivariate epidemiological approach. Urol Res 32:241–247

26.

Daudon M, Jungers P (2004) Clinical value of crystalluria and quantitative morphoconstitutional analysis of urinary calculi. Nephron Physiol 98:31–36

27.

Rizvi SA, Naqvi SA, Hussain Z et al (1985) Renal stones children in Pakistan. Br J Urol 57(6):618–621

28.

Jungers P, Daudon M (1989) Formes cliniques de la lithiase urinaire: lithiase de l'enfant. In: Jungers P, Daudon M, Le Duc A (eds) Lithiase urinaire. Flammarion Médecine-Sciences, Paris

29.

Anoukoum T, Agbodjan-Djossou O, Atakouma YD et al (2001) Aspects épidémiologiques et étiologiques de l'infection urinaire de l'enfant dans le service du CHU-campus de Lomé (Togo). Ann Urol 35:178–184

30.

Schwarz RD, Dwyer NT (2006) Pediatric kidney stones: long-term outcomes. Urology 67:812–816

31.

Coward RJ, Peters CJ, Duffy PG et al (2003) Epidemiology of paediatric renal stone disease in the UK. Arch Dis Child 88(11):962–965

32.

Sternberg K, Greenfield SP, Williot P et al (2005) Pediatric stone disease: an evolving experience. J Urol 174(4 Pt 2):1711–1714

33.

Srivastava RN, Hussainy MAA, Goel RG et al (1986) Bladder stone disease in children in Afghanistan. Br J Urol 58(4):374–377

34.

Angwafo FF, Daudon M, Wonkam A et al (2000) Pediatric urolithiasis in sub-Saharian Africa: a comparative study in two regions of Cameroon. Eur Urol 37(1):106–111

35.

Johnson O (1995) Vesical calculus in Ethiopian children. Ethiop Med J 33:31–35

36.

Ali SH, Rifat UN (2005) Etiological and clinical patterns of childhood urolithiasis in Iraq. Pediatr Nephrol 20(10):1453–1457

37.

Al-Rasheed SA, El-Faqih SR, Husain I et al (1995) The aetiological and clinical pattern of childhood urolithiasis in Saudi Arabia. Int Urol Nephrol 27(4):349–355

38.

Nahlovsky J, Farhat M, Gharbi S (1969) Fréquence extraordinaire de la lithiase chez les enfants en Tunisie et leurs causes probables. J Urol Néphrol 75:539–541

39.

Kamoun A, Zghal A, Daudon M et al (1997) La lithiase urinaire de l'enfant : contributions de l'anamnèse, de l'exploration biologique et de l'analyse physique des calculs au diagnostic étiologique. Arch Pédiatr 4(7):629–638

40.

Kamoun DaudonM, Kabaar N et al (1995) Facteur étiologiques de la lithiase urinaire de l'enfant en Tunisie. Prog Urol 5(6):942–945
About this article
Cite this article
Alaya, A., Najjar, M.F. & Nouri, A. Changes in stone composition according to age in Tunisian pediatric patients. Int Urol Nephrol 42, 621–628 (2010). https://doi.org/10.1007/s11255-009-9676-0
Received:

Accepted:

Published:

Issue Date:
Keywords
Urolithiasis

Age

Sexe

Children

Stones

Composition

Tunisia