Abstract
Background
The use of hemodialysis catheters is an essential component of dialysis practice. Children are particularly likely to require multiple courses of dialysis over their lifetime, hence the repeated need for vascular access. These catheters remain a significant source of morbidity and mortality.
Methods
All catheters inserted for hemodialysis at the Center of Pediatric Nephrology and Transplantation, Cairo University over a period of 40 months were studied. Patient data as well as data of catheter insertion, dwell, cause of removal and complications were reported.
Results
A total of 195 uncuffed central venous catheters were used for temporary access in 131 patients for a mean duration of 35.7 days. Of attempted insertions, 87.4% achieved successful access, of which 56% remained for the required period, 8.9% were accidentally dislodged, and 35.1% were removed due to complications—mostly infection. The overall rate of possible catheter-related bacteremia was 9.6 episodes/ 1,000 catheter days. Infection increased with longer catheter dwell. Nineteen cuffed tunneled catheters were surgically inserted and used for up to 11 months (mean 117 days). Loss of these catheters was attributed mainly to infection (ten episodes) and catheter thrombosis (six episodes). During the study, 317 femoral catheters were inserted.
Conclusion
Uncuffed central venous catheters are both needed and useful for short-term hemodialysis. Vascular access for extended durations may be provided by cuffed tunneled catheters. Infection is the major serious concern with both uncuffed and cuffed catheters.
This is a preview of subscription content, log in to check access.
Access options
Buy single article
Instant access to the full article PDF.
US$ 39.95
Price includes VAT for USA
Subscribe to journal
Immediate online access to all issues from 2019. Subscription will auto renew annually.
US$ 99
This is the net price. Taxes to be calculated in checkout.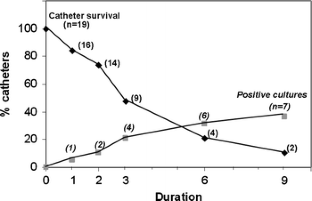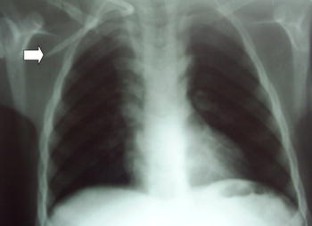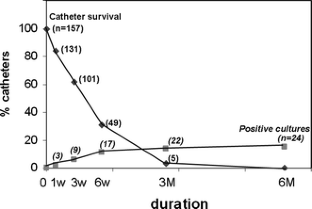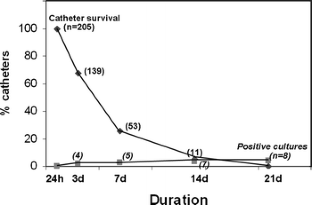 References
1.

Peleman RA, Vogelaers D, Verschraegen G (2000) Changing patterns of antibiotic resistance—update on antibiotic management of the infected vascular access. Nephrol Dial Transplant 15:1281–1284

2.

Marr KA, Sexton DJ, Conlon PJ, Corey GR, Schwab SJ, Kirkland KB (1997) Catheter related bacteremia and outcome of attempted catheter salvage in patients undergoing hemodialysis. Ann Intern Med 127:275–280

3.

Young EW, Dykstra DM, Goodkin DA, Mapes DL, Wolfe RA, Held PJ (2002) Hemodialysis vascular access preferences and outcomes in the Dialysis Outcomes and Practice Patterns Study (DOPPS). Kidney Int 61:2266–2271

4.

Feldman HI, Kobrin S, Wasserstein A (1996) Hemodialysis vascular access morbidity. J Am Soc Nephrol 7:523–535

5.

Brittinger WD, Walker G, Twittenhoff W, Konrad N (1997) Vascular access for hemodialysis in children. Pediatr Nephrol 11:87–95

6.

Mendley SR, Fine RN, Tejani A (2001) Dialysis in infants and children. In: Daugirdas JT, Blake PG, Ing TS (eds) Handbook of dialysis, 3rd edn. Lippinkott Williams and Wilkins, Philadelphia

7.

NKF-K/DOQI (2001) Clinical practice guidelines for vascular access: update 2000. Am J Kidney Dis 37(1 Suppl 1):S137–S181

8.

Besarab A, Raja RM (2001) Vascular access for hemodialysis. In: Daugirdas JT, Blake PG, Ing TS (eds) Handbook of dialysis, 3rd edn. Lippinkott Williams and Wilkins, Philadelphia

9.

Pastan S, Bailey J (1998) Dialysis therapy. N Engl J Med 338:1428–1437

10.

Frankel A (2006) Temporary access and central venous catheters. Eur J Vasc Endovasc Surg 31:417–422

11.

Goldstein SL, Macierowski CT, Jabs K (1997) Hemodialysis catheter survival and complications in children and adolescents. Pediatr Nephrol 11:74–77

12.

Nassar GM, Ayus JC (2001) Infectious complications of the hemodialysis access. Kidney Int 60:1–13

13.

Goldsetein SL, Jabs K (2004) Hemodialysis. In: Avner ED, Harmon WE, Niaudet P (eds) Pediatric nephrology, 5th edn. Lippincott Williams and Wilkins, Philadelphia

14.

Kairairtis LK, Gottlieb T (1999) Outcome and complications of temporary hemodialysis catheters. Nephrol Dial Transplant 14:1710–1714

15.

Carlisle EJ, Blake P, McCarthy F, Vas S, Uldall R (1991) Septicemia in long-term jugular hemodialysis catheters; eradicating infection by changing the catheter over a guidewire. Int J Artif Organs 14:150–153

16.

Besarab A, Adams M, Amatucci S, Bowe D, Deane J, Ketchen K, Reynolds K, Tello A (2000) Unraveling the realities of vascular access: the Network 11 experience. Adv Ren Replace Ther 7(4 Suppl 1):S65–S70

17.

Cruzeiro PC, Camargos PA, Miranda ME (2006) Central venous catheter placement in children: a prospective study of complications in a Brazilian public hospital. Pediatr Surg Int 22:536–540

18.

Walters G, Kahn A, Jescovitch AJ, Jones CE (1997) Efficacy of a central venous access service. South Med J 90:37–39

19.

Tseng M, Sadler D, Wong J, Teague KR, Schemmer DC, Saliken JC, So B, Gray RR (2001) Radiologic placement of central venous catheters: rates of success and immediate complications in 3412 cases. Can Assoc Radiol J 52:379–384

20.

Chuan WX, Wei W, Yu L (2005) A randomized-controlled study of ultrasound prelocation vs. anatomical landmark-guided cannulation of the internal jugular vein in infants and children. Paediatr Anaesth 15:733–738

21.

Unal AE, Bayar S, Arat M, Ilhan O (2003) Radiologic placement of implantable chest ports in pediatric patients. Transfus Apher Sci 28:9–12

22.

Oliver MJ, Callery SM, Thorpe KE, Schwab SJ, Churchill DN (2000) Risk of bacteremia from temporary hemodialysis catheters by site of insertion and duration of use: a prospective study. Kidney Int 58:2543–2545

23.

Cheesbrough JS, Finch RG, Burden RP (1986) A prospective study of the mechanisms of infection associated with hemodialysis catheters. J Infect Dis 154:579–589

24.

Almirall J, Gonzalez J, Rello J, Campistol JM, Monto J, Puig De La Bellacasa, Revert L, Gatell JM (1989) Infection in hemodialysis catheters: incidence and mechanisms. Am J Nephrol 9:454–459

25.

Alfieris GM, Wing CW, Hoy GR (1987) Securing broviac catheters in children. J Pediatr Surg 22:825–826

26.

Schillinger F, Schillinger D, Montagna R, Milcent T (1991) Post catheterization vein stenosis in hemodialysis: comparative angiographic study of 50 subclavian and 50 internal jugular accesses. Nephrol Dial Transplant 6:722–724

27.

Cimochowski GE, Worley E, Rutherford WE, Sartain J, Blondin J, Harter H (1990) Superiority of the internal jugular over the subclavian access for temporary hemodialysis. Nephron 54:154–161

28.

Baxter GM, Kincaid W, Jeffrey RF, Millar GM, Porteous C, Morley P (1991) Comparison of color Doppler ultrasound with venography in the diagnosis of axillary and subclavian vein thrombosis. Br J Radiol 64:777–781

29.

Cetinkaya R, Odabas AR, Unlu Y, Selcuk Y, Ates A, Ceviz M (2003) Using cuffed and tunneled venous catheters as permanent vascular access for hemodialysis: a prospective study. Ren Fail 25:431–438

30.

Lund GB, Trerotola SO, Scheel PF (1996) Outcome of tunneled hemodialysis catheters placed by radiologists. Radiology 198:467–472

31.

Swartz RD, Messana JM, Boyer CJ, Lunde NM, Weitzel WF, Hartman TL (1994) Successful use of cuffed central venous hemodialysis catheters inserted percutaneously. J Am Soc Nephrol 4:1719–1725

32.

McDowell DE, Moss AH, Vasilakis C, Bell R, Pillai L (1993) Percutaneously placed dual-lumen silicone catheters for long-term hemodialysis. Am Surg 59:569–573

33.

Weyde W, Wikiera I, Klinger M (1998) Prolonged cannulation of the femoral vein is a safe method for temporary vascular access for hemodialysis. Nephron 80:86

34.

Nielson J, Ladefoged SD, Kolmos HJ (1998) Dialysis catheters related septicemia- focus on staphylococcus aureus septicemia. Nephrol Dial Transplant 13:2847–2852
About this article
Cite this article
Fadel, F.I., Mooty, H.N.A., Bazaraa, H.M. et al. Central venous catheters as a vascular access modality for pediatric hemodialysis. Int Urol Nephrol 40, 489–496 (2008). https://doi.org/10.1007/s11255-007-9259-x
Received:

Accepted:

Published:

Issue Date:
Keywords
Catheter-related bacteremia

Catheter survival

Long-term catheters

Renal failure

Temporary hemodialysis catheters