Abstract
Objectives
To determine the role of pressure flowmetry in patients without bothersome lower urinary tract symptoms (LUTS), rising prostate-specific antigen (PSA) levels and diagnosed as having clinical benign prostatic hyperplasia (BPH) after negative (multiple) extended multi-site biopsy.
Methods
The study enrolled patients with minor LUTS who were referred to our urological practice by their general practitioner because of a rising PSA level (≥4 ng/ml). After exclusion of clinical prostatic carcinoma by digital rectal examination and transrectal ultrasound, all patients underwent at least one set of extended multi-site biopsies to exclude T1c prostate cancer. Patients with negative biopsies (clinical BPH) were subjected to pressure flowmetry whereafter those with bladder outlet obstruction underwent TURP.
Results
The study included 82 patients, with a mean age of 64.8 years (50.2–78.2 years), satisfying the inclusion criteria. Urodynamic analysis showed that all patients had bladder outlet obstruction. After TURP, eight patients (9.8%) were diagnosed as having histologically proven prostate cancer; 74 patients (90.2%) were diagnosed as having BPH. Patients of the BPH group had a mean preoperative PSA level of 8.8 ng/ml (4.3–25.8 ng/ml) and a mean international prostate symptom score of 8.8 (2–18). The mean detrusor pressure at maximum flow in BPH patients was 89.5 cmH2O (20–200 cmH2O).
Conclusions
An increased PSA in patients with minor or no LUTS, clinical BPH and negative extended multi-site prostate biopsy is strongly correlated to bladder outlet obstruction. Therefore, patients with these characteristics should be treated with TURP.
This is a preview of subscription content, log in to check access.
Access options
Buy single article
Instant access to the full article PDF.
US$ 39.95
Price includes VAT for USA
Subscribe to journal
Immediate online access to all issues from 2019. Subscription will auto renew annually.
US$ 99
This is the net price. Taxes to be calculated in checkout.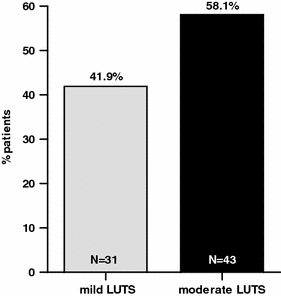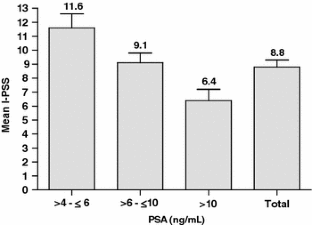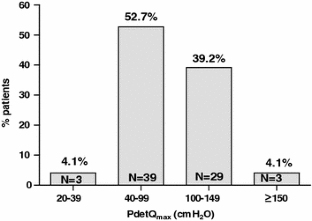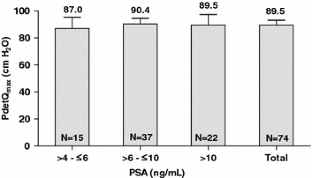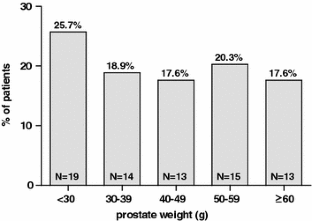 References
1.

Kirby RS (1992) The clinical assessment of benign prostatic hyperplasia. Cancer 70:284–290

2.

Stamey TA, Yang N, Hay AR et al (1987) Prostate-specific antigen as a serum marker for adenocarcinoma of the prostate. N Engl J Med 317:909–916

3.

Ercole CJ, Lange PH, Mathisen M et al (1987) Prostatic specific antigen and prostatic acid phosphatase in the monitoring and staging of patients with prostatic cancer. J Urol 138:1181–1184

4.

Griffiths D, Hofner K, van Mastrigt R et al (1997) Standardization of terminology of lower urinary tract function: pressure-flow studies of voiding, urethral resistance, and urethral obstruction. International Continence Society Subcommittee on Standardization of Terminology of Pressure-Flow Studies. Neurourol Urodyn 16:1–18

5.

Claridge M, Shuttleworth KE (1964) The dynamics of obstructed micturition. Invest Urol 25:188–199

6.

Marberger MJ, Andersen JT, Nickel JC et al (2000) Prostate volume and serum prostate-specific antigen as predictors of acute urinary retention. Combined experience from three large multinational placebo-controlled trials. Eur Urol 38:563–568

7.

Tubaro A, La Vecchia C (2004) The relation of lower urinary tract symptoms with life-style factors and objective measures of benign prostatic enlargement and obstruction: an Italian survey. Eur Urol 45:767–772

8.

Mochtar CA, Kiemeney LA, Laguna MP et al (2005) Prognostic role of prostate-specific antigen and prostate volume for the risk of invasive therapy in patients with benign prostatic hyperplasia initially managed with alpha1-blockers and watchful waiting. Urology 65:300–305

9.

Boccon-Gibod L, van der Kwast TH, Montironi R et al (2004) Handling and pathology reporting of prostate biopsies. Eur Urol 46:177–181

10.

Rosai J (2004) Ackerman's surgical pathology. ed. 9, Mosby Year Book. St. Louis

11.

Raaijmakers R, Kirkels WJ, Roobol MJ et al (2002) Complication rates and risk factors of 5802 transrectal ultrasound-guided sextant biopsies of the prostate within a population-based screening program. Urology 60:826–830

12.

Djavan B, Ravery V, Zlotta A et al (2001) Prospective evaluation of prostate cancer detected on biopsies 1, 2, 3 and 4: when should we stop? J Urol 166:1679–1683

13.

Djavan B, Fong YK, Ravery V et al (2005) Are repeat biopsies required in men with PSA levels < or = 4 ng/ml? A Multiinstitutional Prospective European Study. Eur Urol 47:38–44

14.

Chon CH, Lai FC, McNeal JE et al (2002) Use of extended systematic sampling in patients with a prior negative prostate needle biopsy. J Urol 167:2457–2460

15.

Durkan GC, Sheikh N, Johnson P et al (2002) Improving prostate cancer detection with an extended-core transrectal ultrasonography-guided prostate biopsy protocol. BJU Int 89:33–39

16.

Arnold MD, Niemann TH, Bahnson RR (2001) Extended sector biopsy for detection of carcinoma of the prostate. Urol Oncol 6:91–93

17.

Eskew LA, Bare RL, McCullough DL (1997) Systematic 5 region prostate biopsy is superior to sextant method for diagnosing carcinoma of the prostate. J Urol 157:199–202

18.

Laniado ME, Ockrim JL, Marronaro A et al (2004) Serum prostate-specific antigen to predict the presence of bladder outlet obstruction in men with urinary symptoms. BJU Int 94:1283–1286

19.

Gerstenberg TC, Andersen JT, Klarskov P et al (1982) High flow infravesical obstruction in men: symptomatology, urodynamics and the results of surgery. J Urol 127:943–945

20.

Carter PG, Lewis P, Abrams P (1991) Urodynamic morbidity and dysuria prophylaxis. Br J Urol 67:40–41

21.

Rodrigues P, Lucon AM, Freire GC et al (2001) Urodynamic pressure flow studies can predict the clinical outcome after transurethral prostatic resection. J Urol 165:499–502

22.

McNeal JE, Redwine EA, Freiha FS et al (1988) Zonal distribution of prostatic adenocarcinoma. Correlation with histologic pattern and direction of spread. Am J Surg Pathol 12:897–906

23.

Greene DR, Wheeler TM, Egawa S et al (1991) A comparison of the morphological features of cancer arising in the transition zone and in the peripheral zone of the prostate. J Urol 146:1069–1076

24.

Shannon BA, McNeal JE, Cohen RJ (2003) Transition zone carcinoma of the prostate gland: a common indolent tumour type that occasionally manifests aggressive behaviour. Pathology 35:467–471

25.

Radhakrishnan S, Dorkin TJ, Sheikh N et al (2004) Role of transition zone sampling by TURP in patients with raised PSA and multiple negative transrectal ultrasound-guided prostatic biopsies. Prostate Cancer Prostatic Dis 7:338–342

26.

Kitamura H, Masumori N, Tanuma Y et al (2002) Does transurethral resection of the prostate facilitate detection of clinically significant prostate cancer that is missed with systematic sextant and transition zone biopsies? Int J Urol 9:95–99

27.

Zigeuner R, Schips L, Lipsky K et al (2003) Detection of prostate cancer by TURP or open surgery in patients with previously negative transrectal prostate biopsies. Urology 62:883–887

28.

Bratt O (2006) The difficult case in prostate cancer diagnosis–when is a "diagnostic TURP" indicated? Eur Urol 49:769–771

29.

Abrams P, Blaivas J, Griffiths DJ, Nordling J, Koyanagi T, Neal D, et al (1993) The objective evaluation of bladder outflow obstruction. In: Cockett ATK, Khoury S, Aso Y, Chatelain C, Denis L, Griffiths K, Murphy G, eds. Proceedings of the 2nd international consultation on benign prostatic hyperplasia. Jersey: Jersey Scientific Communication, 153–209

30.

Laguna P, Alivizatos G (2000) Prostate specific antigen and benign prostatic hyperplasia. Curr Opin Urol 10:3–8
Acknowledgements
The authors are grateful to Ismar Healthcare NV for their assistance in editing of the manuscript.
About this article
Cite this article
van Renterghem, K., Van Koeveringe, G. & Van Kerrebroeck, P. Rising PSA in patients with minor LUTS without evidence of prostatic carcinoma: a missing link?. Int Urol Nephrol 39, 1107–1113 (2007). https://doi.org/10.1007/s11255-007-9209-7
Received:

Accepted:

Published:

Issue Date:
Keywords
Benign prostatic hyperplasia

Lower urinary tract symptoms

Pressure flowmetry

Prostate cancer

Prostate-specific antigen

Transurethral resection of the prostate