Abstract
Uretero-iliac fistula is a rare cause of frank haematuria. The aetiology of such fistula is commonly iatrogenic. We present a unique case of a primary aorto-iliac fistula in the absence of an aneurysm or arteriovenous malformation. The diagnosis was demonstrated by ureteroscopy and real-time retrograde ureterogram. Multiple arterial embolisation of the fistula had failed, and the patient underwent a successful ureterolysis and ligation of fistula. We demonstrate the diagnostic difficulties and treatment dilemma of such rare cause of haematuria.
This is a preview of subscription content, log in to check access.
Access options
Buy single article
Instant access to the full article PDF.
US$ 39.95
Price includes VAT for USA
Subscribe to journal
Immediate online access to all issues from 2019. Subscription will auto renew annually.
US$ 99
This is the net price. Taxes to be calculated in checkout.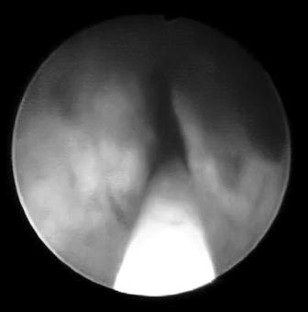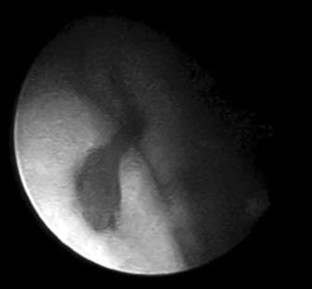 References
1.

Bergqvist D, Parsson H, Sherif A (2001) Arterio-ureteric fistula - a systematic review. Eur J Endovasc Surg 22:191–196

2.

Baum M, Baum R, Plaine L, et al (1987) Computed tomography in the diagnosis of fistula between the ureter and iliac artery. J Comput Assist Tomogr 11(4):719–721

3.

Vandersteen D, Saxon R, Fuchs E, et al (2001) Diagnosis and management of ureteroiliac artery fistula: value of provocative arteriography followed by common iliac artery embolisation and extraanatomic arterial bypass grafting. J Urol 158(3):754–758

4.

Batter S, McGovern F, Cambria R (1996) Ureteroarterial fistula: case report and review of the literature. Urology 48:481–489

5.

Puppo P, Perachino M, Ricciotti G, et al (1992) Ureteroarterial fistula: a case report. J Urol 148:863–864

6.

Krambeck A, DiMarco D, Gettman M, et al (2005) Ureteroiliac artery fistula: diagnosis and treatment algorithm. Urology 66:990–994

7.

Dervanian P, Castaigne D, Travagli J-P, et al (1992) Arterioureteral fistula after extended resection of pelvic tumors: report of three cases and review of literature. Ann Vasc Surg 6(4):362–369

8.

Sato O, Sakamoto H, Tanaka Y, et al (2005) Ureteroarterial fistula after urinary diversion. Jpn J Vasc Surg 14:583–586
About this article
Cite this article
Khong, T.L., Winstanley, V., Lee, G. et al. Primary uretero-iliac fistula: the unusual source of haematuria. Int Urol Nephrol 39, 751–753 (2007). https://doi.org/10.1007/s11255-006-9130-5
Received:

Accepted:

Published:

Issue Date:
Keywords
Haematuria

Uretero-iliac fistula

Ureterolysis