Abstract
There are a variety of land use types in urbanized areas that may have different effects on the ecological characteristics of patches of natural vegetation. In particular, residential housing and industrial land-use may have different effects on adjacent forest communities. We tested this hypothesis by examining the vegetation of forested wetlands in a densely urban region, northeastern New Jersey. Wetlands embedded in industrial areas were much less invaded by exotic plant species than were wetlands embedded in residential areas, as reflected in the number of exotic species, the fraction of the total flora that was exotic, and their frequencies of occurrence. Few other structural characteristics of the vegetation differed between the two types of urban areas. We suggest that the management of land adjacent to forest edges may explain this surprising result. The low rate of invasion of wetlands within industrial areas suggests they could have high conservation value in urban ecosystems.
This is a preview of subscription content, log in to check access.
Access options
Buy single article
Instant access to the full article PDF.
US$ 39.95
Price includes VAT for USA
Subscribe to journal
Immediate online access to all issues from 2019. Subscription will auto renew annually.
US$ 99
This is the net price. Taxes to be calculated in checkout.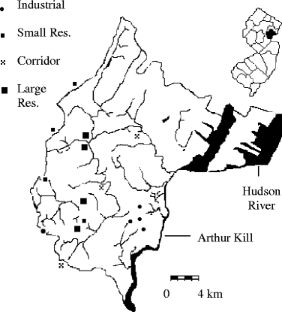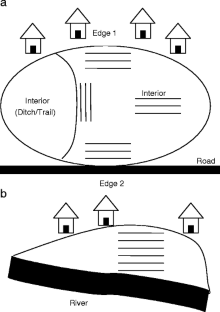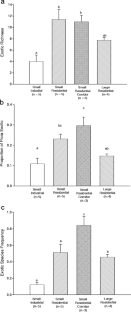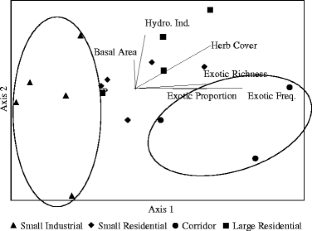 References
Allan JD (2004) Landscapes and riverscapes: the influence of land use on stream ecosystems. Annu Rev Ecol Evol Syst 35:257–284. doi:10.1146/annurev.ecolsys.35.120202.110122

Alston KP, Richardson DM (2006) The roles of habitat features, disturbance, and distance from putative source populations in structuring alien plant invasions at the urban/wildland interface on the Cape Peninsula, South Africa. Biol Conserv 132:183–198. doi:10.1016/j.biocon.2006.03.023

Anonymous (1989) Federal manual for identifying and delineating jurisdictional wetlands. U. S. Army Corps of Engineers, U. S. Environmental Protection Agency, U. S. Fish and Wildlife Service, and U. S. D. A. Soil Conservation Service, Washington, D. C

Bartuszevige AM, Gorchov DL, Raab L (2006) The relative importance of landscape and community features in the invasion of an exotic shrub in a fragmented landscape. Ecography 29:213–222. doi:10.1111/j.2006.0906-7590.04359.x

Blair RB (1996) Land use and Avian species diversity along an urban gradient. Ecol Appl 6:506–519. doi:10.2307/2269387

Brothers TS, Spingarn A (1992) Forest fragmentation and alien plant invasion of central Indiana old-growth forests. Conserv Biol 61:91–100. doi:10.1046/j.1523-1739.1992.610091.x

Brown RL, Peet RK (2003) Diversity and invasibility of southern Appalachian plant communities. Ecology 84:32–39. doi:10.1890/0012-9658(2003) 084[0032:DAIOSA]2.0.CO;2

Cadenasso ML, Pickett STA (2000) Linking forest edge structure to edge function: mediation of herbivore damage. J Ecol 88:31–44. doi:10.1046/j.1365-2745.2000.00423.x

Cadenasso ML, Pickett STA, Schwarz K (2007) Spatial heterogeneity in urban ecosystems: reconceptualizing land cover and a framework for classification. Front Ecol Environ 5:80–88. doi:10.1890/1540-9295(2007) 5[80:SHIUER]2.0.CO;2

Collins BR, Anderson KH (1994) Plant communities of New Jersey. Rutgers University Press, New Brunswick, NJ

Cowardin LM, Carter V, Golet FC, LaRoe ET (1979) Classification of wetlands and deepwater habitats of the United States. Office of Biological Services, U. S. Fish and Wildlife Service, U. S. Dept. Interior, Washington, D. C

Cully AC, Cully JF, Hiebert RD (2003) Invasion of exotic plant species in tallgrass prairie fragments. Conserv Biol 17:990–998. doi:10.1046/j.1523-1739.2003.02107.x

Drake JM, Lodge DM (2006) Allee effects, propagule pressure and the probability of establishment: Risk analysis for biological invasions. Biol Invasions 8:365–375. doi:10.1007/s10530-004-8122-6

Ehrenfeld JG (2000) Evaluating wetlands within an urban context. Urban Ecosyst 4:69–85. doi:10.1023/A:1009543920370

Ehrenfeld JG (2005) Vegetation of forested wetlands of urban and suburban landscapes in New Jersey. J Torrey Bot Soc 132:262–279. doi:10.3159/1095-5674(2005) 132[262:VOFWIU]2.0.CO;2

Ehrenfeld J (2008) Exotic invasive species in urban wetlands: environmental correlates and implications for wetland management. J Appl Ecol 45:1160–1169. doi:10.1111/j.1365-2664.2008.01476.x

Ehrenfeld JG, Cutway HB, RH IV, Stander E (2003) Hydrologic description of forested wetlands in northeastern New Jersey, USA—an urban/suburban region. Wetlands 23:685–700. doi:10.1672/0277-5212(2003) 023[0685:HDOFWI]2.0.CO;2

Fisher JL, Veneklaas EJ, Lambers H, Loneragan WA (2006) Enhanced soil and leaf nutrient status of a Western Australian Banksia woodland community invaded by Ehrharta calycina and Pelargonium capitatum. Plant Soil 284:253–264. doi:10.1007/s11104-006-0042-z

Gelbard JL, Belnap J (2003) Roads as conduits for exotic plant invasions in a semiarid landscape. Conserv Biol 17:420–432. doi:10.1046/j.1523-1739.2003.01408.x

Grieling DA (1993) Greenways to the Arthur Kill: a greenway plan for the Arthur Kill Tributaries. In. New Jersey Conservation Foundation, Mendham, NJ

Hamberg L, Lehvavirta S, Kotze DJ (2009) Forest edge structure as a shaping factor of understorey vegetation in urban forests in Finland. For Ecol Manag 257:712–722

Hansen AJ et al (2005) Effects of exurban development on biodiversity: patterns, mechanisms, and research needs. Ecol Appl 15:1893–1905

Hatch M, MacDonald Associates (2003) Setting of the metropolitan watershed of New Jersey: a technical report for the characterization and assessment of Watershed Management Area 7. In, Union County, NJ

Honnay O, Endels P, Vereecken H, Hermy M (1999) The role of patch area and habitat diversity in explaining native plant species richness in disturbed suburban forest patches in northern Belgium. Divers Distrib 5:129–141

Hood WG, Naiman RJ (2000) Vulnerability of riparian zones to invasion by exotic vascular plants. Plant Ecol 148:105–114

Houlahan JE, Keddy PA, Makkay K, Findlay CS (2006) The effects of adjacent land-use on wetland species richness and community composition. Wetlands 261:79–96

Kartesz JT, Meacham CA (1999) Synthesis of the North American flora, Version 1.0. University of North Carolina Botanical Garden, Chapel Hill, NC

King SA, Buckney RT (2001) Invasion of exotic plants in nutrient-enriched urban bushland. Austral Ecology 27:573–583

Komuro T, Koike F (2005) Colonization by woody plants in fragmented habitats of a suburban landscape. Ecol Appl 15:662–673

Kowarik I (1995) On the role of alien species in urban flora and vegetation. In: Pysek P, Prach K, Rejmanek M, Wade M (eds) Plant invasions—general aspects and special problems. SPB Academic, Amsterdam, The Netherlands, pp 85–103

Kowarik I (2005a) Urban ornamentals escaped from cultivation. In: Gressel J (ed) Crop ferality and volunteerism. CRC, Boca Raton, FL, pp 97–121

Kowarik I (2005b) Wild urban woodlands: towards a conceptual framework. In: Kowarik I, Körner S (eds) Wild urban woodlands. Springer-Verlag, Heidleburg, Germany, pp 1–32

Lockwood JL, Cassey P, Blackburn T (2005) The role of propagule pressure in explaining species invasions. Trends Ecol Evol 20:223–228

Loewenstein NJ, Loewenstein EF (2005) Non-native plants in the understory of riparian forests across a land-use gradient in the Southeast. Urban Ecosyst 8:79–91

Mack RN, Lonsdale WM (2001) Humans as global plant dispersers: getting more than we bargained for. Bioscience 51:95–102

McCune B, Grace JB (2002) Analysis of ecological communities. MjM Software Design, Gleneden Beach, OR

McCune B, Mefford MJ (1999) PC-ORD. Multivariate analysis of ecological data. In, 4.0 edn. MjM Software, Gleneden Beach, OR

McIntyre NE, Knowles-Yanez K, Hope D (2000) Urban ecology as an interdisciplinary field: differences in the use of "urban" between the social and natural sciences. Urban Ecosyst 4:5–24

McKinney ML (2002) Influence of settlement time, human population, park shape and age, visitation and roads on the number of alien plant species in protected areas in the USA. Divers Distrib 8:311–318

Meyer JL, Paul MJ, Taulbee WK (2005) Stream ecosystem function in urbanizing landscapes. J North Am Benthol Soc 24:602–612

Moffatt SF, McLachlan SM, Kenkel NC (2004) Impacts of land use on riparian forest along an urban–rural gradient in southern Manitoba. Plant Ecol 174:119–135

Moran MA (1984) Influence of adjacent land use on understory vegetation of New York forests. Urban Ecol 8:329–340

Myers JA, Vellend M, Gardescu S, Marks PL (2004) Seed dispersal by white-tailed deer: implications for long-distance dispersal, invasion, and migration of plants in eastern North America. Oecologia 139:35–44

Paul MJ, Meyer JL (2001) Streams in the urban landscape. Annu Rev Ecol Syst 32:333–366

Pickett STA et al (2001) Urban ecological systems: linking terrestrial, ecological, physical and socioeconomic components of metropolitan areas. Annu Rev Ecol Syst 32:127–157

Planty-Tabacchi A-M, Tabacchi E, Naiman RJ, Deferrari C, Decamps H (1996) Invasibility of species-rich communities in riparian zones. Conserv Biol 10:598–607

Prugh LR, Hodges KE, Sinclair ARE, Brashares JS (2008) Effect of habitat area and isolation on fragmented animal populations. Proc Natl Acad Sci USA 105:20770–20775

Pysek P (1998) Alien and native species in Central European urban floras: a quantitative comparison. J Biogeogr 25:155–163

Rouget M, Richardson DM (2003) Inferring process from pattern in plant invasions: a semimechanistic model incorporating propagule pressure and environmental factors. Am Nat 162:713–724

SAS Institute (2001) SAS version 8.2 for windows. SAS Institute, Cary, NC

Stander E (2007) The effects of urban hydrology and elevated atmospheric deposition on nitrate retention and loss in urban wetlands. In: Ecology and Evolution, vol. Ph. D. Rutgers University, New Brunswick, NJ

Stander E, Ehrenfeld J (2009) Rapid assessment of urban wetlands: do hydrogeomorphic classification and reference criteria work? Environmental Management

Stohlgren TJ, Bull KA, Otsuki Y, Villa CA, Lee M (1998) Riparian zones as havens for exotic species in the central grasslands. Plant Ecol 138:113–125

Thébaud C, Debussche M (1991) Rapid invasion of Fraxinus ornus L. along the Herault River system in southern France: the importance of seed dispersal by water. J Biogeogr 18:7–12

Thibault PA (1997) Ground cover patterns near streams for urban land use categories. Landsc Urban Plan 39:37–45

Tiner R (1999) Wetland indicators. CRC Press LLC, Boca Raton, FL

United Nations (2004) World Urbanization Prospects. The 2003 Revision Data Tables and Highlights. In. United Nations Department of Economic and Social Affairs, Population Division, New York, NY

Vavra M, Parks CG, Wisdom MJ (2007) Biodiversity, exotic plant species, and herbivory: the good, the bad, and the ungulate. For Ecol Manag 246:66–72

Velland M (2002) A pest and an invader : white-tailed deer (Odocoileus virginianus Zimm.) as a seed dispersal agent for honeysuckle shrubs (Lonicera L.). Nat Areas J 22:230–234

von der Lippe M, Kowarik I (2008) Do cities export biodiversity? Traffic as dispersal vector across urban–rural gradients. Divers Distrib 14:18–25

Wacker PO, Clemens PG (1995) Land use in early New Jersey. New Jersey Historical Society, Newark
Acknowledgements
This work was supported by grants from the Educational Foundation of America and the New Jersey Water Resources Research Institute. We thank Natasha Davis and Richard Dennis for support in the field and laboratory and Matthew Palmer for assistance in plant species identification. We are grateful to Robert Hamilton IV, Polly Hicks, Kristen Ross, and Emilie Stander for comments and suggestions on previous versions of the manuscript.
About this article
Cite this article
Bowman Cutway, H., Ehrenfeld, J.G. Exotic plant invasions in forested wetlands: effects of adjacent urban land use type. Urban Ecosyst 12, 371–390 (2009). https://doi.org/10.1007/s11252-009-0088-9
Keywords
Exotic plant species

Forested wetland

Industrial

Residential

Urban