Abstract
Traffic corridors have been recognized as floristically rich with endangered and rare species included. The aim of this study is to treat traffic corridors as habitats and estimate their importance for diversity of vascular plants on municipal level. The material is derived from the comprehensive studies of urban floras in the cities of Vantaa, Kerava and Järvenpää during the 1990s in southern Finland. The material consists of over 190,000 species records (704–771 species). The material was divided in two groups: the ones with occurrences in traffic corridors (TC) and the others with no occurrences (NTC). The percentage of the traffic corridor plants of the total flora is almost the same in all the three cities: two thirds in traffic corridors and one third not in traffic corridors. The explanation may be the general floristic similarity of the cities. The two groups differ ecologically from each other. The association of plants with traffic corridors varies according to the ecology of the species. About 100 plants have more than 50% of their occurrences in traffic corridors. In Järvenpää, a group of four Carex-species was intensively mapped. 46 occurrences out of 50 were found in traffic corridors. A case study showed the difficulties in management of endangered species on a roadside site. The usual extensive management techniques were not sustainable for the survival of the species. Instead, a much more intensive management was needed.
This is a preview of subscription content, log in to check access.
Access options
Buy single article
Instant access to the full article PDF.
US$ 39.95
Price includes VAT for USA
Subscribe to journal
Immediate online access to all issues from 2019. Subscription will auto renew annually.
US$ 99
This is the net price. Taxes to be calculated in checkout.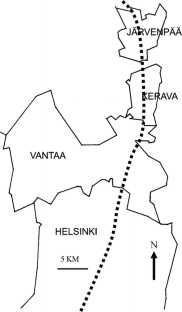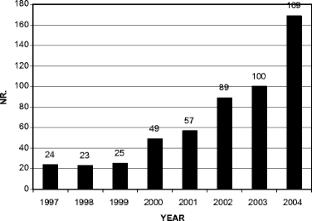 References
Antipina GS (2003) Urban flora as a component of the urban ecosystems in the Taiga zone: an example of Karelian cities. Russ J Ecol 34(4):215–218

Bashore TL, Tzilkowski WM, Bellis ED (1985) Analysis of deer-vehicle collision sites in Pennsylvania. J Wildl Manage 49:769–774

Bellis ED, Graves HB (1971) Deer mortality on a Pennsylvania interstate highway. J Wildl Manage 35:232–237

Berge G, Hestmark G (1997) Composition of seed banks of roadsides, stream verges and agricultural fields in southern Norway. Ann Bot Fennici 34:77–90

Carpenter TG (1994) The environmental impact of railways. Wiley, New York, p 385

Christen D, Matlack G (2006) The role of roadsides in plant invasions: a demographic approach. Conserv Biol 20(2):385–391

Forman RTT, Alexander IE (1998) Roads and their major ecological effects. Ann Rev Ecolog Syst 29:207–231

Forman RTT, Sperling D, Bissonette JA, Clevenger AP, Cutshall CD, Dale VH, Fahrig L, France R, Goldman CR, Heanue K, Jones JA, Swanson FJ, Turrentine T, Winter TC (2003) Road Ecology. Science and Solutions. Island, Washington

Grant C, Evan H, Lowe, WH, Fagan WF (2007) Living in the branches: population dynamics and ecological processes in dendritic networks. Ecology Letters 10(3):165–175

Hultén E, Fries M (1986) Atlas of North European vascular plants north of the Tropic of Cancer I-III. Koeltz

Koivula MJ, Vermeulen HJW (2005) Highways and forest fragmentation—effects on carabid beetles (Coleoptera, Carabidae). Landsc Ecol 20:911–926

Kurtto A (1996) "Kanadansorsimo" (Glyceria canadensis) Vantaalla ja Helsingissä. English abstract: Glyceria canadensis as an established alien in Finland. Lutukka 4:123–124

Mader HJ, Schell C, Kornacker P (1990) Linear barriers to arthropod movements in the landscape. Biol Conserv 54(3):209–222

Michael M (2004) Roadkill: Between Humans, Nonhuman Animals and Technologies. Society & Animals 12(4):277–298

Nelson DA, Mc Voy GR, Greninger L (2001) Promoting environmental stewardship in transportation maintenance and operations in New York State Department of Transportation. New York State Department of Transportation, Environmental Analysis Bureau, 9 p

Niemelä J (1999a) Is there a need for a theory of urban ecology? Urban Ecosyst 3:57–65

Niemelä J (1999b) Ecology and urban planning. Biodivers Conserv 8:119–131

O'Farrell PJ, Milton SJ (2006) Road verge and rangeland plant communities in the southern Karoo: exploring what influences diversity, dominance and cover. Biodivers Conserv 15:921–938

Ranta P (2003) Hirvenkelloja pääradan varressa ja Ahvenanmaalla. (English abstract: Observations on Campanula cervicaria as a railway plant; Campanula cervicaria refound on Åland Islands after 70 years). Lutukka 19(1):10–12

Ranta P (2005) Keravan urbaanit punakämmekät-seuranta ja hoito 1997–2004. (English summary: Dactylorhiza incarnata in Kerava—monitoring and management 1997–2004). Lutukka 21(3):99–104

Ranta P, Siitonen M (1996) Vantaan Luonto. Kasvit. Plant life in Vantaa. Vantaan kaupunki 1996. 442 pp

Rassi P, Alanen A, Kanerva T, Mannerkoski I (Eds) (2001) The 2000 red list of Finnish species. (by The II Committee for the Monitoring of Threatened species in Finland). Ministry of Environment and Finnish Environment Institute, Edita, Helsinki

Rautiainen V-P, Ryttäri T, Kurtto A, Väre H (Eds) (2002) Putkilokasvien uhanalaisuuden arviointi -lajikohtaiset perusteet. Suomen Ympäristö 593:1–194

Ryttäri T, Kettunen T (Eds) (1997) Uhanalaiset kasvimme. (Endangered plants in Finland). Kirjayhtymä, Helsinki, 335 p (in Finnish)

Seiler A (2001) Ecological effects of roads. A review. Introductory research essay no. 9. Department of Conservation Biology, Swedish University of Agricultural Sciences, Uppsala

Spellerberg I (1998) Ecological effects of roads and traffic: a literature review. Glob Ecol Biogeogr Lett 7:317–333

Stottele T (1995) Vegetation und Flora am Straßennetz Westdeutschlands. Dissertationes Botanicae, Band 248, 360 pp, J. Cramer.

Sukopp H, Weiler S (1988) Biotope mapping and nature conservation strategies in urban areas of the Federal Republic of Germany. Landsc Urban Plan 15:39–58

Sukopp H, Numata M, Huber A (1995) Urban ecology as the basis for urban planning. SPB Academic, The Hague, p vii

Suominen J (1969) The plant cover of Finnish railway embankments and the ecology of their species. Ann Bot Fenn 6:183–235

Tikka PM, Koski PS, Kivelä RA, Kuitunen MT (2000) Can grassland communities be preserved on road and railway verges? Appl Veg Sci 3:25–32

Tikka PM, Högmander H, Koski PS (2001) Road and railway verges serve as dispersal corridors for grassland plants. Landsc Ecol 16:659–666

Tonteri T, Haila Y (1990) Plants in a boreal city: Ecological characteristics of vegetation in Helsinki and the surroundings, southern Finland. Ann Bot Fenn 27(4):337–352

Turin H, den Boer PJ (1988) Changes in the distribution of carabid beetles in the Netherland since 1880. II. Isolation of habitats and long time trends in the occurrence of carabid species with different powers of dispersal. Biol Conserv 44:179–200

Vägverket (Sweden) (1999) Vägkantsfloran. Borlänge, 175 pp

Vähä-Piikkiö I, Kurtto A, Hahkala V (2004) Species number, historical elements and protection of threatened species in the flora of Helsinki, Finland. Landsc Urban Plan 68(4):357–370

Wilcox DA (1989) Migration and control of purple loosestrife (Lythrum salicaria L.) along highway corridors. Environ Manage 13:365–370
Acknowledgements
This study was financially supported by the Finnish Biodiversity Research Programme (grant 39715).
About this article
Cite this article
Ranta, P. The importance of traffic corridors as urban habitats for plants in Finland. Urban Ecosyst 11, 149 (2008). https://doi.org/10.1007/s11252-008-0058-7
Received:

Accepted:

Published:
Keywords
Traffic corridors

Urban plants

Management techniques

Endangered plants