Abstract
East Coast fever (ECF), one of the most serious tick-borne diseases in sub-Saharan and eastern Africa, was introduced to the island of Grande Comore in 2002 through zebu import from Tanzania, resulting in at least a 10% loss of livestock. A participatory epidemiology initiative was launched in 2015 to gain a better understanding of ECF epidemiology. Thirty-six villages were investigated involving 36 focus group sessions and 120 individual questionnaires. Farmers' knowledge of ECF and of priority diseases affecting the country was assessed, and the impacts of ECF and other major diseases were compared by a scoring method. The results showed that 69.4% (95% CI [51.3, 87.5%]) of the farmers had good to very good knowledge of ECF. The most important cattle diseases on Grande Comore were considered to be East Coast fever, heartwater, babesiosis, and cutaneous diseases. About 58% of the farmers (95% CI [49.2, 66.8%]) use curative treatments when cattle were sick. Between January and September 2015, the ECF incidence was estimated at 18.5% (95% CI [15.5, 21.4%]), and 87.5% (95% CI [72.7, 100%]) of the cattle infected by ECF died. The ECF incidence estimated in our study was found to be less when compared to that observed in Tanzania even though the climatic conditions in the Union of the Comoros are suitable for the biological vector of ECF, the tick species Rhipicephalus appendiculatus. Access to chemical treatment and its effectiveness against ECF, as well as controlling borders and organizing quarantine, are discussed.
This is a preview of subscription content, log in to check access.
Access options
Buy single article
Instant access to the full article PDF.
US$ 39.95
Price includes VAT for USA
Subscribe to journal
Immediate online access to all issues from 2019. Subscription will auto renew annually.
US$ 99
This is the net price. Taxes to be calculated in checkout.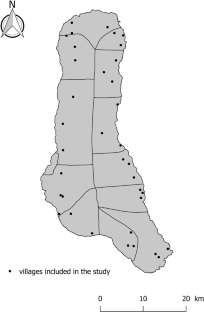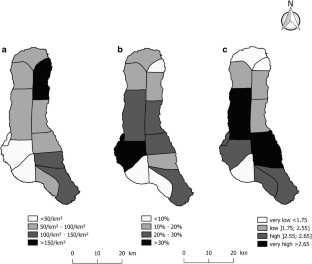 References
Bellet, C., Vergne, T., Grosbois, V., Holl, D., Roger, F. and Goutard, F., 2012. Evaluating the efficiency of participatory epidemiology to estimate the incidence and impacts of foot-and-mouth disease among livestock owners in Cambodia, Acta Tropica, 123, 31–38

Bett, B., Jost, C., Allport, R. and Mariner, J., 2009. Using participatory epidemiological techniques to estimate the relative incidence and impact on livelihoods of livestock diseases amongst nomadic pastoralists in Turkana South District, Kenya, Preventive Veterinary Medicine, 90, 194–203

Byaruhanga, C., Oosthuizen, M.C., Collins, N.E. and Knobel, D., 2015. Using participatory epidemiology to investigate management options and relative importance of tick-borne diseases amongst transhumant zebu cattle in Karamoja Region, Uganda, Preventive Veterinary Medicine, 122, 287–297

Catley, A., 2006. Use of participatory epidemiology to compare the clinical veterinary knowledge of pastoralists and veterinarians in East Africa, Tropical Animal Health and Production, 38, 171–184

Catley, A., Alders, R.G. and Wood, J.L.N., 2012. Participatory epidemiology: Approaches, methods, experiences, The Veterinary Journal, 191, 151–160

Cêtre-Sossah, C., Kwiatek, O., Faharoudine, A., Soulé, M., Moutroifi, Y.O., Vrel, M.A., Salami, H., Rassoul, S., Asnaoui, M., Moindjie, Y., Albina, E., Libeau, G. and Cardinale, E., 2016. Impact and Epidemiological Investigations into the Incursion and Spread of Peste des Petits Ruminants in the Comoros Archipelago: An Increased Threat to Surrounding Islands, Transboundary and Emerging Diseases, 63, 452–459

Chambers, R., 1983. Rural development : putting the last first, (Longman Scientific and Technical: New York, USA)

Chambers, R., 1994. Participatory rural appraisal (PRA): Challenges, potentials and paradigm, World Development, 22, 1437–1454

Chema, S., Waghela, S., James, A., Dolan, T., Young, A., Masiga, W., Irvin, A., Mulela, G. and Wekesa, L., 1986. Clinical trial of parvaquone for the treatment of East Coast fever in Kenya, Veterinary Record, 118, 588–589

Chevillon, C., Ducornez, S., de Meeûs, T., Koffi, B.B., Huguette Gaïa, Delathière, J.-M. and Barré, N., 2007. Accumulation of acaricide resistance mechanisms in Rhipicephalus (Boophilus) microplus (Acari: Ixodidae) populations from New Caledonia Island, Veterinary Parasitology, 147, 276–288

De Deken, R., Martin, V., Saido, A., Madder, M., Brandt, J. and Geysen, D., 2007. An outbreak of East Coast Fever on the Comoros: A consequence of the import of immunised cattle from Tanzania?, Veterinary Parasitology, 143, 245–253

Direction Générale de l'Environnement (DGE) et projet PNUD/UNESCO/UICN COI/91/006 "Appui à la programmation nationale en matière d'environnement", 1993. Diagnostic de l'état de l'environnement aux Comores, PNUD

Direction Générale de la Statistique et de la Prospective (DGSP) et ICF International, 2014. Enquête Démographique et de Santé et à Indicateurs Multiples aux Comores 2012, Rockville: DGSP et ICF International.

Dolan, T.T., 1999. Dogmas and misunderstandings in East Coast fever, Tropical Medicine and International Health, 4, A3–A11

Dolan, T., Injairu, R., Gisemba, F., Maina, J., Mbadi, G., Mbwiria, S., Mulela, G. and Othieno, D., 1992. A clinical trial of buparvaquone in the treatment of East Coast fever, Veterinary Record, 130, 536–538

Gachohi, J., Skilton, R., Hansen, F., Ngumi, P. and Kitala, P., 2012. Epidemiology of East Coast fever (Theileria parva infection) in Kenya: past, present and the future, Parasites & Vectors, 5, 194

Kioko, J., Baker, J., Shannon, A. and Kiffner, C., 2015. Ethnoecological knowledge of ticks and treatment of tick-borne diseases among Maasai people in Northern Tanzania, Veterinary World, 8, 755–762

Kivaria, F.M., 2006. Estimated direct economic costs associated with tick-borne diseases on cattle in Tanzania, Tropical Animal Health and Production, 38, 291–299

Laisser, E.L.K., Kipanyula, M.J., Msalya, G., Mdegela, R.H., Karimuribo, E.D., Mwilawa, A.J., Mwega, E.D., Kusiluka, L. and Chenyambuga, S.W., 2014. Tick burden and prevalence of Theileria parva infection in Tarime zebu cattle in the lake zone of Tanzania, Tropical Animal Health and Production, 46, 1391–1396

Madder, M., Thys, E., Achi, L., Touré, A. and Deken, R.D., 2011. Rhipicephalus (Boophilus) microplus: a most successful invasive tick species in West-Africa, Experimental and Applied Acarology, 53, 139–145

Malak, A.K., Mpoke, L., Banak, J., Muriuki, S., Skilton, R.A., Odongo, D., Sunter, J. and Kiara, H., 2012. Prevalence of livestock diseases and their impact on livelihoods in Central Equatoria State, southern Sudan, Preventive Veterinary Medicine, 104, 216–223

Mbwambo, H.A., Magwisha, H.B. and Mfinanga, J.M., 2006. Evaluation of buparvaquone (BUTA-Kel KELA, Belgium) as a treatment of East Coast fever in cattle, in the peri-urban of Dar Es Salaam city, Tanzania, Veterinary Parasitology, 139, 67–73

McHardy, N., Wekesa, L.S., Hudson, A.T. and Randall, A.W., 1985. Antitheilerial activity of BW720C (buparvaquone): a comparison with parvaquone, Research in Veterinary Science, 39, 29–33

Muraguri, G.R., Kiara, H.K. and McHardy, N., 1999. Treatment of East Coast fever: a comparison of parvaquone and buparvaquone, Veterinary Parasitology, 87, 25–37

Nchu, F., Magano, S.R. and Eloff, J.N., 2005. In vitro investigation of the toxic effects of extracts of Allium sativum bulbs on adults of Hyalomma marginatum rufipes and Rhipicephalus pulchellus, Journal of the South African Veterinary Association, 76, 99–103

Norval, R.A.I., Perry, B.D. and Young, A.S., 1992. The epidemiology of theileriosis in Africa, (Academic: London)

Nyahangare, E.T., Mvumi, B.M. and Mutibvu, T., 2015. Ethnoveterinary plants and practices used for ecto-parasite control in semi-arid smallholder farming areas of Zimbabwe, Journal of Ethnobiology and Ethnomedicine, 11

Nyangiwe, N., Harrison, A. and Horak, I.G., 2013. Displacement of Rhipicephalus decoloratus by Rhipicephalus microplus (Acari: Ixodidae) in the Eastern Cape Province, South Africa, Experimental and Applied Acarology, 61, 371–382

Saido, 2005. Rapport d'analyse des résultats du recensement agricoles des Comores 2004, (Bureau d'étude ACTIV: Comores)

Sherman, G., Sutton, T., Blazek, R., Holl, S., Dassau, O., Mitchell, T., Dobias, M., 2017. Quantum GIS, Open Source Geospatial Foundation Project. https://www.qgis.org/

Short N.J. and Norval, R.A.I., 1981. The Seasonal Activity of Rhipicephalus appendiculatus Neumann 1901 (Acarina: Ixodidae) in the Highveld of Zimbabwe Rhodesia, The Journal of Parasitology, 67, 77–84

Swai, E.S., Mtui, P.F., Chang'a, A.K. and Machange, G.E., 2008. The prevalence of serum antibodies to Ehrlichia ruminantium infection in ranch cattle in Tanzania: a cross-sectional study Journal of the South African, Veterinary Association, 79, 71–75

Worthington, R.W. and Bigalke, R.D., 2001. A review of the infectious diseases of African wild ruminants, The Onderstepoort Journal of Veterinary Research, 68, 291–323

Young, A.S., Groocock, C.M. and Kariuki, D.P., 1988. Integrated control of ticks and tick-borne diseases of cattle in Africa, Parasitology, 96, 403–432

Yssouf, A., Lagadec, E., Bakari, A., Foray, C., Stachurski, F., Cardinale, E., Plantard, O. and Tortosa, P., 2011. Colonization of Grande Comore Island by a lineage of Rhipicephalus appendiculatus, ticks Parasites & Vectors, 4, 38
Acknowledgements
We thank all the Union of the Comoros farmers, veterinarians, and veterinary technicians for their participation in the fieldwork.
Funding
This study was funded by INTERREG FEDER TROI 2015-2017 under the DP One health Indian Ocean (www.onehealth-oi.org).
Ethics declarations
Conflict of interest
The authors declare that they have no conflict of interest.
Electronic supplementary material
About this article
Cite this article
Boucher, F., Moutroifi, Y., Ali, M. et al. Impact of East Coast fever on Grande Comore: assessment taking a participatory epidemiology approach. Trop Anim Health Prod 51, 99–107 (2019). https://doi.org/10.1007/s11250-018-1664-x
Received:

Accepted:

Published:

Issue Date:
Keywords
Participatory epidemiology

East Coast fever

Union of the Comoros

Impact