Abstract
Despite the significant livestock contribution to households' nutrition and incomes in many African smallholder farms, milk productivity remains low. Inadequate feeding is the main reason for the underperformance. To contribute towards addressing this, an on-farm feeding trial was undertaken in Ol-joro-Orok Central Kenya. A feed basket using oat (Avena sativa) cv Conway and vetch (Vicia villosa) was compared to farmers practice. Milk production (kg) and quality parameters, including butterfat, protein, lactose, and density, were monitored, and cost-benefit analysis (CBA) undertaken. Feeding both oat and vetch increased milk production by 21% (morning) and 18%, (evening), equivalent to 1.4 kg/day. Increases (%) in quality were butter fat (18.2), solid-non-fat (16.5), lactose (16.2), and protein (16.1). Concomitantly, the CBA returned positive results, supporting the hypothesis of economic advantage in using oat and vetch in milk production in the area, and possibly in other similar areas.
This is a preview of subscription content, log in to check access.
Access options
Buy single article
Instant access to the full article PDF.
US$ 39.95
Price includes VAT for USA
Subscribe to journal
Immediate online access to all issues from 2019. Subscription will auto renew annually.
US$ 99
This is the net price. Taxes to be calculated in checkout.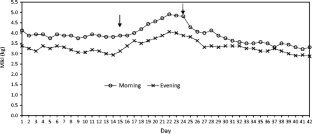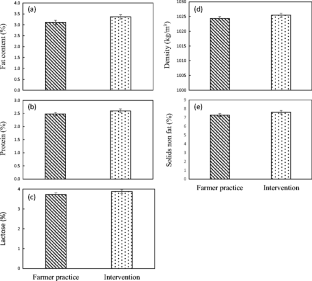 References
Ayoade, J. A., Makhambera, P. E. & Bodzalekani, M. Z., 1983. Evaluation of crop residues as feeds for goats. Part 1. Voluntary intakes, digestibility and nitrogen utilization of groundnut and bean haulms. South Afr. J. Anim. Sci., 13 (1): 12–13

Cohen B. 2006.Urbanization in developing countries: Current trends, future projections, and key challenges for sustainability Technology in Society 28, 63–80 doi:https://doi.org/10.1016/j.techsoc.2005.10.005

Food and Agriculture Organization (FAO) 2017. The future of food and agriculture- Trends and echallenges. Rome. http://www.fao.org/3/ai6583e.pdf

Genstat 2011. GenStat statistical software, version 14 for windows. VSN International Ltd,Hertfordshire.

Gietema B. 2005. Modern dairy farming in warm climate zones. © Agromisa Foundation, Wageningen, ISBN: 90 5285 016 1/016 X

International livestock research institute (ILRI) 2016. Feed assessment tool. https://www.ilri.org/feast

Jaetzold, R., Schimidt, H., Hornetz, B. & Shisanya, C. 2006. Farm Management Handbook of Kenya Vol. II. Natural Conditions and Farm Management Information, 2nd edn. Nairobi: Ministry of Agriculture.

Jesse, E., & Cropp, B. 2004. Basic milk pricing concepts for Dairy Farmers. University of Wisconsin Extension A3379 retrieved from http://future.aae.wisc.edu/publications/a3379.pdf on 21st August 2017

Kimenju, S. C., & De Groote, H. 2010. Economic analysis of altenative maize storage technologies in Kenya. In: Joint 3rd African Association of Agricultural Economic (AAAE) and 48th Agricultural Economics Association of South Africa (AEASA) conference September 19- 23, Cape town, South Africa. https://econpapers.repec.org/paper/agsaae10196419.htm

Kimenye, L., & McEwan, M. 2014. Scaling up, Dissemination and Adoption of Agricultural Technologies using Innovation Platforms-Lessons from Eastern and Central Africa. Entebbe: ASARECA.

Lukuyu, B., Gachuiri, C. K., Lukuyu, M. N., Lusweti, C., & Mwendia, S. 2012. Feeding dairy cattle in East Africa. East Africa Dairy Development Project, 1–112. Retrieved from https://scholar.google.com/scholar?cluster=8864360012852157201&hl=en&as_sdt=2005&sciodt=0,5

Manaye, T., Tolera, A., & Zewdu, T. 2009. Feed intake, digestibility and body weight gain of sheep fed Napier grass mixed with different levels of Sesbania sesban. Livestock Science, 122(1), 24–29.

Mburu, L., Gitu, K., & Wakhungu, J. 2007. A cost-benefit analysis of smallholder dairy cattle enterprises in different agro-ecological zones in Kenya highlands. Livestock Research for Rural Development, 19(7), 2007.

Methu, J., Owen, E., Abate, A., & Tanner, J. 2001. Botanical and nutritional composition of maize stover, intakes and feed selection by dairy cattle. Livestock Production Science, 71(2), 87–96.

Mwendia, S., Notenbaert, A.M.O., & Paul, B. 2016. Forage seed systems in Kenya http://hdl.handle.net/10568/72588.

Mwendia S, Maass, B., Njenga D., Nyakundi F. & Notenbaert A. (2017). Evaluating oat cultivars for dairy forage production in the central Kenyan highlands. African Journal of Range & Forage Science http://www.tandfonline.com/doi/pdf/10.2989/10220119.2017.1358214

Negassa, A., Shapiro, B., Kidane, T., Abdena, A., & Hanson, J. 2016. Ex-ante assessment of demand for improved forage seeds and planting materilas among smallholder farmers in Ethiopia: A contingent valuation analysis. ILRI Project Report. Nairobi: International Livestock Research Institute.

Odero-Waitituh JA. 2017. Smallholder dairy production in Kenya; a review. Livestock Research for Rural Development. 29, Article #139 accessed on 3rd July, 2017 from http://www.lrrd.org/lrrd29/7/atiw29139.html

Rønholt, S., Mortensen, K., & Knudsen, J. C. 2013. The Effective Factors on the Structure of Butter and Other Milk Fat-Based Products. Comprehensive Reviews in Food Science and Food Safety, 12(5), 468–482.

Tessema, Z., Mihret, J., & Solomon, M. 2010. Effect of defoliation frequency and cutting height on growth, dry-matter yield and nutritive value of Napier grass (Pennisetum purpureum (L.) Schumach). Grass and Forage Science, 65(4), 421–430.

University of Reading. 2000. One Animal per Farm? University of Reading Statistical Services Centre, (March). Retrieved from http://www.reading.ac.uk/ssc/resources/OneAnimalPerFarm.pdf

Wedholm, A., Larsen, L. B., Lindmark-Månsson, H., Karlsson, A. H., & Andrén, A. 2006. Effect of protein composition on the cheese-making properties of milk from individual dairy cows. Journal of Dairy Science, 89(9), 3296–3305.

Yami, M., Begna, B., & Teklewold, T. 2013. Enhancing the productivity of livestock production in highland of Ethiopia: Implication for improved on-farm feeding strategies and utilization. International Journal of Livestock Production, 4(8), 113–127.
Acknowledgements
We sincerely thank the farmers who allowed data collection from their animals and responded to interviews. Gratitude to Mr. B.M. Kimani from the Ministry of Agriculture who assisted with daily data collection. Eldoville Dairies staff, especially Mr. Andrew Waithaka who facilitated oat and vetch growing, Mr. Mutembei who supervised the forage fields, and Mr. Julius Njuguna who measured the milk quality. Lastly, we thank the International Fertilizer Development Center (IFDC) for financing the study.
Ethics declarations
Farmers gave informed consent to data collection from their farms and animals.
Conflict of interest
The authors declare that they have no conflict of interest.
About this article
Cite this article
Mwendia, S.W., Mwungu, C.M., Ng'ang'a, S.K. et al. Effect of feeding oat and vetch forages on milk production and quality in smallholder dairy farms in Central Kenya. Trop Anim Health Prod 50, 1051–1057 (2018). https://doi.org/10.1007/s11250-018-1529-3
Received:

Accepted:

Published:

Issue Date:
Keywords
Forage

Milk production

Cost-benefit