Abstract
Several strains of porcine bocaviruses have been reported worldwide since their first detection in Sweden in 2009. Subsequently, the virus has been reported to be associated with gastrointestinal and respiratory signs in weaner and grower pigs. Although Malaysia is host to a self-sufficient swine livestock industry, there is no study that describes porcine bocavirus in the country. This report is the first to describe porcine bocavirus (PBoV) in Malaysian swine herds. PBoV was identified in various tissues from sick and runt pigs using the conventional PCR method with primers targeting conserved regions encoding for the nonstructural protein (NS1) gene. Out of 103 samples tested from 17 pigs, 32 samples from 15 pigs were positive for porcine bocavirus. In addition, a higher detection rate was identified from mesenteric lymph nodes (52.9%), followed by tonsil (37.0%), and lungs (33.3%). Pairwise comparison and phylogenetic analyses based on a 658-bp fragment of NS1 gene revealed that the Malaysian PBoV strains are highly similar to PBoV3 isolated in Minnesota, USA. The presence of porcine bocavirus in Malaysia and their phylogenetic bond was marked for the first time by this study. Further studies will establish the molecular epidemiology of PBoV in Malaysia and clarify pathogenicity of the local isolates.
This is a preview of subscription content, log in to check access.
Access options
Buy single article
Instant access to the full article PDF.
US$ 39.95
Price includes VAT for USA
Subscribe to journal
Immediate online access to all issues from 2019. Subscription will auto renew annually.
US$ 99
This is the net price. Taxes to be calculated in checkout.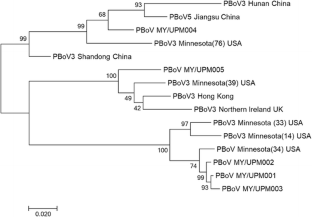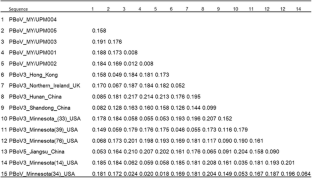 References
Allander, T., Tammi, M.T., Eriksson, M., Bjerkner, A., Tiveljung-Lindell, A. and Andersson, B., 2005. Cloning of a human parvovirus by molecular screening of respiratory tract samples. Proceedings of the National Academy of Sciences of the United States of America, 102, 12891–12896

Binn, L.N., Lazar, E.C., Eddy, G. a and Kajima, M., 1970. Recovery and characterization of a minute virus of canines. Infection and Immunity, 1, 503–508

Blomström, A.L., Belák, S., Fossum, C., McKillen, J., Allan, G., Wallgren, P. and Berg, M., 2009. Detection of a novel porcine boca-like virus in the background of porcine circovirus type 2 induced postweaning multisystemic wasting syndrome. Virus Research, 146, 125–9

Blomström, A.L., Belák, S., Fossum, C., Fuxler, L., Wallgren, P. and Berg, M., 2010. Studies of porcine circovirus type 2, porcine boca-like virus and torque teno virus indicate the presence of multiple viral infections in postweaning multisystemic wasting syndrome pigs. Virus Research, 152, 59–64

Cadar, D., Cságola, A., Lorincz, M., Tombácz, K., Kiss, T., Spînu, M. and Tuboly, T., 2011. Genetic detection and analysis of porcine bocavirus type 1 (PoBoV1) in European wild boar (Sus scrofa). Virus Genes, 43, 376–379

Chen, K.C., Shull, B.C., Moses, E.A., Lederman, M., Stout, E.R. and Bates, R.C., 1986. Complete nucleotide sequence and genome organization of bovine parvovirus. Journal of Virology, 60, 1085–1097

Cheng, W., Li, J., Huang, C., Yao, D., Liu, N., Cui, S., Jin, Y. and Duan, Z., 2010. Identification and nearly full-length genome characterization of novel porcine bocaviruses. PloS ONE, 5, e13583

Choi, M.-G., Park, S.-J., Nguyen, V.-G., Chung, H.-C., Kim, A.-R. and Park, B.-K., 2014. Molecular detection and genetic analysis of porcine bocavirus in Korean domestic swine herds. Archives of Virology, 159, 1487–92

Department of Veterinary Services Malaysia, 2013. Pig Industry Annual Statistics

Etemadi, M.R., Jalilian, F.A., Abd Wahab, N., Jahanshiri, F., Amini, R., Othman, N. and Sekawi, Z., 2012. First detected human bocavirus in a Malaysian child with pneumonia and pre-existing asthma: a case report. The Medical Journal of Malaysia, 67, 433–4

Gunn, L., Collins, P.J., Fanning, S., McKillen, J., Morgan, J., Staines, A. and O'Shea, H., 2015. Detection and characterisation of novel bocavirus (genus Bocaparvovirus) and gastroenteritis viruses from asymptomatic pigs in Ireland. Infection Ecology & Epidemiology, 5, 27270

Huang, J., Mor, S.K., Erber, J., Voss, E. and Goyal, S.M., 2014. Detection and characterization of porcine bocavirus in the United States. Archives of Virology, 159, 1797–801

Jukes, T.H. and Cantor, C.R., 1969. Evolution of protein molecules Mammalian Protein Metabolism, 21–123

Kapoor, A., Mehta, N., Esper, F., Poljsak-Prijatelj, M., Quan, P.L., Qaisar, N., Delwart, E. and Lipkin, W.I., 2010. Identification and characterization of a new bocavirus species in gorillas. PLoS ONE, 5

Kumar, S., Stecher, G. and Tamura, K., 2016. MEGA7: Molecular Evolutionary Genetics Analysis Version 7.0 for Bigger Datasets. Molecular Biology and Evolution, 33, 1870–1874

Lanave, G., Martella, V., Farkas, S.L., Marton, S., Feher, E., Bodnar, L., Lavazza, A., Decaro, N., Buonavoglia, C. and Banyai, K., 2015. Novel bocaparvoviruses in rabbits. Veterinary Journal, 206, 131–135

Lau, S.K.P., Woo, P.C.Y., Yip, C.C.Y., Li, K.S.M., Fu, C.T.Y., Huang, Y., Chan, K.H. and Yuen, K.Y., 2011. Co-existence of multiple strains of two novel porcine bocaviruses in the same pig, a previously undescribed phenomenon in members of the family Parvoviridae, and evidence for inter- and intra-host genetic diversity and recombination. The Journal of General Virology, 92, 2047–59

Lau, S.K.P., Woo, P.C.Y., Yeung, H.C., Teng, J.L.L., Wu, Y., Bai, R., Fan, R.Y.Y., Chan, K.H. and Yuen, K.Y., 2012. Identification and characterization of bocaviruses in cats and dogs reveals a novel feline bocavirus and a novel genetic group of canine bocavirus. The Journal of General Virology, 93, 1573–82

Lau S, Ahmed S, Yeung H, Li K, Fan R, Cheng T, Cai J, Wang M, Zheng B, Wong S, Woo P, Yuen K.J., 2016. Identification and interspecies transmission of a novel bocaparvovirus among different bat species in China. Journal of General Virology, 97, 3345–3358

Lau, S.K.P., Yeung, H.C., Li, K.S.M., Lam, C.S.F., Cai, J. P., Yuen, M., Wang, M., Zheng, B. J., Woo, P.C.Y. and Yuen, K. Y., 2017. Identification and genomic characterization of a novel rat bocavirus from brown rats in China. Infection, Genetics and Evolution, 47, 68–76

Li, B., Xiao, S., Ma, J., Liu, Y., Mao, L., Wen, L., Mao, A., Zhang, X., Ni, Y., Guo, R., Zhou, J., Yu, Z., Lv, L., Wang, X., Fang, L., Chen, H. and He, K., 2011a. Development of a novel TaqMan-based real-time PCR assay for the detection of porcine boca-like virus (Pbo-likeV). Virology Journal, 8, 357

Li, L., Shan, T., Wang, C., Côté, C., Kolman, J., Onions, D., Gulland, F.M.D. and Delwart, E., 2011b. The fecal viral flora of california sea lions. Journal of Virology, 85, 9909–9917

Li, B., Ma, J., Xiao, S., Fang, L., Zeng, S., Wen, L., Zhang, X., Ni, Y., Guo, R., Yu, Z., Zhou, J., Mao, A., Lv, L., Wang, X. and He, K., 2012. Complete genome sequence of a novel species of porcine bocavirus, PBoV5. Journal of Virology, 86, 1286–1287

Liu, M., Li, Y., Sun, D., Xia, Y., Huang, J. and Guo, L., 2014. Detection and genetic analysis of porcine bocavirus in different swine herds in North Central China. The Scientific World Journal, 2014, 947084

McKillen, J., McNeilly, F., Duffy, C., McMenamy, M., McNair, I., Hjertner, B., Millar, A., McKay, K., Lagan, P., Adair, B. and Allan, G., 2011. Isolation in cell cultures and initial characterisation of two novel bocavirus species from swine in Northern Ireland. Veterinary Microbiology, 152, 39–45

Pfankuche, V.M., Bodewes, R., Hahn, K., Puff, C., Beineke, A., Habierski, A., Osterhaus, A.D.M.E. and Baumgärtner, W., 2016. Porcine bocavirus infection associated with encephalomyelitis in a pig, Germany. Emerging Infectious Diseases, 22, 1310–1312

Saekhow, P. and Ikeda, H., 2014. Prevalence and genomic characterization of Porcine Parvoviruses detected in Chiangmai area of Thailand in 2011. Microbiology and Immunology, 1–7

Schildgen, O., 2013. Human bocavirus: lessons learned to date. Pathogens, 2, 1–12

Shan, T., Lan, D., Li, L., Wang, C., Cui, L., Zhang, W., Hua, X., Zhu, C., Zhao, W. and Delwart, E., 2011. Genomic characterization and high prevalence of bocaviruses in swine. PloS ONE, 6, e17292

Tg Rogayah, T.A.R., Fauziah, M.K., Mohd Apandi, Y., Zarina, M.Z., Nur Izmawati, A.R., Nur Azrenawaty, M.N., Tg Aman Arif, T.M.A.S. and Zainah, S., 2014. Molecular epidemiology of human bocavirus in children with acute respiratory infections in Malaysia. Innovative Journal of Medical and Health Science, 2, 319–323

Zeng, S., Wang, D., Fang, L., Ma, J., Song, T., Zhang, R., Chen, H. and Xiao, S., 2011. Complete coding sequences and phylogenetic analysis of porcine bocavirus. Journal of General Virology, 92, 784–788

Zhai, S., Yue, C., Wei, Z., Long, J., Ran, D., Lin, T., Deng, Y., Huang, L., Sun, L., Zheng, H., Gao, F., Zheng, H., Chen, S. and Yuan, S., 2010. High prevalence of a novel porcine bocavirus in weanling piglets with respiratory tract symptoms in China. Archives of Virology, 155, 1313–1317

Zhang, Q., Zhang, C., Gao, M., He, X., Diao, Y., Goyal, S.M., Mor, S.K. and Huang, J., 2015. Evolutionary, epidemiological, demographical, and geographical dissection of porcine bocavirus in China and America. Virus Research, 195, 13–24

Zhou, F., Sun, H. and Wang, Y., 2014. Porcine bocavirus: Achievements in the past five years. Viruses, 6, 4946–4960
Acknowledgements
We thank the Universiti Putra Malaysia and the Faculty of Veterinary Medicine for providing the facilities to conduct this research.
Funding
The authors thank the Government of Malaysia and its Ministry of Higher Education who funded this research through the Fundamental Research Grants Scheme (FRGS) (Grant no. FRGS 2014-1-5524541).
Ethics declarations
Statement of animal rights
This research project was approved by the Institutional Animal Care and Use Committee (IACUC), with reference number UPM/IACUC/AUP–R063/2014.
Conflict of interest
The authors declare that they have no conflict of interests.
About this article
Cite this article
Mohan Jacob, D., Lee, C.Y., Arshad, S.S. et al. First molecular detection of porcine bocavirus in Malaysia. Trop Anim Health Prod 50, 733–739 (2018). https://doi.org/10.1007/s11250-017-1489-z
Received:

Accepted:

Published:

Issue Date:
Keywords
Porcine bocavirus

Swine

Detection

Sequencing

Phylogenetic analysis