Abstract
In the world, Kalanchoe species are primarily ornamentals and houseplants, but some have escaped cultivation and can be found in the field. In Latin America, there are no reports of spontaneous poisoning by Kalanchoe species in animals. This study aimed to describe the epidemiological, clinical, and pathological aspects of an outbreak of poisoning by Kalanchoe blossfeldiana in cattle in the semiarid region of Pernambuco, Brazil. Epidemiological and clinical data were obtained from the owner and veterinarian during technical visits. Prunings of this plant were disposed of in a pasture with a shortness of forage. Seventeen cattle had clinical signs, and thirteen died 4–5 days after the first clinical signs were observed. Clinical signs and gross and histological lesions include gastrointestinal, cardiovascular, and neuromuscular disorders. Kalanchoe spp. contain cardiotoxic glycosides, and the clinical signs and lesions in cattle of this outbreak were consistent with poisoning by plants that contain these toxins.
This is a preview of subscription content, log in to check access.
Access options
Buy single article
Instant access to the full article PDF.
US$ 39.95
Price includes VAT for USA
Subscribe to journal
Immediate online access to all issues from 2019. Subscription will auto renew annually.
US$ 99
This is the net price. Taxes to be calculated in checkout.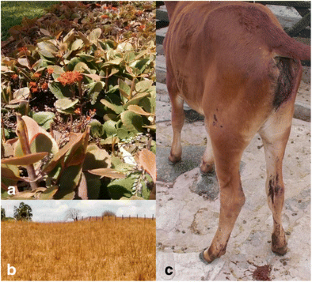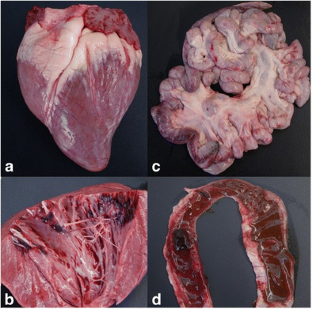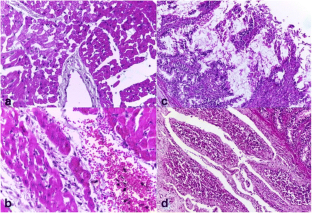 References
Botha, C.J. and Penrith, M.L. 2008. Poisonous plants of veterinary and human importance in southern Africa, Journal Ethnopharmacology, 119, 549–58

Botha, C.J. 2013. Krimpsiekte in South Africa: historical perspectives, Journal of the South African Veterinary Association, 84, 1059–1064

Botha, C.J. 2016. Potential health risks posed by plant-derived cumulative neurotoxic bufadienolides in South Africa, Molecules, 21, 347–352

Cortinovis, C. and Caloni, F. 2013 Epidemiology of intoxication of domestic animals by plants in Europe, Veterinary Journal, 197(2), 163–168. https://doi.org/10.1016/j.tvjl.2013.03.007

Geraldo Neto, S. A., Sakamoto, S. M. and Soto-Blanco, B. 2013. Epidemiological survey about toxic plants from the central and west regions of Rio Grande do Norte State, Brazil, Ciência Rural, 43, 1281–1287

Lee, S.T., Cook, D., Riet-Correa, F., Pfister, J.A., Anderson, W.R., Lima, F.G. and Gardner, D.R. 2012; Detection of monofluoroacetate in Palicourea and Amorimia species, Toxicon, 60, 791–796

Milad, R., El-Ahmady, S. and Singab, A.N. 2014. Genus Kalanchoe (Crassulaceae): A review of its ethnomedicinal, botanical, chemical and pharmacological properties, European Journal of Medicinal Plants, 4, 86–104

Pessoa, C. R.M., Medeiros, R. M.T. and Riet-Correa, F. 2013. Economic impact, epidemiology and control poisonous plants in Brazil, Pesquisa Veterinária Brasileira, 33, 752–758

Smith, G. 2004. Kalanchoe species poisoning in pets. Toxicology Brief, 1, 933–936

Sundaragiri, S. and Tandur, S. 2016. Electrocardiographic profile of cardiotoxic plants and animals. International Journal of Medical Research and Health Sciences, 5, 719–725
Funding
This study is funded by the National Institute of Science and Technology for the Control of poisoning by plants for their financial support (Proc. CNPq no. 573534/2008-2).
Ethics declarations
Conflict of interest
The authors declare that they have no conflicts of interest.
About this article
Cite this article
Mendonça, F.S., Nascimento, N.C.F., Almeida, V.M. et al. An outbreak of poisoning by Kalanchoe blossfeldiana in cattle in northeastern Brazil. Trop Anim Health Prod 50, 693–696 (2018). https://doi.org/10.1007/s11250-017-1465-7
Received:

Accepted:

Published:

Issue Date:
Keywords
Poisonous plants

Plant poisoning

Cardiac glycosides

Necrotic enteritis