Abstract
A total of 153 communal farmers in four agro-ecological regions of Botswana were interviewed using a structured questionnaire. The aims of the survey were to characterise existing communal goat production systems, evaluate the importance of goats to farmers and identify breeding practices and constraints encountered in goat production in Botswana. Data was collected on socio-economic parameters, general and breeding management practices and major constraints limiting goat production in Botswana. All respondents were small-scale communal farmers with 63% respondents practising mixed crop-livestock farming and 37% keeping livestock as their primary activity. The majority (33%) of respondents were older than 60 years. Over 80% of the farmers kept goats for cash required for tuition, school uniforms and household commodities as well as re-stocking of animals. Most farmers (62%) kept indigenous crossed genotypes. Generally, uncontrolled mating was practised with the majority of farmers (41%) using on-farm reared bucks for more than two years of breeding and communal bucks (36%) as an alternative. The major constraints limiting goat productivity in communal areas included uncontrolled breeding, predators, theft and diseases. Issues raised by farmers should be considered in designing and implementing effective breeding programs for goats to improve their overall productivity and contribution to poverty alleviation in these communities.
This is a preview of subscription content, log in to check access.
Access options
Buy single article
Instant access to the full article PDF.
US$ 39.95
Price includes VAT for USA
Subscribe to journal
Immediate online access to all issues from 2019. Subscription will auto renew annually.
US$ 99
This is the net price. Taxes to be calculated in checkout.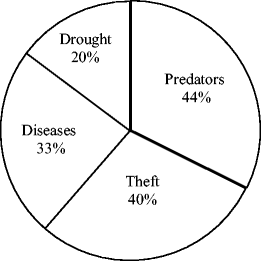 References
Ayalew, W., Rischkowsky, B., King, J.M. and Bruns, E., 2003. Crossbreds did not create more net benefits than indigenous goats in Ethiopian smallholdings. Agric. Sys., 76:1137–1156.

Bishop, S.C. and Morris, C.A., 2007. Genetics of disease resistance in sheep and goats, Small Ruminant Research, 70, 48–59.

Botswana, S., 2015. Annual Agricultural Survey Report of 2013. Gaborone, Botswana. www.statsbots.org.bw.

Chiejina, S.N. and Behnke, J.M., 2011. The unique resistance and resilience of the Nigerian West African Dwarf goat to gastrointestinal nematode infections. Parasites and vectors, 4, 1.

De Vries, J., 2008. Goats for the poor: Some keys to successful promotion of goat production among the poor. Small Ruminant Research, 77, 221–224.

Dossa, L.H., Rischkowsky, B., Birner, R., and Wollny, C., 2008. Socio-economic determinants of keeping goats and sheep by rural people in southern Benin. Agriculture and human values, 25, 581–592.

Dube, K., 2015. Characterisation of goat production systems in selected coastal areas of the Eastern Cape Province, South Africa (Doctoral dissertation, University of Fort Hare).

FANRPAN, 2007. Botswana: CEDA (Citizen Entrepreneur Development Agency) Young Farmers Fund, (6). Retrieved on 17 September, 2016 from www.farnpan.org/new/134/news

FAO, 2012. Voluntary Guidelines on the Responsible Governance of Tenure of Land, Fisheries and Forests in the Context of National Food Security. Rome.

FAO, 2014. Youth and Agriculture: Key challenges and concrete solutions. Rome

Fikru, S., and Gebeyew, K.., 2015. Sheep and Goat Production Systems in Degehabur Zone, Eastern Ethiopia: Challenge and Opportunities, Advances in Dairy Research, pp. 1–9.

Githiori, J.B., Athanasiadou, S. and Thamsborg, S.M., 2006. Use of plants in novel approaches for control of gastrointestinal helminths in livestock with emphasis on small ruminants, Veterinary Parasitology, 139, 308–320.

Gwaze, F.R., Chimonyo, M., and Dzama, K.., 2009. Communal goat production in Southern Africa: a review. Tropical Animal Health and Production, 41, 1157–1168.

Homann, S., van Rooyen, A., Moyo, T. and Nengomasha, Z., 2007. Goat production and marketing: Baseline information for semi-arid Zimbabwe. International Crops Research Institute for the Semi-Arid Tropics. http://www.icrisat.org/Publications-2007.

Jimmy, S., David, M., Donald, K. R., and Dennis, M., 2010. Smallholder goat breeding systems in humid, sub-humid and semi arid agro-ecological zones of Uganda. Global Veterinaria, 4, 283–291.

Kosgey, I.S., 2004. Breeding objectives and breeding strategies for small ruminant in the tropics, (unpublished PhD thesis, Wageningen University).

Kosgey, I.S., and Okeyo, A.M., 2007. Genetic improvement of small ruminants in low-input, smallholder production systems: technical and infrastructural issues, Small Ruminant Research, 70, 76–88.

Kosgey, I.S., Baker, R.L., Udo, H.M.J. and Van Arendonk, J.A.M., 2006. Successes and failures of small ruminant breeding programmes in the tropics: a review, Small Ruminant Research, 61,13–28.

Kosgey, I.S., Rowlands, G.J., Van Arendonk, J.A.M., and Baker, R.L., 2008. Small ruminant production in smallholder and pastoral/extensive farming systems in Kenya, Small Ruminant Research, 77, 11–24.

Lebbie, S.H.B. 2004. Goats under household conditions, Small Ruminant Research, 51, 131–136.

Ministry of Agriculture (MoA), 2006. Agricultural Support Schemes. Ministry of Agriculture, Gaborone.www.gov.bw

Mogotsi, K., Nyangito, M.M., and Nyariki, D.M., 2013. The role of drought among agro-pastoral communities in a semi-arid environment: the case of Botswana, Journal of Arid Environments, 91, 38–44.

Nsoso S. J, Monkhei M. and Tlhwaafalo B.E., 2004a. A survey of traditional small stock farmers in Molelopole North, Kweneng district, Botswana: Demographic parameters, market practices and marketing channels. Livestock Research for Rural Development (16). http://www.utafoundation.org/lrrd1612/nsos16100.htm. ISSN 0121-3784.

Nsoso, S.J., Podisi, B., Otsogile, E., Mokhutshwane, B.S. and Ahmadu, B., 2004b. Phenotypic characterization of indigenous Tswana goats and sheep breeds in Botswana: Continuous traits, Tropical Animal health and Production, 36,789–800.

Peacock, C., 2005. Goats—a pathway out of poverty, Small Ruminant Research, 60, 179–186.

Rowlands, G.J., Nagda, S., Rege, J.E.O., Mhlanga, F., Dzama, K., Gandiya, F., Hamudikwanda, H., Makuza, S., Moyo, S., Matika, O., Nangomasha, E. and Sikosana, J., 2003. A report to FAO on the design execution and analysis of livestock breed surveys—a case study in Zimbabwe. International Livestock Research Institute, Nairobi, 212 pp.

Shumbusho, F., Raoul, J., Astruc, J.M., Palhiere I., Elsen, J.M. 2013. Potential benefits of genomic selection on genetic gain of small ruminant breeding programs, Animal Science 91, 3644–3657.

SPSS (Statistical Package for Social Sciences), 2007. "SPSS Base 16 User's Guide". SPSS Inc., USA.

Tibbo, M., Philipsson, J. and Ayalew, W., 2006. Sustainable sheep breeding programmes in the tropics: A framework for Ethiopia. In Conference on International Agricultural Research for Development, Tropentag, University of Bonn, October (pp 11–13).
Acknowledgements
The authors wish to acknowledge the farmers in the four regions of Botswana for participating in the study. The Botswana University of Agriculture and Natural Resources (BUAN) and Organization for Women in Science for the Developing World (OSWD) supported the project financially.
Ethics declarations
Conflict of interest
The authors declare that they have no conflict of interest.
About this article
Cite this article
Monau, P.I., Visser, C., Nsoso, S.J. et al. A survey analysis of indigenous goat production in communal farming systems of Botswana. Trop Anim Health Prod 49, 1265–1271 (2017). https://doi.org/10.1007/s11250-017-1324-6
Received:

Accepted:

Published:

Issue Date:
Keywords
Botswana

Communal

Production system

Small holders