Abstract
The Authors describe a severe vasculitis with fibrinoid necrosis of the meningeal arteries observed in two brains of indigenous short-horn zebu (Bos indicus) cattle, with bovine cerebral theileriosis (BCT) caused by a tick-transmitted hemoprotozoan, Theileria taurotragi, from Northern Tanzania. In the Author's opinion, the role of T. taurotragi infection in the angiocentric and angiodestructive detected features remains to be evaluated. A possible immunopathologic cancerous mechanism, secondary to the lymphoid deregulation, could be involved. This report suggests further studies to better characterize the lymphoid cell involvement in the pathogenesis of the meningeal vascular lesions by T. taurotragi.
This is a preview of subscription content, log in to check access.
Access options
Buy single article
Instant access to the full article PDF.
US$ 39.95
Price includes VAT for USA
Subscribe to journal
Immediate online access to all issues from 2019. Subscription will auto renew annually.
US$ 99
This is the net price. Taxes to be calculated in checkout.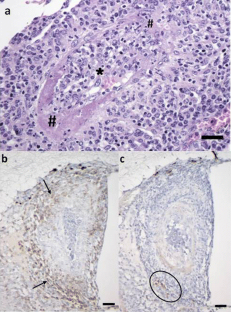 References
Catalano, D., Biasibetti, E., Lynen, G., Di Giulio, G., De Meneghi, D., Tomassone, L., Valenza, F. and Capucchio, M.T., 2015. "Ormilo disease" a disorder of zebu cattle in Tanzania: bovine cerebral theileriosis or new protozoan disease?, Tropical Animal Health and Production, 47, 895–901.

Colby, T.V., Koss, M.N. and Travis, M.D., 1994. Tumors of the lower respiratory tract, in J.Rosai (ed.), Armed Forces Institute of Pathology atlas of tumor pathology. 3rd ed. Washington DC, U.S.A: American Registry of Pathology, 434–443.

Dobbelaere, D., and Heussler, V., 1999. Transformation of leukocytes by Theileria parva and T. annulata, Annual Review of Microbiology, 53, 1–42.

Field, C.R., Moll, G., and OleSonkoi, C., 1988. Ngorongoro conservation and development project, Livestock Development Technical Report No1.

Flach, E.J., Reid, H., Pow, I., and Klemt, A., 2002. Gamma herpesvirus carrier status of captive artiodactyls. Research in Veterinary Sciences, 73, 93–99.

Lawrence, J.A., de Vos, A.J., and Irvin, A.D., 2004. Turning sickness, in: J.A.W., Coetzer, G.R., Thomson, R.C., Tustin (eds.). Infectious diseases of livestock. Oxford, UK: Oxford University Press, 331–333.

Lundell, R.B., Weenig, R.H., and Gibson, L.E., 2008. Lymphomatoid granulomatosis, in S.M. Ansell (ed.), Rare Hematological Malignancies. New York, U.S.A, Springer, 265–272.

Mbassa, G.K., Kipanyula, M.J., Mellau, L.S., Mwamakali, E.D, Bulegeya, F.R., and Kauto-Mboni, K.T., 2006. Theileria parva infection in calves causes massive lymphocyte death in the thymus, spleen and lymph nodes without initial proliferation, Veterinary Parasitology, 142, 260–270.

Morice, W.G., Kurtin, P.J, and Myers, J.L., 2002. Expression of cytolytic lymphocyte-associated antigens in pulmonary lymphomatoid granulomatosis, American Journal of Clinical Pathology, 118, 391–398.

Nsengwa, G.R.M., 1993. An epizootic of theileriosis in cattle characterized by a nervous syndrome, in Ngorongoro District, Tanzania. Tanzania Veterinary Journal, 13, 41–44.

Tretina, K., Gotia, H.T., Mann, D.J., and Silva, J.C., 2015. Theileria-transformed bovine leukocytes have cancer hallmarks. Trends Parasitology, 31, 306–14.

Valli, V.E., Jacobs, R.M., Parodi, A.L., Vernau, W., and Moore, P.F., 2002. Histological classification of hematopoietic tumors of domestic animals, in F.Y., Schulman (ed.), World Health Organization international histological classification of tumors of domestic animals. 2nd ed. vol. III, Washington DC, U.S.A: Armed Forces Institute of Pathology, 45–46.

Valli, V.E., 2007. Veterinary Comparative Hematopathology. Ames, Iowa, U.S.A: Blackwell Publishing Ltd, 25.
Acknowledgments
The authors would like to thank the Maasai herders in Endulen district, who kindly collaborated to "Ormilo" cases identification and Dr. Federico Frosini for collaborating in the sample collection.
They wish also to thank Prof. F. Jongejan, Faculty of Veterinary Medicine, University of Utrecht, for his support during the early stages of the research and L. Chiappino and A. Sereno, Department of Veterinary Sciences, University of Turin, for the technical assistance.
Research activities were partially funded by DFID - UK Department for International Development, the Valle d'Aosta Region-development cooperation office, through the Italian NGO, AVEC PVS, Aosta (Italy), and the University of Torino.
Ethics declarations
Conflict of interest
The authors declared no potential conflicts of interest with respect to the research, authorship, and/or publication of this article. All authors gave their informed consent prior to their inclusion in the study.
About this article
Cite this article
Biasibetti, E., Sferra, C., Lynen, G. et al. Severe meningeal fibrinoid vasculitis associated with Theileria taurotragi infection in two short-horned Zebu cattle. Trop Anim Health Prod 48, 1297–1299 (2016). https://doi.org/10.1007/s11250-016-1072-z
Received:

Accepted:

Published:

Issue Date:
Keywords
East-African short-horned Zebu

Brain

Histopathology

Immunopathology Theileria