Abstract
Bovine brucellosis is endemic in many parts of the world including India. The disease diagnosis and surveillance are usually carried out by serological tests, which however have drawbacks. This study was undertaken to evaluate the potential of real-time PCR (RT-PCR) targeting bcsp31 gene for surveillance of bovine brucellosis. A total of 461 samples, which included 408 stored serum and 53 prospective blood samples, were used. It was found that 33 (7.15 %) samples were positive by RT-PCR, whereas 149 (32.32 %) and 132 (28.63 %) were positive by Rose Bengal plate test (RBPT) or standard agglutination test (STAT), respectively. The results of this study suggest that RT-PCR targeting bcsp31 gene carried out on DNA extracted from serum or blood may not be a suitable method for surveillance of brucellosis in bovines.
This is a preview of subscription content, log in to check access.
Access options
Buy single article
Instant access to the full article PDF.
US$ 39.95
Price includes VAT for USA
Subscribe to journal
Immediate online access to all issues from 2019. Subscription will auto renew annually.
US$ 99
This is the net price. Taxes to be calculated in checkout.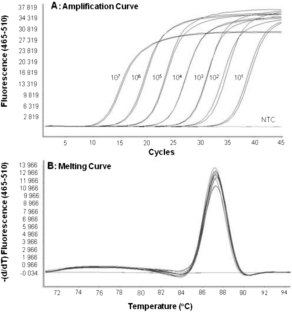 References
Adone, R. and Pasquali, P., 2013. Epidemiosurveillance of brucellosis, Revue Scientifique Et Technique De L'Office International Des Epizooties, 32, 199--205

Al-Ajlan, H.H., Ibrahim, A.S.S. and Al-Salamah, A.A., 2011. Comparison of different PCR methods for detection of Brucella spp.in human blood samples, Polish Journal of Microbiology, 60, 27--33

Atluri, V.L., Xavier, M.N., de Jong, M.F., den Hartigh, A.B.. and Tsolis, R.M., 2011. Interactions of the human pathogenic Brucella species with their hosts, Annual Review of Microbiology, 65, 523--541

Baddour, M.M. and Alkhalifa, D.H., 2008. Evaluation of three polymerase chain reaction techniques for detection of Brucella DNA in peripheral human blood, Canadian Journal of Microbiology, 54, 352--357

Baily, G.G., Krahn, J.B., Drasar, B.S. and Stoker, N.G., 1992. Detection of Brucella melitensis and Brucella abortus by DNA amplification, Journal of Tropical Medicine and Hygiene, 95, 271--275

Corbel, M.J., Stuart, F.A. and Brewer, R.A., 1984. Observations on serological cross-reactions between smooth Brucella species and organisms of other genera, Developments in Biological Standardization, 56, 341--348

Elfaki, M.G., Uz-Zaman, T., Al-Hokail, A.A. and Nakeeb, S.M., 2005. Detection of Brucella DNA in sera from patients with brucellosis by polymerase chain reaction, Diagnostic Microbiology and Infectious Disease, 53, 1--7

Godfroid, J., Saegerman, C., Wellemans, V., Walravens, K., Letesson, J.J., Tibor, A., Mc Millan, A., Spencer, S., Sanna, M., Bakker, D., Pouillot, R. and Garin-Bastuji, B., 2002. How to substantiate eradication of bovine brucellosis when aspecific serological reactions occur in the course of brucellosis testing, Veterinary Microbiology, 90, 461--477

Gwida, M.M., El-Gohary, A.H., Melzer, F., Tomaso, H., Rosler, U., Wernery, U., Wernery, R., Elschner, M.C., Khan, I., Eickhoff, M., Schoner, D. and Neubauer, H., 2011. Comparison of diagnostic tests for the detection of Brucella spp. in camel sera, BMC Research Notes, 4, 525

Leal-Klevezas, D.S., Lopez-Merino, A. and Martinez-Soriano, J.P., 1995. Molecular detection of Brucella spp.: rapid identification of B. abortus biovar I using PCR, Archives of Medical Research, 26, 263--267

Mantur, B.G. and Amarnath, S.K., 2008. Brucellosis in India – A Review, Journal of Biosciences, 33, 539--547

O'Leary, S., Sheahan, M. and Sweeney, T., 2006. Brucella abortus detection by PCR assay in blood, milk and lymph tissue of serologically positive cows, Research in Veterinary Science, 81, 170--176

Queipo-Ortuno, M.I., Colmenero, J.D., Baeza, G. and Morata, P., 2005a. Comparison between Light Cycler Real-Time Polymerase Chain Reaction (PCR) assay with serum and PCR-enzyme-linked immunosorbent assay with whole blood samples for the diagnosis of human brucellosis, Clinical Infectious Diseases, 40, 260--264

Queipo-Ortuno, M.I., Colmenero, J.D., Reguera, J.M., Garcia-Ordonez, M.A., Pachon, M.E., Gonzalez, M. and Morata, P., 2005b. Rapid diagnosis of human brucellosis by SYBR Green I-based real-time PCR assay and melting curve analysis in serum samples, Clinical Microbiology and Infection, 11, 713--718

Renukaradhya, G.J., Isloor, S. and Rajasekhar, M., 2002. Epidemiology, zoonotic aspects, vaccination and control/eradication of brucellosis in India, Veterinary Microbiology, 90, 183--195

Romero, C., Gamazo, C., Pardo, M. and Lopez-Goni, I., 1995. Specific detection of Brucella DNA by PCR, Journal of Clinical Microbiology, 33, 615--617

Sanjuan-Jimenez, R., Morata, P., Bermu´ dez, P., Bravo, M.J. and Colmenero, J.D., 2013. Comparative clinical study of different multiplex real time PCR strategies for the simultaneous differential diagnosis between extrapulmonary tuberculosis and focal complications of brucellosis, PLoS Neglected Tropical Diseases, 7, e2593. doi:10.1371/journal.pntd.0002593

Schoerner, C., Wartenberg, K. and Rollinghoff, M., 1990. Differentiation of serological responses to Yersinia enterocolitica serotype O9 and Brucella species by immunoblot or enzyme-linked immunosorbent assay using whole bacteria and Yersinia outer membrane proteins, Journal of Clinical Microbiology, 28, 1570--1574

Sirmatel, F., Turker, M. and Bozkurt, A.I., 2002. Evaluation of the methods used for the serologic diagnosis of brucellosis. Mikrobiyoloji Bulteni, 36, 161--167

Tiwari, A.K., Kumar, S., Pal, V., Bhardwaj, B. and Rai, G.P., 2011. Evaluation of the recombinant 10-kilodalton immunodominant region of the BP26 protein of Brucella abortus for specific diagnosis of bovine brucellosis, Clinical and Vaccine Immunology, 18, 1760--1764
Acknowledgments
The authors are thankful to the Director of DRDE for providing the necessary facilities.
Conflict of interest
None of the authors have any conflict of interest.
Ethical standards
Bovine brucellosis surveillance is a routine job of Regional Disease Diagnostic Centre, Department of Animal Husbandry, Udaipur, Rajasthan, and sample collection for the purpose does not require approval from any ethical committee.
About this article
Cite this article
Tiwari, A., Pal, V., Afley, P. et al. Real-time PCR carried out on DNA extracted from serum or blood sample is not a good method for surveillance of bovine brucellosis. Trop Anim Health Prod 46, 1519–1522 (2014). https://doi.org/10.1007/s11250-014-0664-8
Received:

Accepted:

Published:

Issue Date:
Keywords
Brucella abortus

Brucellosis

Disease surveillance

Real-time PCR

Serodiagnosis