Abstract
A passive surveillance study was conducted from April 2012 to April 2013 to determine the incidence, the affect of age, sex and cyst location, fertility, and viability on the occurrence of cystic hydatidosis in slaughtered goats from six municipal abattoirs around Oman. Morphologic characterization of suspected visceral organs has shown that Echinococcos granulosus (E. granulosus) metacestodes were present in 9.2 % of the total samples (682). Incidence (per 10,000) varied from 1.4 to 1.5. There was a significant difference between abattoirs, with Salalah having the highest infection (63.2 %), followed by Nizwa (27.2 %), Al Buraimi (10.8 %), Bousher (7.2 %), and the lowest in Sohar (1.6 %). Infection was significantly higher in indigenous goats (22.1 %) compared with imported breeds (2.5 %) from Somalia. The visceral organs were found harboring one or more hydatid cysts. Greatest cyst infection was recorded in lungs (53.4 %), followed by heart (50 %), liver (6.2 %), and multiple organs (14 %). A significant difference was observed between females (25 %) and male goats (6 %). Furthermore, the fertility of the hydatid cysts was found higher in heart and lungs (100 %, 51.6 %) and the viability rate of protoscolices was high (64 %). The findings of this study demonstrated that cystic hydatidosis is common and widely distributed in local goats, and they might play an important role in the life cycle and transmission of this zoonosis in Oman.
This is a preview of subscription content, log in to check access.
Access options
Buy single article
Instant access to the full article PDF.
US$ 39.95
Price includes VAT for USA
Subscribe to journal
Immediate online access to all issues from 2019. Subscription will auto renew annually.
US$ 99
This is the net price. Taxes to be calculated in checkout.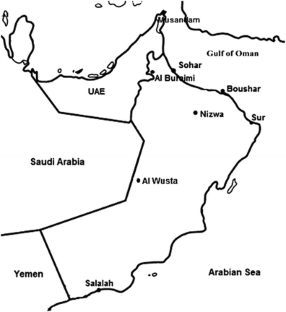 References
Adinehbeigi K., Radfar M.H., Rahmani K., Dehaghi M.M., Sami M., and Zeinab Yadegari Z., 2013. Abattoir survey on goats hydatidosis in Kerman area, southeast of Iran: prevalence and some biotic and abiotic factors, Comparative Clinical Pathology, 22, 461–466

Ahmadi, N. A., 2005. Hydatidosis in camels (Camelus dromedarius) and their potential role in the epidemiology of Echinococcos granulosus in Iran, Journal of Helminthology, 79, 119–125

Ahmadi, N. and Dalimi, A., 2006. Characterization of Echinococcus granulosus isolates from human, sheep and camel in Iran. Infection, Genetics and Evolution, 6, 85–90

Azlaf, R. and Dakkak, A., 2006. Epidemiological study of the cystic echinococcosis in Morocco, Veterinary Parasitology, 137, 83–93

Berhe, G., 2009. Abattoir survey on cattle hydatidosis in Tigray region of Ethiopia, Tropical Animal Health and Production, 41, 1347–1352

Bouree, P., 2001. Hydatidosis: dynamics of transmission, World Journal of Surgery, 25, 4–9

Bowles, J., McManus, D.P., 1993. NADH dehydrogenase 1 gene sequences compared for species and strains of the genus Echinococcus, International Journal of Parasitology, 23, 969–972

Cardonaa, G. A. and Carmena, D., 2013. A review of the global prevalence, molecular epidemiology and economics of cystic echinococcosis in production animals, Veterinary Parasitology, 192, 10–32

Craig, P. S. and Pawlowski, Z., 2002. Cestode Zoonoses: Echinococcosis and Cysticercisis, An Emergent and Global Problem, ISBN 1 58603 220 8, (IOS Press), p. 41–55

Craig P.S., McManus, D.P., Lightowlers M.W., Chabalgoity, J.A., Garcia, H.H., Gavidia, C.M., Gilman, R.H., Gonzalez, A.E., Lorca, M., Naquira, C., Nieto, A., Schantz, P.M., 2007. Prevention and control of cystic echinococcosis. The Lancet Infectious Diseases, 7, 385–394

Dakkak, A., 2010. Echinococcosis/hydatidosis: a severe threat in Mediterranean countries. Veterinary Parasitology, 174, 2–11

Dar, F. K. and Alkarmi, T., 1997. Public health aspects of cystic echinococcosis in the Arab countries, Acta Tropica, 67, 125–132

Daryani, A., Alaei, R., Arab, R., Sharif, M., Dehghan, M.H., and Ziaei, H., 2007. The prevalence, intensity and viability of hydatid cysts in slaughtered animals in the Ardabil province of Northwest Iran, Journal of Helminthology, 81, 13–17

Eckert, J. and P. Deplazes, 2004. Biological, epidemiological, and clinical aspects of echinococcosis, a zoonosis of increasing concern, Clinical Microbiology Reviews, 17, 107–35

Hassounah, O. and Behbehani, K., 1976. The epidemiology of Echinococcus infection in Kuwait, Journal of Helminthology, 50, 65–73

Ibrahim, M. M., 2010. Study of cystic echinococcosis in slaughtered animals in Al Baha region, Saudi Arabia: Interaction between some biotic and abiotic factors, Acta Tropica, 113:26–33

Idris, M.A., Ruppel, A., Gehrig-Feistel, H., Alansari, A.S., Al-Rejaibi, A.K. and Tageldin, M.H., 1999.The sero-prevalence of cystic hydatidosis in Oman, Annals of Tropical Medicine and Parasitology, 93, 259–63

Kebede, W., Hagos, A., Girna, Z. and Lobago, F., 2009. Echinococcosis/hydatidosis: Its prevalence, economic and public health significance in Tigray region, Tropical Animal Health and Production, 41, 865–871

Macpherson, C.N.L., 1985. Epidemiology of hydatid disease in Kenya. A study of the domestic intermediate hosts in Masuil and Traan, Royal Society Tropical Medicine and Hygiene, 79, 209–217

McManus, D.P. and Thompson, R.C.A., 2003. Molecular epidemiology of cystic echinococcosis, Parasitology, 127, 37–51

Over, H. J., Jansen J. and van Olm, P. W., 1992. Distribution and impact of helminth diseases of livestock in developing countries, FAO Animal Production and Health Paper 96. FAO, Rome.

Sadjjadi, S. M., 2006. Present situation of echinococcosis in the Middle East and Arabic North Africa, Parasitology International, 55, 197–202

Saeed I., Kapel C., Saida L.A., Willingham L., Nansen P., 2000. Epidemiology of Echinococcus granulosus in Arbil province, northern Iraq, 1990–1998. Journal of Helminthology, 74:83–8

Scala, A. and Mazette R., 2009. Cystic echinococcosis in the sheep: causes of its persistence in Sardinia, Veterinary Research Communications, 33, 41–45

Scala, A., Garippa, G., Varcasia, A., Tranquillo, V. M., Genchi, C., 2006. Cystic echinococcosis in slaughtered sheep in Sardinia (Italy), Veterinary Parasitology, 135, 33–38

Seimenis, A., Morelli, D., Mantovani, A., 2006. Zoonoses in the Mediterranean Region, Ann Ist Super Sanità, 42, 437–445

Sharbatkhori, M., Mirhendi, H., Harandi, M.F., Rezaeian, M., Mohebali, M., Eshraghian, M., Rahimi, H. and Kia, E.B., 2010. Echinococcus granulosus genotypes in livestock of Iran indicating high frequency of G1 genotype in camels, Experimental Parasitology, 124, 373–379

Smyth, J.D., and Barrett, N.J., 1980. Procedure for testing the viability of human hydatid cyst following surgical removal, especially after chemotherapy. Transactions of the Royal Society of Tropical Medicine and Hygiene, 74, 649–652

Snabel, V., D'Amelio, S., Mathiopoulos, K., Turcekova, L., Dubinsky, P., 2000. Molecular evidence for the presence of a G7 genotype of Echinococcus granulosus in Slovakia, Journal of Helminthology, 74, 177–181

Thompson R.C.A., 1995. Biology and systematics of Echinococcus. In: Echinococcus and Hydatid Disease, Thompson R.C.A. & Lymbery A.J., eds. CAB International, Wallingford, UK, 1–50

Thompson, R.C.A. and Mcmanus, D.P., 2002. Towards a taxonomic revision of the genus Echinococcus, Trends in Parasitology, 18, 452–457

Torgerson, P. R. and Budke, C. M., 2003. Echinococcosis—an international public health challenge. Research in Veterinary Science, 74, 191–202

WHO/OIE, 2001. Manual on Echinococcosis in humans and animals: A public health problem of Global concern. (Eckert, J., Gemmell, M.A., Meslin, F.X., and pawlowski, Z.S.; eds). Paris, France

Zhang, L.H., Chai, J.J., Jiao, W., Osman, Y. and McManus, D.P., 1998. Mitochondrial genomic markers confirm the presence of the camel strain (G6 genotype) of Echinococcus granulosus in north-western China, Parasitology, 116, 29–33
Acknowledgments
The authors would like to thank the Agriculture & Fisheries Development Fund, Ministry of Agriculture and Fisheries for funding and supporting this project, the staff from municipals abattoirs, Ministry of Municipal included in this study for their cooperation and support in providing samples and data for the slaughtered goats during this study.
Conflict of interest
The authors declare that they have no conflict of interest.
About this article
Cite this article
Al-Kitani, F., Baqir, S., Hussain, M.H. et al. Cystic hydatidosis in slaughtered goats from various municipal abattoirs in Oman. Trop Anim Health Prod 46, 1357–1362 (2014). https://doi.org/10.1007/s11250-014-0646-x
Received:

Accepted:

Published:

Issue Date:
Keywords
Abattoirs

Cystic hydatidosis

Goats

Oman