Abstract
Sixty multiparous Brahman-type cows were randomly selected in the early postpartum period and equally allocated into a calf removal group (RG) and a non-removal group (NRG). Calves from cows in the RG were removed for 48 h prior to the breeding season and returned afterwards, whereas in the NRG, calves remained with their dams until weaning. Weaning weights were corrected to 205 days. Conception rates (CRs) were 76 % for RG and 55 % for NRG but did not differ (p > 0.05). CR was correlated with calving to breeding interval and body condition score at the onset of the breeding season. Product–limit survival curves vs breeding to conception interval differed significantly (p < 0.05) between treatment groups. It was estimated with 95 % certainty that 50 % of the cows in the RG will conceive within the first 12 days of the breeding season, while 39 days were required for cows in the NRG. Weaning weights were 135.2 ± 22 kg for RG and 135.5 ± 19 kg for NRG. It was concluded that 48-hour calf removal prior to breeding season increased the number of cows that conceive early in the breeding season and enhanced conception rates but did not affect calf weaning weights of Bos indicus cattle in extensive production systems.
This is a preview of subscription content, log in to check access.
Access options
Buy single article
Instant access to the full article PDF.
US$ 39.95
Price includes VAT for USA
Subscribe to journal
Immediate online access to all issues from 2019. Subscription will auto renew annually.
US$ 99
This is the net price. Taxes to be calculated in checkout.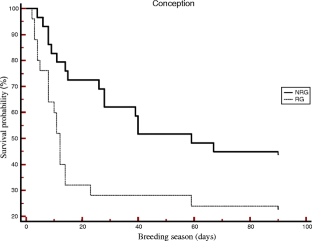 Abbreviations
BCS:

Body condition score

BW:

Body weight

BCI:

Breeding to conception interval

CBI:

Calving to breeding interval

CCI:

Calving to conception interval

CR:

Conception rate

C ww :

Corrected weaning weight

NRG:

Calf non-removal group

RG:

Calf removal group
References
Alverez-Rodriguez, J., Palacio, J., Sanz, A. 2010. Effects of nursing frequency and parity number on the productive, metabolic and reproductive parameters of beef cows, Livestock Science, 129 (1-3), 111-121.

Escrivão, R.J.A., Webb, E.C., Garcês, A.P.J.T. 2009. Effects of 12 hour calf withdrawal on conception rate and calf performance of Bos indicus cattle under extensive conditions, Tropical Animal Health and Production, 41, 135-139.

Geary, T.W., Whittier, J.C., Hallford, D.M. and MacNeil, M.D., 2001. Calf removal improves conception rates to the Ovsynch and CO-Synch protocols., Journal of Animal Science, 79, 1-4.

Grossi, D.A., Frizzas, O.G., Paz, C.C.P., Bezerra, L.A.F., Lôbo, R.B., Oliveira, J.A., Munari, D., 2008. Genetic associations between accumulated productivity, and reproductive and growth traits in Nelore cattle, Livestock Science, 117, 139-146.

McCartney, D.H., Spurr, D.T., Cates, W.F, Barth, A.D., Mapletoft, R.J. 1990. The effectiveness of 48-hour calf removal, Syncro- Mate-B or prostaglandin treatments in advancing the breeding season of beef cows, Theriogenology, 34:6, 1139-1148.

Odde, K.G., Kiracofe, G.H., Shalles, R.R. 1986. Effects of forty-eight-hour calf removal, once or twice-daily suckling and nergostomet on beef cow and calf performance, Theriogenology, 26:3, 371-381.

Perea, F.P., De Ondiz, A.D., Palomares, R.A., Hernández, H.J., Gonzaléz, R., Soto, E.R., 2008. Control of postpartum anestrous with an intra-vaginal progesterone device plus eCG or calf removal for 120 h in suckled beef crossbred cows managed in a pasture-based system, Animal Reproduction Science, 106, 298-310.

Pinheiro, V.G., Souza, A:F., Pegorer, M.F., Satrapa, R.A., Ereno, R.L., Trinca, L.A., Barros, C.M., 2009 . Temporary calf removal and eCG on pregnancy rtes to timed-insemination in progesterone treated postpartum Nellore cows, Theriogenology, 71, 519-524.

Quintans, G., Banchero, G., Carriquiry, M., Lopez-Mazz, C., Baldi, F. 2010. Effect of body condition and suckling restriction with and without presence of the calf on cow and calf performance, Animal Reproduction Science, 50, 10:931-938.

Renquist, B.J., Oltjen, J.W,, Sainz, R.D., Calvert, C.C., 2006. Relationship between body condition score and production of multiparous beef cows, Livestock Science, 104, 147-155.

SAS, 1996. Statistical Analysis System User's Guide. Version 6.12. SAS Institute Inc., Cory, North Carolina, USA.

Satrapa, R.A, Pinheiro, VG, Ereno RL, Membrive CMB, Piagentini, M., M Binelli, M., and Barros, CM 2010. 13,14-Dihydro-15-Keto Prostaglandin F2a Release in Response to Oxytocin Challenge Early Post-Partum in Anoestrous Nelore Cows Submitted to Temporary Calf Removal and Progesterone Priming, Reproduction in Domestic Animals, 45, 881-887.

Schwalbach, L.M.J., Lopes Pereira, C.M., Escrivão, R.J.A., Mota Cardoso, J.M., 1997. Determination of body condition and its relation with fertility in five beef cattle farms in Mozambique, Veterinária of body condition and its relation with fertility in five beef cattle farms in Mozambique, Veterinária Tecnica 5, 18-20.

Szabó, F., Dakay, I., 2009. Estimation of some productive and reproductive effects on longetivy of beef cows using survival analysis, Livestock Science, 122 (2-3), 271-275.

Tomadon, A., Kafi, M., Saeb, M., Mirzaei, A., Saeb, S. 2010. Relationships between insulin-like growth factor-I, milk yield, Body condition score and postpartum luteal activity in high producing dairy cows, Tropical Animal Health and Production, 43,1:29-34.

Vasconcelos, J.L.M., Sá Filho, O.G., Perez, G.C., Silva, A.T.N. 2009. Intravaginal progesterone device and/or temporary weaning on reproduction performance of anestrous crossbred Angus x Nelore cows, Animal Reproduction Science, 111, 2: 302-311.

Whisnant, C.S., Kiser, T.E., Thompson, F.N. 1985. Effect of calf removal on serum luteinizing hormone and cortisol concentrations in postpartum beef cows, Theriogenology 24:1, 119-128.
About this article
Cite this article
Escrivão, R.J.A., Webb, E.C., Garcês, A.P.d.T. et al. Effects of 48-hour calf withdrawal on conception rates of Bos indicus cows and calf weaning weights in extensive production systems. Trop Anim Health Prod 44, 1779–1782 (2012). https://doi.org/10.1007/s11250-012-0137-x
Accepted:

Published:

Issue Date:
Keywords
48-hour Calf removal

Beef cows

Conception rates

Reproduction

Weaning weight