Abstract
The first registers of Somali sheep in Brazil are from the beginning of the 1900s. This breed, adapted to the dry climate and scarce food supply, is restricted in the northeast region of the country. Molecular marker technologies, especially those based on genotyping microsatellite and mtDNA loci, can be used in conjunction with breeding (pedigree analysis) and consequently the maintenance of genetic variation in herds. Animals from the Brazilian Somali Conservation Nuclei from Embrapa Sheep and Goats in Ceará State were used to validate genetic monitoring by traditional pedigree methods and molecular markers. Nineteen microsatellite markers and 404 base pairs from the control region of mtDNA were used. For total herd diversity, an average 5.32 alleles were found, with expected heterozygosity of 0.5896, observed heterozygosity of 0.6451, 0.4126 for molecular coancestrality, and coefficient of inbreeding (F IS) was −0.095. Comparing molecular coancestrality means over the years, there was a consistent increase in this parameter within the herd, increasing from 0.4157 to 0.4769 in 2 years (approx. 12% variation). Sixteen mtDNA haplotypes were identified. Inbreeding and other estimates from genealogical analyses confirm the results from molecular markers. From these results, it is possible to state that microsatellites are useful tools in genetic management of herds, especially when routine herd recording is not carried out, or there were gaps in recent generations. As well as pedigree control, genetic diversity can be optimized. Based on the results, and despite herd recording in the herd of Brazilian Somali of Embrapa Sheep and Goats, additional management measures need to be carried out in this herd to reduce inbreeding and optimize genetic variation.
This is a preview of subscription content, log in to check access.
Access options
Buy single article
Instant access to the full article PDF.
US$ 39.95
Price includes VAT for USA
Subscribe to journal
Immediate online access to all issues from 2019. Subscription will auto renew annually.
US$ 99
This is the net price. Taxes to be calculated in checkout.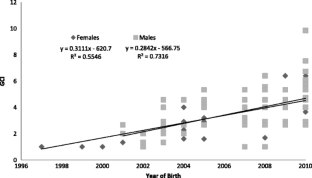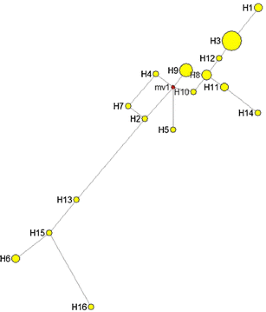 References
Adán, S.A., Fernández, M.F., Justo, J.R.J., Rivero, C.J.R., Rois, D.R., Lama, J.L., 2007. Análisis de la información genealógica en la raza ovina ovella galega. Archivos de zootecnia 56, 587–592.

Alberto, S., Valentino, B., Francesca, T.M., Paola, S., 2007. Genetic variability and population structure in the italian haflinGer horse from pediGree analysis1. Ann. Fac. Medic. Vet. di Parma XXVII, 199–210.

Alderson, L.A., 1990. Genetic Conservation of Domestic Livestock. CAB International, Wallingford, UK.

Alderson, G.L.H., 1992. A system to maximize the maintenance of genetic variability in small populations. Genetic Conservation of Domestic Livestock 2, 18–29.

Alfonso, L., Parada, A., Legarra, A., Ugarte, E., Arana, A., 2006. Effects on genetic variability of selection against scrapie sensitivity in the Latxa Black-Faced sheep. Genet. Sel. Evol 38, 495–511.

Álvarez, I.A., Fernández, I.F., Espinhosa, M.A.E., Gutiérrez, J.P.G., Royo, L.J.R., Goyache, F.G., 2007. Anális del libro genealógico de La raza ovina mallorquina. SEOC.

Álvarez, I., Royo, L.J., Gutiérrez, J.P., Fernández, I., Arranz, J.J., Goyache, F., 2008. Relationship between genealogical and microsatellite information characterizing losses of genetic variability: Empirical evidence from the rare Xalda sheep breed. Livestock Science 115, 80–88.

Archibald, A.L., Cockett, N.E., Dalrymple, B.P., Faraut, T., Kijas, J.W., Maddox, J.F., McEwan, J.C., Hutton Oddy, V., Raadsma, H.W., et al., 2010. The sheep genome reference sequence: a work in progress. Anim Genet 41, 449–453.

Ballou, J.D., Lacy, R.C., 1995. Identifying genetically important individuals for management of genetic variation in pedigreed populations. Population management for survival and recovery: analytical methods and strategies in small population conservation, 76–111.

Bandelt, H.J., Forster, P., Röhl, A., 1999. Median-joining networks for inferring intraspecific phylogenies. Molecular Biology and Evolution 16, 37.

Boichard, D., Maignel, L., Verrier, E., 1997. The value of using probabilities of gene origin to measure genetic variability in a population. Genetics, Selection, Evolution: GSE 29, 5.

Caballero, A., Toro, M.A., 2000. Interrelations between effective population size and other pedigree tools for the management of conserved populations. Genet Res 75, 331–343.

Caballero, A., Toro, M.A., 2002. Analysis of genetic diversity for the management of conserved subdivided populations. Conservation Genetics 3, 289–299.

Carneiro, H., Louvandini, H., Paiva, S.R., Macedo, F., Mernies, B., McManus, C., 2010. Morphological characterization of sheep breeds in Brazil, Uruguay and Colombia. Small Ruminant Research.

Castanheira, M., Paiva, S.R., Louvandini, H., Landim, A., Fiorvanti, M.C., Dallago, B.S., Correa, P.S., McManus, C., 2010. Use of heat tolerance traits in discriminating between groups of sheep in central Brazil. Trop Anim Health Prod 42, 1821–1828.

Falconer, D.S., Mackay, T.F.C., 1996. Introduction to quantitative genetics (1996) Essex (UK). Longman Group Limited, Edinburgh.

Fernández, J., Villanueva, B., Pong-Wong, R., Toro, M.A., 2005. Efficiency of the use of pedigree and molecular marker information in conservation programs. Genetics 170, 1313–1321.

Goudet, J., 2002. FSTAT, a program to estimate and test gene diversities and fixation indices (version 2.9. 3.2). Lausanne: University of Lausanne, Department of Ecology & Evolution.

Goyache, F., Gutiérrez, J.P., Alvarez, I., Fernández, I., Royo, L.J., Gómez, E., 2003a. Genetic analysis of calf survival at different preweaning ages in beef cattle. Livestock Production Science 83, 13–20.

Goyache, F., Gutiérrez, J.P., Fernández, I., Gómez, E., Alvarez, I., Diez, J., Royo, L.J., 2003b. Using pedigree information to monitor genetic variability of endangered populations: the Xalda sheep breed of Asturias as an example. J Anim Breed Genet 120, 95–105.

Goyache, F., Fernández, I., Espinosa, M.A., Payeras, L., Pérez-Pardal, L., Gutiérrez, J.P., Royo, L.J., Álvarez, I., 2010. Análisis demográfico y genético de la raza ovina Mallorquina. ITEA, información técnica económica agraria, 3.

Gutiérrez, J.P., Goyache, F., 2005. A note on ENDOG: a computer program for analysing pedigree information. J Anim Breed Genet 122, 172–176.

Gutiérrez, J.P., Altarriba, J., Díaz, C., Quintanilla, R., Cañón, J., Piedrafita, J., 2003. Pedigree analysis of eight Spanish beef cattle breeds. Genet Sel Evol 35, 43–63.

Gutiérrez, J.P., Marmi, J., Goyache, F., Jordana, J., 2005a. Pedigree information reveals moderate to high levels of inbreeding and a weak population structure in the endangered Catalonian donkey breed. J Anim Breed Genet 122, 378–386.

Gutiérrez, J.P., Royo, L.J., Alvarez, I., Goyache, F., 2005b. MolKin v2.0: a computer program for genetic analysis of populations using molecular coancestry information. J Hered 96, 718–721.

Hiendleder, S., Lewalski, H., Wassmuth, R., Janke, A., 1998a. The complete mitochondrial DNA sequence of the domestic sheep (Ovis aries) and comparison with the other major ovine haplotype. J Mol Evol 47, 441–448.

Hiendleder, S., Mainz, K., Plante, Y., Lewalski, H., 1998b. Analysis of mitochondrial DNA indicates that domestic sheep are derived from two different ancestral maternal sources: no evidence for contributions from urial and argali sheep. J Hered 89, 113–120.

Huby, M., Griffon, L., Moureaux, S., De Rochambeau, H., Danchin-Burge, C., Verrier, 2003. Genetic variability of six French meat sheep breeds in relation to their genetic management. Genet Sel Evol 35, 637–655.

Ianella, P.I., Caetano, A.R.C., McManus, C.M., Paiva, S.R.P., 2010. In: Evaluation of PRNP Polymorphism in Brazilian Local Sheep Breeds. In: 9th World Congress on Genetics Applied to Livestock Production., pp. 1–4.

James, J.W., 1972. Computation of genetic contributions from pedigrees. TAG Theoretical and Applied Genetics 42, 272–273.

Kijas, J.W., Townley, D., Dalrymple, B.P., Heaton, M.P., Maddox, J.F., McGrath, A., Wilson, P., Ingersoll, R.G., McCulloch, R., et al., 2009. A genome wide survey of SNP variation reveals the genetic structure of sheep breeds. PLoS One 4, e4668.

Kumar, S., Nei, M., Dudley, J., Tamura, K., 2008. MEGA: a biologist-centric software for evolutionary analysis of DNA and protein sequences. Brief Bioinform 9, 299–306.

Lacy, R.C., 1989. Analysis of founder representation in pedigrees: founder equivalents and founder genome equivalents. Zoo Biology 8, 111–123.

Librado, P., Rozas, J., 2009. DnaSP v5: a software for comprehensive analysis of DNA polymorphism data. Bioinformatics 25, 1451.

MacCluer, J.W., Boyce, A.J., Dyke, B., Weitkamp, L.R., Pfenning, D.W., Parsons, C.J., 1983. Inbreeding and pedigree structure in Standardbred horses. J Hered 74, 394.

Malécot, G., 1948. Les mathématiques de l'hérédité. Masson.

Mariante, A.S., Albuquerque, M., Egito, A.A., McManus, C., Lopes, M.A., Paiva, S.R., 2009. Present status of the conservation of livestock genetic resources in Brazil. Livestock Science 120, 204–212.

McManus, C., Louvandini, H., Paiva, S.R., de Oliveira, A.A., Azevedo, H.C., de Melo, C.B., 2009. Genetic factors of sheep affecting gastrointestinal parasite infections in the Distrito Federal, Brazil. Vet Parasitol 166, 308–313.

McManus, C., Paiva, S.R., Araújo, R.O., 2010. Genetics and breeding of sheep in Brazil. Revista Brasileira de Zootecnia 39, 236–246.

Meuwissen, T., 2009. Towards consensus on how to measure neutral genetic diversity? J Anim Breed Genet 126, 333–334.

Paiva, S.R.P., Silvério, V.C.S., Egito, A.A.E., McManus, C.M.M., Faria, D.A.F., Mariante, A.S.M., Castro, S.T.R.C., Albuquerque, M.S.M.A., Dergam, J.A.D., 2005. Genetic variability of Brazilian Hair Sheep Breeds using RAPD-PCR markers. Pesquisa Agropecuária Brasileira 40, 887–893.

Peakall, R.O.D., Smouse, P.E., 2006. GENALEX 6: genetic analysis in Excel. Population genetic software for teaching and research. Molecular Ecology Notes 6, 288–295.

Silvério, V.C., Paiva, S.R., FARIA, D.A., 2006. Phylogenetic study on the main brazilian naturalized sheep breeds. In: 8th World Congress on Genetics Applied to Livestock Production. pp.1–4.
Electronic supplmentary materials
Below is the link to the electronic supplementary material.
About this article
Cite this article
Paiva, S.R., Facó, O., Faria, D.A. et al. Molecular and pedigree analysis applied to conservation of animal genetic resources: the case of Brazilian Somali hair sheep. Trop Anim Health Prod 43, 1449–1457 (2011). https://doi.org/10.1007/s11250-011-9873-6
Accepted:

Published:

Issue Date:
Keywords
Ovis aries

Genetic management

STRs

D-loop

Molecular markers

Genealogical analysis