Abstract
The present study describes detection of picobirnavirus (PBV) in faecal samples from bovine and buffalo calves employing the polyacrylamide gel electrophoresis (PAGE). A total of 136 faecal samples from buffalo (n = 122) and cow calves (n = 14) exhibiting clinical signs of diarrhoea and from healthy calves were collected during 2007–2010 from subtropical (central India) and tarai area of western temperate Himalayan foothills (Uttarakhand). The dsRNA nature of the virus was confirmed by nuclease treatment (RNase A, RNaseT1 and DNase 1). PAGE results confirmed 3.67% (5/136) positivity for PBV, showing a typical genomic migration pattern with two discrete bands with size of approximately 2.4 and 1.7 kbps for the larger and smaller segments, respectively. Among the five PBV samples identified, three were from buffalo calves and one from cow calf exhibiting clinical signs of acute diarrhoea, while one sample from non-diarrhoeic buffalo calf also showed the presence of PBV. None of the samples showed dual infection of rotavirus and PBV. The preliminary findings indicate sporadic incidences of PBV in bovine calves and emphasize the need for the development of better diagnostics for early detection and genetic characterization of these emerging isolates of farm animals of economic significance.
This is a preview of subscription content, log in to check access.
Access options
Buy single article
Instant access to the full article PDF.
US$ 39.95
Price includes VAT for USA
Subscribe to journal
Immediate online access to all issues from 2019. Subscription will auto renew annually.
US$ 99
This is the net price. Taxes to be calculated in checkout.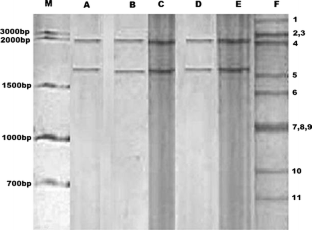 References
Banyai, K., Jakab, F., Reuter, G., Bene, J., Uj, M., Melegh, B. and Szucs, G., 2003. Sequence heterogeneity among human picobirnaviruses detected in a gastroenteritis outbreak. Archives of Virology, 148, 2281–2291.

Bhattacharya, R., Sahoo, G.C., Nayak, M.K., Rajendran, K., Dutta, P., Mitra, U., Bhattacharya, M.K., Naik, T.N., Bhattacharya, S.K. and Krishnan, T., 2007. Detection of Genogroup I and II human picobirnaviruses showing small genomic RNA profile causing acute watery diarrhoea among children in Kolkata, India. Infection, Genetics and Evolution, 7, 229–38.

Buzinaro, M.G., Freitas, P.P., Kisiellus, J.J., Ueda, M. and Jerez, J.A., 2003. Identification of a bisegmented double-stranded RNA virus (picobirnavirus) in calf faeces, Veterinary Journal, 166, 185–187.

Carruyo, G.M., Mateu, G., Martínez, L.C., Pujol, F.H., Nates, S.V., Liprandi, F. and Ludert, J.E., 2008. Molecular characterization of porcine picobirnaviruses and development of a specific reverse transcription-PCR assay, Journal of Clinical Microbiology, 46, 2402–2405.

Fregolente, M.C., de Castro-Dias, E., Martins, S.S., Spilki, F.R., Allegretti, S.M. and Gatti, M.S., 2009. Molecular characterization of picobirnaviruses from new hosts, Virus Research, 143, 134–136.

Ghosh, S., Kobayashi, N., Nagashima, S. and Naik, T.N., 2009. Molecular characterization of full-length genomic segment 2 of a bovine picobirnavirus (PBV) strain: evidence for high genetic diversity with genogroup IPBVs, Journal of General Virology, 90, 2519–2524.

Giordano, M., Martınez, L., Rinaldi, D., Espul, C., Martınez, N., Isa, M., Depetris, A., Medeot, S. and Nates, S., 1999. Diarrhea and enteric emerging viruses in HIV-infected patients, AIDS Research and Human Retroviruses, 15, 1427–1432.

Herring, A.J., Inglis, N.F., Ojeh, C.K., Snodgrass, D.R. and Menzies, J.D., 1982. Rapid diagnosis of rotavirus infection by direct detection of viral nucleic acid in silver-stained polyacrylamide gels, Journal of Clinical Microbiology, 16, 473–477.

Kusumakar, A.L., Savita, Malik, Y.P.S., Minakshi, Prasad, G., 2010. Genomic diversity among group A rotaviruses from diarrhoeic children, piglets, buffalo and cow calves of Madhya Pradesh, Indian Journal of Microbiology, 50, 83–88.

Masachessi, G., Martınez, L.C., Giordano, M.O., Barril, P.A., Isa, B.M., Ferreyra, L., Villareal, D., Carello, M., Asis, C. and Nates, S.V., 2007. Picobirnavirus (PBV) natural hosts in captivity and virus excretion pattern in infected animals, Archives of Virology, 152, 989–998.

Novikova, N.A., Epifanova, N.V., Fedorova, O.F., Golitsyna, L.N. and Kupriianova, N.V., 2003. Detection of picobirnaviruses by electrophoresis of RNA in polyacrylamide gel, Vopr Virusol, 48,41–43.

Pereira, H.G., Fialho, A.M., Flewett, T.H., Teixeira, J.M.S. and Andrade, Z.P., 1988. Novel virus in human faeces, Lancet, 9, 103–104.

Tamehiro, C.Y., Alfieri, A.F., Medici, K.C. and Alfieri, A.A., 2003. Segmented double segmented genomic RNA viruses in fecal samples from broiler chicken, Brazilian Journal of Microbiology, 34, 349–355.

Vanopdenbosch, E. and Wellemansm G., 1989. Birna-type virus in diarrhoeic calf faeces, Veterinary Record, 125, 610.

Wang, Y., Tu, X., Humphrey, C., McClure, H., Jiang, X., Qin, C., Glass, R.I. and Jiang, B., 2007. Detection of viral agents in fecal specimens of monkeys with diarrhea, Journal of Medical Primatology, 36, 101–107.
Acknowledgments
Authors wish to thank MP Council of Science and Technology (MPCOST) and Director, Indian Veterinary Research Institute for providing grant to conduct this study. The financial help in the form of Junior Research Fellowship from Indian Council of Agricultural Research, New Delhi, India to second author is also acknowledged.
About this article
Cite this article
Malik, Y.S., Chandrashekar, K.M., Sharma, K. et al. Picobirnavirus detection in bovine and buffalo calves from foothills of Himalaya and Central India. Trop Anim Health Prod 43, 1475–1478 (2011). https://doi.org/10.1007/s11250-011-9834-0
Accepted:

Published:

Issue Date:
Keywords
Picobirnavirus

Rotavirus

Gastroenteritis

Bovine calves

RNA-PAGE