Abstract
A cross-sectional study aimed at determining the prevalence and cyst characteristics and estimating the financial loss due to cystic echinococcosis (hydatidosis) in cattle slaughtered at Wolayita Sodo municipal abattoir was conducted from November 2009 to April 2010. Out of 546 cattle examined, 92 (16.85%) were found to harbor visible hydatid cysts. Significantly higher infection was detected in local (P < 0.05) than crossbred cattle. No significant variation was observed with regard to origin, sex, and body condition status of animals. Regarding organ distribution, infections of the lung, liver, spleen, and kidney were 57.78%, 35.46%, 8.75%, and 4.01%, respectively. Of the total 1,097 hydatid cysts counted, 952 (86.78%), 136 (12.4%), and eight (0.82%) were found to be small-sized, medium-sized, and large-sized, respectively. Likewise, out of 450 cysts assessed, 138 (30.67%) were fertile, 241 (53.56%) sterile, and 71 (15.78%) calcified. Of the 138 fertile cysts subjected for viability test, 13 (9.42%) were viable while 125 (90.57%) were nonviable. Moreover, assessment of annual economic loss due to bovine hydatidosis at Wolayita Sodo municipal abattoir from offal condemnation and carcass weight loss was estimated at 410,755.90 Ethiopian Birr (ETB; 30,202.64 US$; 1 US$ = 13.60 ETB). Despite the moderate magnitude of infection detected currently, there seems to be an existing socioeconomic situation favorable for hydatidosis, and hence, it remains one of the most important diseases warranting serious attention for prevention and control actions in Wolayita zone. Hence, establishment of well-equipped standardized abattoirs, creation of public awareness, and control of stray dogs are of paramount importance.
This is a preview of subscription content, log in to check access.
Access options
Buy single article
Instant access to the full article PDF.
US$ 39.95
Price includes VAT for USA
Subscribe to journal
Immediate online access to all issues from 2019. Subscription will auto renew annually.
US$ 99
This is the net price. Taxes to be calculated in checkout.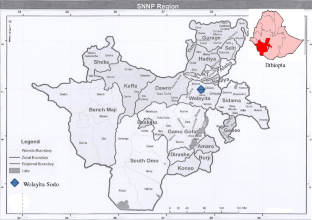 References
Arene, F. O. I., 1985. Prevalence of hydatidosis in domestic livestock in the Niger Delta. Tropical Animal Health and Production, 17, 3–4.

Arbabi, M. and Hooshyr, H., 2006. Survey of echinococcosis and hydatidosis in Kashan region, central Iran. Iranian Journal of Public Health, 35, 75–81.

Berhe, G. 2009. Abattoir survey on cattle hydatidosis in Tigray region of Ethiopia. Tropical Animal Health and Production, 41, 1347–1352.

Budke, C. M., Deplazes, P. and Togerson, P. R., 2006. Global socioeconomic impact of cystic echinococcosis. Emerging Infectious Diseases, 12, 296–303.

Central Statistical Agency 2009. Agricultural sample survey 2008–09 (2001 E.C.): Volume II. Report on livestock and livestock characteristics (private peasant holdings). Statistical Bulletin 446, Addis Ababa, Ethiopia. 188 pp.

Dalimi, A., Motamedi, G., Hosseini M., Mohammadian, B., Malaki, H., Ghamari, Z. and Ghaffari, F. F., 2002. Echinococcosis/hydatidosis in Western Iran. Veterinary Parasitology, 105, 161–171.

DoARD (Department of Agriculture and Rural Development for Wolayita zone) 2009. Basic data of Wolayita zone agricultural department. 11 pp.

Eckert, J. and Deplazes, P., 2004. Biological, epidemiological and clinical aspects of echinococcosis, a zoonosis of increasing concern. Clinical Microbiology Reviews, 17, 107–135.

FAO/UNEP/WHO, 1994. Guidelines for echinococcosis/hydatidosis surveillance, prevention and control. FAO, Rome, No. 29, 147 pp.

Forse, B., 1999. Where there is no vet. London. Macmillan Press Ltd. pp. 7–43.

Garippa, G., Varcasia, A., Scala, A., 2004. Cystic echinococcosis in Italy from the 1950s to present. Parasitologia, 46, 387–391.

Getaw, A., Beyene, D., Ayana, D., Megersa, B., Abunna, F., 2010. Hydatidosis: prevalence and its economic importance in ruminants slaughtered at Adama municipal abattoir, central Oromia, Ethiopia. Acta Tropica, 113, 221–225.

Gracy, J.F., Collins, D.S., and Huey, R.J., 1999. Meat hygiene. 10th edition, London. W. B. Sounders Company Ltd. pp. 226–293.

Herenda, D., Chambers, P.G., Ettriqui, A., Seneviratna, P., and da Silva, J.J.P.,1994. Manual on meat inspection for developing countries. FAO, Rome, pp. 160–164.

Himonas, C., 1987. The fertility of hydatid cyst in food animals in Greece. Helminth zoonoses. Martinus Nijjhof Publishers, Netherlands.

Jobre, Y., Labago, F., Tiruneh, R., Abebe, G., Dorchies, P.H., 1996. Hydatidosis in three selected regions of Ethiopia: an assessment trail on the prevalence, economic and public health importance. REVUE de Médecine Vétérinaire, 147,797–804.

Kassai, T., 1999. Veterinary helminthology. Butterworth-Heinemann, Reed Educational and Professional Publishing Ltd., Oxford, 260 pp.

Kebede, N., Mokonnen, H., Wossene, A., Tilahun, G., 2009a. Hydatidosis of slaughtered cattle in Wolayita Sodo abattoir southern Ethiopia. Tropical Animal Health and Production, 41, 629–633.

Kebede, N., Abuhay, A., Tilahun, G. and Wossene, A., 2009b. Financial loss estimation, prevalence and characterization of hydatidosis of cattle slaughtered at Debre Markos municipality abattoir, Ethiopia. Tropical Animal Health and Production, 41, 1787–1789.

Kebede, N., Mitiku, A., Tilahun, G., 2009c. Hydatidosis of slaughtered animals in Bahir Dar abattoir, northwestern Ethiopia. Tropical Animal Health and Production, 41, 43–50.

Kebede, W., Hagos, A., Girma, Z., Labago, F., 2009d. Echinococcosis/hydatidosis: its prevalence, economic and public health significance in Tigray region, North Ethiopia. Tropical Animal Health and Production, 41, 865–871.

Koskei, P.K., 1998. Prevalence and strain differentiation of Echinococcus granulosus in some selected sites of Ethiopia. Berlin and Ethiopia: Ferie Universitat and Addis Ababa University, M.Sc. thesis.

Lahmar, S., Kilani, M., Torgerson, P. R. and Gemmell, M. A., 1999. Echinococcus granulosus larvae in the livers of sheep in Tunisia: the effects of host age. Annals of Tropical Medicine and Parasitology, 93, 75–81.

Macpherson, C.N.L., Zeyhle, E., and Roming, T., 1985. An echinococcosis pilot control programme for Northwest Turkana, Kenya. Annals of Tropical Medicine and Parasitology, 78, 188–192.

McGavin, M. D, Carlton, W. W., Zachary, J. F., 2001. Thomson's special veterinary pathology. 3rd edition. United States of America. Mosby Inc. 106 pp.

Ministry of Information, 2005. Export production of Ethiopia, press release of Ministry of Information, Department of Press and Audiovisual. Addis Ababa, Ethiopia (Unpublished).

Nicholson, M.J. and Butterworth, M.H., 1986. A guide to condition scoring of zebu cattle. International Livestock Centre for Africa, Addis Ababa, Ethiopia.

Njoroge, E.M., Mbithi, P.M., Gathuma, J.M., Wachira, T.M, Magambo, J.K., Gathura, P.B., Zeyhle, E., 2002. A study of cystic echinococcosis in slaughter animals in three selected areas of north Turkana, Kenya. Veterinary Parasitology, 104, 85–91.

Nonga, H.E, and Karimuribo, E, D., 2009. A retrospective survey of hydatidosis in livestock in Arusha, Tanzania, based on abattoir data during 2005–2007. Tropical Animal Health and Production, 41, 1253–1257.

Oostburg, B. F. J., Vrede, M.A., Bergen, A.E., 2000. The occurrence of polycystic echinococcosis in Suriname. Annals of Tropical Medicine and Parasitology, 94, 247–252.

Payne, W. J. A., 1970. Cattle production in the tropics. Volume I: General introduction, breeds and breeding. Tropical Agricultural Series. Longman Group Ltd., London, UK. 336 pp.

Payne, W. J. A. and Hodges, J., 1997. Tropical cattle, origins, breeds and breeding policies. Blackwell Science, Oxford, UK. 318 pp.

Polydorou, K., 1981. Animal health and economics. Case study: echinococcosis with reference to Cyprus. Bulletin, Office International des Epizooties, 93, 981–992.

Regassa, A., Abunna, F., Mulugeta, A., Megersa, B., 2009. Major metacestodes in cattle slaughtered at Wolayita Sodo municipal abattoir, Southern Ethiopia; prevalence, cyst viability, organ distribution and socioeconomic implications. Tropical Animal Health and Production, 41, 1495–15502.

Regassa, F., Molla, A. and Bekele, J., 2010. Study on the prevalence of cystic hydatidosis and its economic significance in cattle slaughtered at Hawassa municipal abattoir. Tropical Animal Health and Production, 42, 977–984.

Rege, J. E. O., 1999. The state of African cattle genetic resources II. Sanga, Zenga, recent derivatives, threatened and extinct breeds. Animal Genetic Resources Information Bulletin, 25: 1–25.

Sariozkan, S. and Yalcin, C., 2009. Estimating the production losses due to cystic echinococcosis in ruminants in Turkey. Veterinary Parasitology, 163, 330–334.

Schaller, K.F., Kulus, W., 1972. Ethiopia: A geomedical monograph. Springer, Berlin, Heidelberg, New York.

Sissay, M.M., Uggla, A., Waller, P.J., 2008. Prevalence and seasonal incidence of larval and adult cestode infections of sheep and goats in eastern Ethiopia. Tropical Animal Health and Production, 40, 387–394.

Smyth, J.D. and Barrette, N.J., 1980. Procedure for testing the viability of human hydatid cyst following surgical removal especially after chemotherapy. Transactions of the Royal Society of Tropical Medicine and Hygiene, 74, 649–652.

STATA 2006. Statistical Data Analysis Software, STATA Version 9.2 Stata corporation 4905 Lakeway Drive, College Station, Texas 77845, USA.

Taylor, M. A., Coop, R. L., Wall, R. L., 2007. Veterinary parasitology, Third edition. Blackwell Sciences Limited, UK. 874 pp.

Thompson, R.C.A., Kumaratilake, L.M., Eckert, J., 1984. Observations on Echinococcus granulosus of cattle origin in Switzerland. International Journal of Parasitology, 14, 283–291.

Thrusfield, M., 2005. Veterinary epidemiology, 3rd edition. United Kingdom. Blackwell Sciences Ltd. 626 pp.

Torgerson, P., 2002. Transmission dynamics of taeniid parasites in animal hosts. In: P. Craig and Z. Pawlowski (ed.), Cestode zoonoses: echinococcosis and cysticercosis, an emergent and global problem. The Netherlands, Amsterdam. IOS press. pp. 221–235.

Torgerson, P.R., Williams, D.H., Abo-shehada, M. N., 1998. Modelling the prevalence of Echinococcus and Taenia species in small ruminants of different ages in northern Jordan. Veterinary Parasitology, 79, 35–51.

Turton, J., 1999. Cattle teeth: how to estimate the age of cattle. National Development of Agriculture. pp. 1–2.

Yildiz, K. and Gurcan, S., 2003. Prevalence of hydatidosis and fertility of hydatid cysts in sheep in Kirikkale, Turkey. Acta Veterinaria Hungarica, 51, 181–187.
Acknowledgements
The authors would like to express their special thanks to the staff members of Wolayita Sodo municipal abattoir for all sorts of assistance and the School of Veterinary Medicine, Hawassa University for the financial support provided for this work.
About this article
Cite this article
Bekele, J., Butako, B. Occurrence and financial loss assessment of cystic echinococcosis (hydatidosis) in cattle slaughtered at Wolayita Sodo municipal abattoir, Southern Ethiopia. Trop Anim Health Prod 43, 221–228 (2011). https://doi.org/10.1007/s11250-010-9680-5
Accepted:

Published:

Issue Date:
Keywords
Hydatidosis

Prevalence

Wolayita Sodo

Economic significance

Abattoir

Ethiopia