Abstract
Factors influencing dairy technology adoption and impact on milk yield were studied in 240 smallholder farms in Dejen district, Ethiopia. The majority of the smallholders had more than 20 years of farming experience and were living at more than 10 km distance from market or trading centers (67% and 54% in that order). The dairy technologies studied included the use of crossbred animals, improved feed technologies and improved management practices. Application of acaricides, deworming, vaccination, heat-detection and haymaking had wide application (more than 80% adoption levels) while urea straw treatment, silage making, rotational grazing and fodder beet development were the least practiced ones. Only 20 percent of the cows were crossbred animals. It has been found that higher level of technology adoption is associated with better milk yield regardless of the breed of cattle (local or crossbred) owned by the farmers. Milk yields in local breeds increased by 0.07 times when the number of technologies increased by one unit. In crossbred cows, this rate of increase was five fold higher (0.38 times for one unit increase). Correlation coefficients between and within farm household characteristics and technologies adoption were, generally, significant. Male-headed households adopted significantly higher number of technologies than female-headed households (P < 0.001). Technology adoption rates increased significantly with increased education level and family size and decreasing distance from market or trade centers (P < 0.01). The level of technology adoption by smallholder farmers is still unsatisfactory and is highly dependent on gender, family size and level of education of smallholder farmers and location of farms.
This is a preview of subscription content, log in to check access.
Access options
Buy single article
Instant access to the full article PDF.
US$ 39.95
Price includes VAT for USA
Subscribe to journal
Immediate online access to all issues from 2019. Subscription will auto renew annually.
US$ 99
This is the net price. Taxes to be calculated in checkout.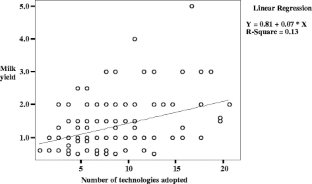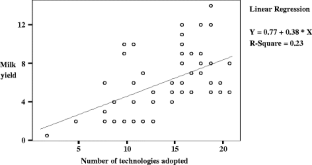 References
Alemu, G.W., Aemayehu, M., Sendros, D., Seyoum, B., and Alemu, T. (2000): Status of dairy research in Ethiopia. In: Proceeding of a workshop on the role of village dairy co-operatives in dairy development: prospects for improving dairy in Ethiopia, SDDP, MoA, Addis Ababa, Ethiopia.

Catley, A. (1999): Monitoring and impact assessment of community-based animal health projects in southern Sudan, A Report for Veterinarians Sans Frontiers-Belgium and Veterinarians Sans Frontiers-Switzerland, London, IIED, Pp 58-80.

Chagunda, M. G. G., Msiska, A. C. M., Wollny, C. B. A., Tchale, H. and Banda, J. W. (2006): An analysis of smallholder farmers' willingness to adopt dairy performance recording in Malawi. Livestock Research for Rural Development, 18(5), http://www.lrrd.org/lrrd18/5/chag18066.htm

Chantalakhana, C. (1999): Research priorities for smallholder dairying in tropics. Smallholder dairying in the tropics, ILRI, Nairobi, Kenya, Pp 403-416.

CSA (Central Statistical Authority) (2005): Report on land utilization, Agricultural sample survey, Statistical Bulletin 331, Volume IV, Addis Ababa, Ethiopia.

Getahun, K., Kelay, B., Bekana, M., and Lobago, F. (2008): Bovine mastitis and antibiotic resistance patterns in Selalle smallholder dairy farms, central Ethiopia. Tropical Animal Health and Production, 40: 261-268

Jera, R and Ajay, O. C. (2008): Logistic modeling of smallholder livestock farmers' adoption of tree-based fodder technology. Agrekon, 47 (3): 379-382

Kelay, B. (2002): Analysis of dairy cattle breeding practices in selected areas of Ethiopia. PhD. Thesis, Humboldt University of Berlin, Department of Animal Breeding in the Tropics, Berlin, Germany, Pp 6-108.

Mapiye, C., Foti, R., Chikumba, N., Poshiwa, X., Mwale, M., Chivuraise, C. and Mupangawa, J. F. (2006): Constraints of adoption of forage and browse legumes by smallholder dairy farmers in Zimbabwe. Livestock Research for Rural Development, 18 (12), http://www.lrrd.org/lrrd18/12/mapi18175.htm

Mekonnen, H. M., Asmamaw, K, and Courreaw, J. F. (2006): Husbandry practices and health in smallholder dairy farms near Addis Ababa, Ethiopia. Preventive Veterinary medicine, 74:99-107

Mohamed A.M. Ahmed, Simeon Ehui and Yemesrach A. (2004): Dairy development in Ethiopia. EPTD discussion paper No. 123, International Food Policy research Institute, Washington, DC, U.S.A.

Nicholson, C. F., Thornton, P. K., Mohammed, L., Muinga, R. W., Mwamachi, D.M., Elbasha, E.H., Staal, S.J. and Thorpe, W. (1999): Smallholder Dairy Technology in Coastal Kenya. An uptake and impact study, ILRI, (International Livestock Research Institute), Nairobi, Kenya, Pp10-42.

Reynolds, L., Metz, T. and Kipatarus, J. (1996): Smallholder dairy production in Kenya. World Animal Review 87-1996/2, http://www.fao.org/docrep/W2650T/w2650t00

Solomon Abraha, Kelay Belihu, Merga Bekana and Fikre Lobago (2009): Milk yield and reproductive performance of dairy cattle under smallholder management system in North-eastern Amhara Region, Ethiopia. Tropical Animal Health and Prododuction, doi:10.1007/s11250-009-9352-5

Thrusfield, M. (2005): Veterinary Epidemiology. 3rd ed., Black Well Science Ltd., Pp 228-243.

Toolsee, P. and Boodoo, A. A. (2001): Increasing smallholder milk production through adoption of concentrate supplementation and the high adoption rate of the technology. Food Animal Research Council, Réduit, Mauritius, Pp 249-252

Wudu, T., Kelay, B., Mekonnen H.M. and Tesfu, K. (2008): Calf morbidity and mortality in smallholder dairy farms in Adea'a Liben district of Oromia, Ethiopia. Tropical Animal Health and Prododuction, 40: 369-376
Acknowledgement
We acknowledge the co-operation received from smallholder dairy farmers.
About this article
Cite this article
Mekonnen, H., Dehninet, G. & Kelay, B. Dairy technology adoption in smallholder farms in "Dejen" district, Ethiopia. Trop Anim Health Prod 42, 209–216 (2010). https://doi.org/10.1007/s11250-009-9408-6
Received:

Accepted:

Published:

Issue Date:
Keywords
Adoption

Constraints

Dairy technology

Smallholder

Ethiopia