Abstract
The onset of pregnancy may be associated with hormonal changes and decline in milk yield of buffaloes. To investigate this, forty lactating buffaloes from 1st to 23rd weeks post-conception were selected. The animals were assigned to three treatments: PRT, PRS, NPRT and three milk yielding groups HMY, 66 to 75 l/week, n = 12; MMY, 56 to 65 l/week, n = 16; LMY, 46 to 55 l/week, n = 12). Milk samples were collected on alternate weeks and analyzed with ultrasonic milk analyzer. EIA was used for milk progesterone concentrations. Group means were compared and correlation analysis was conducted. Progesterone concentrations increased in almost similar pattern with the advancing weeks post-conception. The high and low yielder showed greater progesterone concentrations in the supplemented than the animals on traditional ration (P < 0.001). Progesterone concentrations correlated positively with fat (%), negatively with milk yield, protein (%) and lactose (%). Decline in milk yield became drastic when progesterone concentrations rose above 6.44 ng/ml. The pregnant animals on traditional ration exhibited a sharper decline in milk yield with the increasing progesterone concentrations as compared to pregnant animals with supplemented ration. It is concluded that concentrates supplementation induced a raise in progesterone levels. Progesterone concentrations and milk yield showed an inverse relationship.
This is a preview of subscription content, log in to check access.
Access options
Buy single article
Instant access to the full article PDF.
US$ 39.95
Price includes VAT for USA
Subscribe to journal
Immediate online access to all issues from 2019. Subscription will auto renew annually.
US$ 99
This is the net price. Taxes to be calculated in checkout.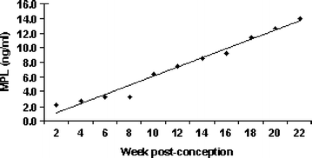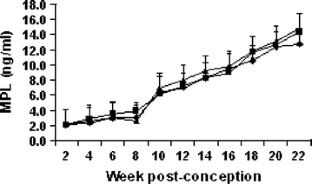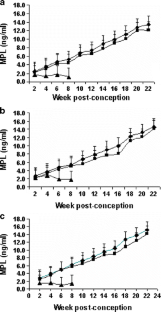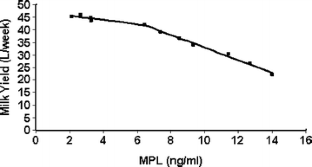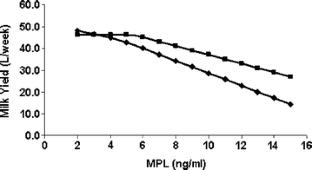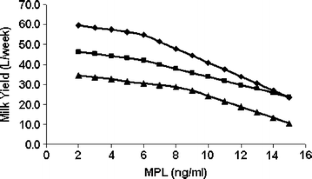 Abbreviations
PRT:

Pregnant-ration traditional

PRS:

Pregnant-ration supplemented

NPRT:

Non-pregnant- ration traditional

HMY:

High milk yielder

MMY:

Moderate milk yielder

LMY:

low milk yielder

EIA:

Enzyme immunoassay

MPL:

Milk progesterone level
References
Arya, J.S., Madan, M.L., 2001 Prolactin release in response to suckling and. milking stimuli and its relationship to milk yield in buffaloes. Indian Veterinary Journal, 78, 405–409.

Bossis, I., Wettemann, R.P., Welty, S.D., Vizcarra, J.A., Spicer, L.J. and Diskin, M.G. 1999. Nutritionally induced ovulation in beef heifers: ovarian and endocrine function preceding cessation of ovulation. Journal of Animal Science, 77, 1536–1546.

Butler, W. R. 2000. Nutritional interactions with reproductive performance in dairy cattle. Animal Reproduction Science, 60, 449–457. doi:10.1016/S0378-4320(00)00076-2

Coulon, J. B., Pe'rochon, L., and Lescourret F. 1995. Modeling the effect of the stage of pregnancy on dairy cows' milk yield. Animal Science, 60, 401–408.

El-Wishy, A.B., 2007. The postpartum buffalo: I. Endocrinological changes and uterine involution. Animal Reproduction Science, 97, 201–215. doi:10.1016/j.anireprosci.2006.03.004

Forsyth, I. 1999. Mammary gland, overview. in Encyclopedia of Reproduction. Pp 81–88 (E. Knobil and J. D. Neill. Ed.) Academic Press, NY, New York.

Grossman, M., and Koops, W. J. 2003. Modeling extended lactation curves of dairy cattle:A biological basis for the multiphasic approach 1 Journal of Animal Science 86, 988–998.

Gupta. M. and Prakash, B.S. 1990. Milk progesterone determination in buffaloes post-insemination. British. Veterinary Journal, 146, 563–570.

Henricks, D. M., Dickey, J.F., Hill, J.R. and Johnston, W.E. 1972. Plasma estrogen and progesterone levels after mating, and during late pregnancy and postpartum in cows. Endocrinology, 90, 1336–1342.

Kaul, V. and Prakash, B.S. 1994. Application of milk progesterone estimation for determining the incidence of false oestrus detection and ovulation failures in zebu and crossbred cattle and Murrath buffaloes. Indian Journal of Animal Science, 64, 1054–1057.

Kaul, V., Rao, S.V.N. and Prakash, B.S. 1993. Reproductive status monitoring by milk progesterone determination in rural anestrous and repeat breeding bovines. Indian Journal of Animal Science, 63, 1132–1135.

Kaur, H. and Arora, S.P. 1984. Annual pattern of plasma progesterone in normal cycling buffaloes (Bubalus bubalis) fed two levels of nutrition. Animal Reproduction. Science, 7, 323–332. doi:10.1016/0378-4320(84)90017-4

Knight, C.H and Wilde, C.J. 1993. Mammary cell changes during pregnancy and lactation. Livestock Production Science, 35, 3–19. doi:10.1016/0301-6226(93)90178-K

Lamming, G. E., and Darwash, A. O. 1998. The use of milk progesterone profiles to characterize components of sub- fertility in milked dairy cows. Animal. Reproduction Science, 52,175–190. doi:10.1016/S0378-4320(98)00099-2

Lucy, M. C. 2000. Regulation of ovarian follicular growth by somatotropin and insulin-like growth factors in cattle. Journal of Animal Science, 83,1635–1647.

Lucy, M. C. 2001. Reproductive loss in high producing dairy cattle: where will it end? J Journal of Animal Science, 84,1277–1293.

Lucy, M. C and Crooker, B. A., 2001. Physiological and genetic differences between low and high index dairy cows. Anim. Sci. Occasional Publication No. 26, 223–236.

Lucy, M. C., Sota, De La. Staples, R.C. and Thatcher, W. W. 1993. Ovarian follicular populations in lactating dairy cows treated with recombinant bovine somatotropin or saline and fed diets differing in fat content and energy. Journal of Animal Science, 76, 1014–1027.

Neville, M.C. 1995 Lactogenesis in women: a cascade of events revealed by milk composition. In: The Composition of Milks, pp 87–98. (Ed. RD Jensen. San Diego): Academic Press.

Neville, M.C., Morton JA and Umemora S .2001 Lactogenesis: the transition between pregnancy and lactation. Pediatric Clinics of North America, 48, 35–52. doi:10.1016/S0031-3955(05)70284-4

Perera, B.M.A.O. 1982. Hormonal profiles and synchronization of estrus in river buffaloes in Sri Lanka. In: Anim. Prod. and Health in the Tropics, pp. 431 (M.R. Jainudeen and A.R. Omar, Eds.) Penerbit University, Pertanian, Malaysia.

Perera, B.M.A.O., De Silva, L.N.A. and Karunaratne, A.M. 1984. Studies on reproductive endocrinology and factors influencing fertility in dairy and draught buffaloes in Sri Lanka. Proc: Use of Nuclear Techniques to Improve Domestic Buffalo Production in Asia. Manila, Philippines.

Qureshi, M.S., 1995. Conventional buffalo farming system in NWFP Pakistan. Buffalo Bulletin, 684, 14, 38-31. Int. Buffalo Inf. Center, Bangkok.

Qureshi, M.S. and Ahmad, N., 2008. Interaction of Calf Suckling, use of Oxytocin and Milk Yield with Reproductive Performance of Dairy Buffaloes. Animal Reproduction Science, 106, 380-392. doi:10.1016/j.anireprosci.2007.05.019

Qureshi, M.S., Ihsan, M., Ashraf, M., Hassan, M. and Qureshi, M.B. 1989. Use of milk progesterone test in estrus prediction in Nili-Ravi buffaloes. Journal of Animal Health and Production, 9, 80–83.

Qureshi, M.S., Khan, I.H., Choudhry, R.A., Khan, M.H. and Shah, S.N.H. 1992. Comparative Efficiency of Rectal Palpation and Milk Progesterone Profiles in Diagnosing Ovarian Contents in Buffaloes. Pakistan Journal of AgricultureResearch, 13,196–200.

Qureshi, M.S., Habib, G., Samad, H.A., Lodhi, L.A. and Usmani, R.H. 1999. Study on factors leading to seasonality of reproduction in dairy buffaloes. II. Non-nutritional factors. Asian-Australasian Journal of Animal Science, 12, 1025–1030.

Qureshi, M.S., Samad, H.A., Habib, G., Siddiquee, M.M. and Nawab, G. 2000. Milk progesterone profiles under various reproductive states in dairy buffaloes. Proceedings National Science Council, Republic of China, 24, 70–75.

Qureshi, M.S., Habib, G., Samad, H. A., Siddiqui, M.M., Ahmad, N. and Syed, M. 2002. Reproduction-nutrition relationship in dairy buffaloes.1. Effect of intake of protein, energy and blood metabolites levels. Asian-Australasian Journal of Animal Science, 15, 330–339.

Qureshi, M.S., Khan, S. and Ahmad, N. 2007. Pregnancy depresses milk yield of Dairy Buffaloes. Italian Journal Animal Science, 6 Supp. 2, 1290-1293.

Ranjhan, S.K. 1994. Animal Nutrition in Tropics. 4th Edition, Waqas Publications. New Delhi. India.

Reksen, O., Gröhn, Y. T., Havrevoll, A., Bolstad, T., Waldmann, A., Ropstad, E. 2002. Relationships among milk progesterone, concentrate allocation, energy balance, milk yield and conception rate in Norwegian cattle. Animal Reproduction. Science, 73, 169–84. doi:10.1016/S0378-4320(02)00146-X

Sangsritavong, S., Combs D. K. Sartori R. Artamo L.E. and Wiltbank M.C.2002.High feed intake increases liver blood flow and metabolism of progesterone and estradiol-ß in Dairy cattle. Journal of Animal Science, 85,2831–2842.

Singh, A.and Puthiyandym, E. 1980. Estimation of progesterone in buffalo milk and its application to pregnancy diagnosis. Journal of Reproduction and Fertility, 59, 89–93. doi:10.1530/jrf.0.0590089

Singh, A,K., Brar, P.S., Nanda, A.S., and Prakash, B.S. 2006. Effect of suckling on basal and GnRH-induced LH release in post-partum dairy buffaloes. Animal Reproduction Science, 95, 244–250. doi:10.1016/j.anireprosci.2005.10.004

Sousa, N. M., Garbayo, J.M., Figueiredo, J.R., Sulon, J., Goncalves, B.D.and Beckers, J.F. 1999. Pregnancy-associated glycoprotein and progesterone profiles during pregnancy and postpartum in native goats from the north-east of Brazil. Small Ruminant Research, 32, 137–147. doi:10.1016/S0921-4488(98)00171-0

Usmani, R.H., Dailey, R.A. and Inskeep, E.K. 1990. Effects of limited suckling and varying prepartum nutrition on postpartum reproductive traits of milked buffaloes. Journal of Dairy Science, 73, 1564–1570.
Acknowledgements
Financial sponsorship of the Higher Education Commission, Islamabad Pakistan made conduction of this investigation possible which is highly acknowledged. Prof. Dr.Pegham Shah assisted in management and analysis of the data. Mr.Kamran Safder provided experimental animals at his commercial buffalo dairy farm, which is highly acknowledged. Mr.Muhammad Nawaz assisted us in traveling to the experimental stations.
About this article
Cite this article
Khan, S., Qureshi, M.S., Ahmad, N. et al. Feed supplementation prevents post-conception decline in milk progesterone concentrations associated with production stress in dairy buffaloes (Bubalus bubalis). Trop Anim Health Prod 41, 1133–1142 (2009). https://doi.org/10.1007/s11250-008-9293-4
Received:

Accepted:

Published:

Issue Date:
Keywords
Progesterone

Pregnancy

Milk yield

Feed supplementation

Dairy buffaloes