Abstract
Classical swine fever (CSF) is a highly contagious and severe viral disease of swine resulting in substantial production losses in different farming systems in many regions of the world. The accurate and rapid detection of CSF outbreaks is reliant on sensitive and specific laboratory testing and is a key component of disease control. Specific detection of CSF virus can be achieved by virus isolation in tissue culture, antigen capture or the detection of viral RNA using molecular techniques. In order to reduce the time taken to achieve a diagnostic result and simplify testing methods, an antigen capture ELISA using immunomagnetic beads (IMB) as the solid phase was developed and compared to a microplate-based antigen capture (AC)-ELISA. The IMB-ELISA has up to 64-fold greater analytical sensitivity than the AC-ELISA and initial estimates of diagnostic sensitivity and specificity are 100%. The IMB-ELISA has a highly robust, rapid and stable test format and is simpler to perform than the AC-ELISA. The IMB-ELISA has the added advantage that a result can be sensitively and specifically determined by eye, lending it to the possibility of adaptation to a near-to-field test with minimal equipment or expertise needed.
This is a preview of subscription content, log in to check access.
Access options
Buy single article
Instant access to the full article PDF.
US$ 39.95
Price includes VAT for USA
Subscribe to journal
Immediate online access to all issues from 2019. Subscription will auto renew annually.
US$ 99
This is the net price. Taxes to be calculated in checkout.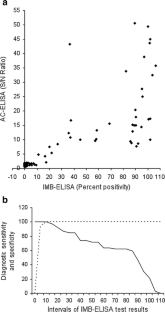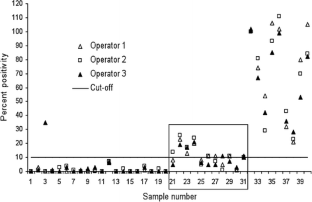 References
Blacksell, S.D., Khounsy, S., Boyle, D.B., Greiser-Wilke, I., Gleeson, L.J., Westbury, H.A. and Mackenzie, J.S. (2004a) Phylogenetic analysis of the E2 gene of classical swine fever viruses from Lao PDR. Virus Res 104, 87–92.

Blacksell, S.D., Khounsy, S. and Westbury, H.A. (2004b) The effect of sample degradation and RNA stabilization on classical swine fever virus RT-PCR and ELISA methods. J Virol Methods 118, 33–7.

Blacksell, S.D., Khounsy, S., Boyle, D.B., Gleeson, L.J., Westbury, H.A., and Mackenzie, J.S. (2005) Genetic Typing of Classical Swine Fever Viruses from Lao PDR by Analysis of the 5′ Non-Coding Region. Virus Genes 31, 349–55.

de Smit, A.J. (2000) Laboratory diagnosis, epizootiology, and efficacy of marker vaccines in classical swine fever: a review. Vet Q 22, 182–8.

Elbers, A.R., Bouma, A. and Stegeman, J.A. (2002) Quantitative assessment of clinical signs for the detection of classical swine fever outbreaks during an epidemic. Vet Microbiol 85, 323–32.

Elbers, A.R., Vos, J.H., Bouma, A. and Stegeman, J.A. (2004) Ability of veterinary pathologists to diagnose classical swine fever from clinical signs and gross pathological findings. Prev Vet Med 66, 239–46.

Fuqing, Z., Khounsy, S., Nianzu, Z. and Blacksell, S.D. (2000) Considerations regarding the transport of samples and development of diagnostic protocols for the detection of Classical Swine Fever virus under endemic conditions. In: Blacksell, S.D., (Ed.) Classical Swine Fever and Emerging Diseases in Southeast Asia, Proceedings of an International Workshop, Vientiane, Lao PDR, 19–22 September 1999, ACIAR Proceedings No. 94, pp. 31–37. Australian Centre for International Agricultural Research, Canberra

Heinz, F.X., Collett, M.S., Purcell, R.H., Gould, E.A., Howard, C.R., Houghton, M., Moormann, R.J.M., Rice, C.M. and Thiel, H.-J. (2000) Family Flaviviridae. In. van Regenmortel, M.H.V., Fauquet, C.M., Bishop, D.H.L., Carstens, E.B., Estes, M.K., Lemon, S.M., Maniloff, J., Mayo, M.A., McGeoch, D. J., Pringle, C.R., Wickner R.B. (Eds.) Seventh Report of the International Committee on Taxonomy of Viruses. http://www.virustaxonomyonline.com Academic Press. [Accessed: Nov 2003]

Hoffmann, B., Beer, M., Schelp, C., Schirrmeier, H. and Depner, K. (2005) Validation of a real-time RT-PCR assay for sensitive and specific detection of classical swine fever. J Virol Methods

Jacobson, R.H. (1998) Validation of serological assays for diagnosis of infectious diseases. Rev Sci Tech 17, 469–526.

Jensen, M.H. (1981) Detection of antibodies against hog cholera virus and bovine viral diarrhea virus in porcine serum. A comparative examination using CF, PLA and NPLA assays. Acta Vet Scand 22, 85–98.

Kamolsiriprichaiporn, S., Morrissy, C.J. and Westbury, H.A. (1992) A comparison of the pathogenicity of two strains of hog cholera virus. 2. Virological studies. Aust Vet J 69, 245–8.

Kosmidou, A., Ahl, R., Thiel, H.J. and Weiland, E. (1995) Differentiation of classical swine fever virus (CSFV) strains using monoclonal antibodies against structural glycoproteins. Vet Microbiol 47, 111–8.

McGoldrick, A., Bensaude, E., Ibata, G., Sharp, G. and Paton, D.J. (1999) Closed one-tube reverse transcription nested polymerase chain reaction for the detection of pestiviral RNA with fluorescent probes. J Virol Methods 79, 85–95.

McKinney, M.M. and Parkinson, A. (1987) A simple, non-chromatographic procedure to purify immunoglobulins from serum and ascites fluid. J Immunol Methods 96, 271–8.

Paton, D.J. and Greiser-Wilke, I. (2003) Classical swine fever—an update. Res Vet Sci 75, 169–78.

Pearson, J.E. (1992) Hog cholera diagnostic techniques. Comp Immunol Microbiol Infect Dis 15, 213–9.

Pringle, C.R. (1999) Virus Taxonomy - 1999. Arch Virol 144, 421–29.

Risatti, G., Holinka, L., Lu, Z., Kutish, G., Callahan, J.D., Nelson, W.M., Brea Tio, E. and Borca, M.V. (2005) Diagnostic evaluation of a real-time reverse transcriptase PCR assay for detection of classical swine fever virus. J Clin Microbiol 43, 468–71.

Shannon, A.D., Morrissy, C., Mackintosh, S.G. and Westbury, H.A. (1993) Detection of hog cholera virus antigens in experimentally-infected pigs using an antigen-capture ELISA. Vet Microbiol 34, 233–48.

Smith, R. 2006 Veterinary Clinical Epidemiology. 3rd Edn. CRC Press: Taylor and Francis Group, Boca Raton, Florida

Tu, C., Lu, Z., Li, H., Yu, X., Liu, X., Li, Y., Zhang, H. and Yin, Z. (2001) Phylogenetic comparison of classical swine fever virus in China. Virus Res 81, 29–37.

van Oirschot, J.T. (1999) Classical Swine Fever. In: Straw, B.E., D'Allaire, S., Mengeling, W.L. and Taylor, D.J. (Eds.) Diseases of Swine, 8th Edn. pp. 159–72. Iowa State University Press, Ames, Iowa

Weiland, E., Stark, R., Haas, B., Rumenapf, T., Meyers, G. and Thiel, H.J. (1990) Pestivirus glycoprotein which induces neutralizing antibodies forms part of a disulfide-linked heterodimer. J Virol 64, 3563–9.
Acknowledgments
This work was supported by the Australian Centre for International Agricultural Research (ACIAR), the Department of Livestock and Fisheries of Lao PDR and CSIRO Division of Livestock Industries. The authors wish to acknowledge Ms. Manivanh Phruaravanh, Miss Vilaywan Soukvilai and Mr. Lapinh Phithakhep for technical and logistical support.
About this article
Cite this article
Conlan, J.V., Khounsy, S., Blacksell, S.D. et al. Development and evaluation of a rapid immunomagnetic bead assay for the detection of classical swine fever virus antigen. Trop Anim Health Prod 41, 913–920 (2009). https://doi.org/10.1007/s11250-008-9279-2
Received:

Accepted:

Published:

Issue Date:
Keywords
Classical swine fever virus

Diagnosis

Rapid test

Immunomagnetic

Bead

Microparticle

ELISA