Abstract
The development pathway for tropical livestock production for many years in the twentieth century was to upgrade or replace indigenous stock with exotics of supposedly higher genetic merit. Early indications that this might not be the most appropriate approach were largely ignored. Later there was a reverse movement towards locally developed species and breeds. These were seen as pools of irreplaceable genetic material of unacknowledged merit and value that must not be lost but must be conserved for possible unknown unseen future use. This paper examines the use of various native species and breeds. It goes on to describe some attempts at the introduction of genetically engineered highly productive (at least in their areas of origin) stock. Examples of attempts to produce cross or synthetic breeds are then provided. In a last section the case for the right animal in the right place - and these may be unconventional species and breeds - is provided.
This is a preview of subscription content, log in to check access.
Access options
Buy single article
Instant access to the full article PDF.
US$ 39.95
Price includes VAT for USA
Subscribe to journal
Immediate online access to all issues from 2019. Subscription will auto renew annually.
US$ 99
This is the net price. Taxes to be calculated in checkout.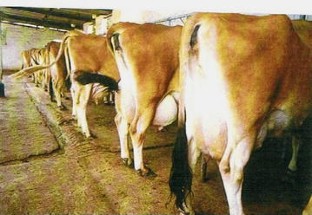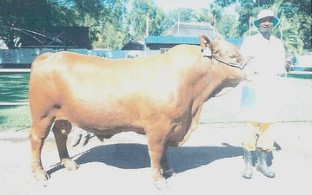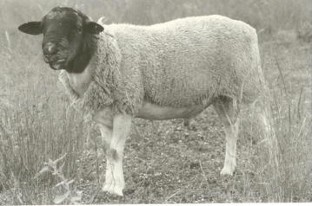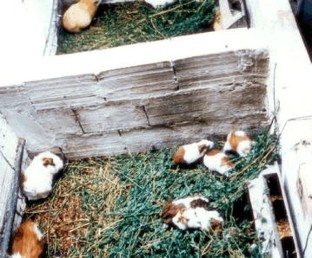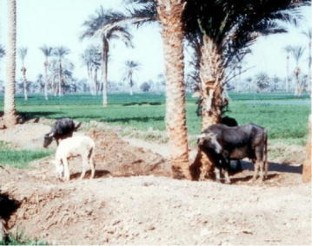 References
Aboagye GL. 2002. Phenotypic and genetic parameters in cattle populations in Ghana. http://agtr.ilri.cgiar.org/Casestudy/case-Aboagye-1/pdf/casestudy-Aboagye-11.pdf

Alderson L. 1990. The work of the Rare Breeds Survival Trust. In: Alderson L (ed) Genetic conservation of domestic livestock. CAB International: Wallingford, UK. pp. 32–34.

Alim KA. 1960. Reproductive rate and milk yield of Kenana cattle in Sudan. Journal of Agricultural Science (Cambridge) 55: 183–188.

Amin MY and Peters K-J. 2006. Awassi sheep production and the development of breeding program options in Syria. In: Prosperity and Poverty in a Globalised World - Challenges for Agricultural Research (Tropentag, 11–13 October 2006). University of Bonn: Bonn, Germany.

Bebe BO, Udo HMJ, Rowlands GJ and Thorpe W. 2003. Smallholder dairy systems in the Kenya Highlands: breed preferences and breeding practices. Livestock Production Science 82: 117–127.

Burfening PJ and Juan Chavez C. 1996. The Criollo sheep in Peru. Animal Genetic Resources Information Bulletin 20: 115–126.

Cardellino RA. 2000. Animal genetic resources in southern Brazil. Archivos de Zootecnia 49: 327–331.

Connelly WT. 1998. Colonial era development policy: introduction of improved dairy cattle in high potential farming areas of Kenya. World Development 26: 1733–1748.

Davies FG. 1991. Lumpy skin disease, an African capripox virus disease of cattle. British Veterinary Journal 147: 489–503.

de Alba J. 1987. Criollo cattle of Latin America. In: Hodges J (ed) Animal genetic resources: strategies for improved use and conservation (Animal Production and Health Paper No 66). Food and Agriculture Organization: Rome, Italy. 19–43.

Dinucci A and Fre Z. 2003. Understanding the indigenous knowledge and information systems of pastoralists in Eritrea (Communication for Development Case Study 26). Sustainable Development Department, Food and Agriculture Organization: Rome, Italy.

DVSAH. 1937. Department of Veterinary Science and Animal Husbandry Annual Report, 1937. Government Pinter: Dare es Salaam, Tanganyika.

Epstein H. 1982. Awassi sheep. World Animal Review 44: 11–27.

FAO. 2005. The Mpwapwa breed. http://dad.fao.org/

FAO. 2007. Global plan of action for animal genetic resources and the Interlaken Declaration. Commission on Genetic Resources for Food and Agriculture, Food and Agriculture Organization: Rome, Italy.

Faulkner DE and Brown JD. 1953. The improvement of cattle in British Colonial Territories in Africa (Publications of the Colonial Advisory Council for Agriculture, Animal Health and Forestry, No 3). Her Majesty's Stationary Office: London, UK.

Fre Z. 1991. Eritrea: breeding for adversity (Agricultural Extension and Rural Development Department Bulletin 31). University of Reading: Reading, UK. 18–25.

French MH. 1941. The failure of pure and high grade European cattle in hot climates. East African Agricultural and Forestry Journal 6: 1989–1993.

Haile-Mariam M, Malmfors B and Philipsson J. 1998. Boran - indigenous African cattle with potential. Currents (Sweden) 17/18:38–43.

Harvey K. 1987. The history and development of the three indigenous cattle breeds of Zimbabwe. In: Grant J (ed) The indigenous cattle breeds of Zimbabwe, Proceedings of a workshop held at Matopos Research Station, 26–27 February 1987. Department of Research and Specialist Services: Harare, Zimbabwe.

Hatziminaogiou J, Zervas NP and Boyazoglu JG. 1990. Prolific dairy sheep breeds in Greece. Options Méditerranéennes Série A 12: 25–30.

Hickmann CG. 1991. Cattle genetic resources (World Animal Science Volume B7). Elsevier Health Sciences: Amsterdam, The Netherlands. 106.

Homann S, Maritz HJ, Hülsebusch C, Meyn K and Valle Zárate A. 2005. Boran and Tuli cattle breeds - origin, worldwide transfer, utilisation and the issues of access and benefit sharing. Verlag Grauer: Beuren and Stuttgart, Germany.

Kabuga JD. 1989. The dairy industry in Ghana - retrospect and prospects. In: Proceedings of the Second Annual General Meeting of the Ghana Society of Animal Production, University of Ghana, Legon. 2–27.

Khombe CT. 1995. The conservation and selection of indigenous beef breeds in Zimbabwe. In: Dzama K, Ngwerume FN and Bhebhe E (eds) Proceedings of the International Symposium on Livestock Production Through Animal Breeding and Genetics, 10–11 May 1995, University of Zimbabwe. University of Zimbabwe: Harare, Zimbabwe.

Kuit HG, Traoré A and Wilson RT. 1986. Livestock production in central Mali: Ownership, management and productivity of poultry in the traditional sector. Tropical Animal Health and Production 18: 222–231.

Mason IL. 1967. Sheep breeds of the Mediterranean. Commonwealth Agricultural Bureaux: Farnham Royal, UK.

Mason IL. 1980. Prolific tropical sheep (Animal Production and Health Paper No 17). Food and Agriculture Organization: Rome, Italy.

Mavrogenis AP, Antoniades NY and Hooper RW. 2006. The Damascus (Shami) goat of Cyprus. Animal Genetic Resources Information 38: 57–65.

MoA. 1972. The development of the Jamaica Hope breed of dairy cattle (Bulletin No 2). Ministry of Agriculture: Kingston, Jamaica.

Moyo S. 1990. Relative productivity of indigenous, exotic and crossbred cattle at Matopos Research Station. Journal of the Zimbabwe Society of Animal Production 5: 23–28.

Mpofu N. 1996. Conservation of the Tswana cattle breed in Botswana. Animal Genetic Resources Information Bulletin. 20: 17–26.

Ogilvie FB. 1947. Cattle breeding in India: the development of milk production in two Indian breeds. Journal of Heredity 38: 23–28.

Ojango JMK and Pollott GE. 2004. The productivity of Holstein-Friesian dairy cattle in different farming systems in Kenya. International Journal of Agriculture and Rural Development 5: 145–155.

Plasse D. 1992. Presente y futuro de la producción bovina en Venezuela. In: González-Stagnaro C (ed) Ganadería mestiza de doble propósito. Facultad de Agronomía y Ciencias Veterinarias, Universidad de Zulia: Maracaibo, Venezuela.

Pundir RK, Vij PK, Ran Vir Singh , and Nivsarkar AE. 1996. Bhadawari buffaloes in India. Animal Genetic Resources Information Bulletin. 20: 101–114.

Rege JEO. 1999. The state of African cattle genetic resources I. Classification framework and identification of threatened and extinct breeds. Animal Genetic Resources Information Bulletin 25:125–138.

SASBA. 2004. South African Livestock Breeder. South African Stud Book and Livestock Improvement Association: Somerset East, Republic of South Africa.

SCBA. 2008. Senepol cattle. www.thedairysite.com/directory/11/north-america/63/breed-associations-organisations/../senepol-cattle-breeders-association.

Schneeberger T, Wellington KE and McDowell RE. 1982. Performance of Jamaica Hope cattle in commercial dairy herds in Jamaica. Journal of Dairy Science 65: 1364–1371.

Sponenberg P and Bixby D. 2007. Managing breeds for a secure future. American Livestock Breeds Conservancy: Pittsboro, North Carolina, USA.

Stephens M. 2006. Handbook of Australian Livestock (Fifth Edition). Australian Meat and Livestock Corporation: Sydney, Australia.

Syrstad O. 1990. Mpwapwa cattle: an Indo-Euro-African synthesis. Tropical Animal Health and Production 22: 17–22.

Vaccaro L. 1984. El comportamiento de la raza Holstein Friesian comparada con la Pardo Suiza en cruzamiento con razas nativas en el tropico: una revision de la literatura. Tropical Animal Production 9: 93–101.

Valle Zárate A, Cahill J and Horst P. 1994. Inventory of Andean local guinea pig subpopulations as a model case for genetic resource evaluation. Paper presented at the Third Global Conference on the Conservation of Domestic Animal Resources, 1–4 August, 1994 at Kingston, Ontario, Canada.

Ward HK and Tawonezvi HPR. 1983. Production traits of Mashona, Nkone and Tuli cattle and of some beef breeds exotic to Zimbabwe. In: Animal genetic resources in Africa: Proceedings of the Second OAU Expert Committee Meeting on Animal Genetic Resources in Africa, 24–28 November 1983, Bulawayo, Zimbabwe. OAU/STRC/IBAR: Nairobi, Kenya. pp. 86–95.

Wellington KE and Mahadevan P. 1975. Development of the Jamaica Hope breed of dairy cattle. World Animal Review 15: 27–32.

Wilson RT. 1977. Some quantitative data on the Tigré salt trade from the early 19th century to the present day. Annali della Istituto Universita Orientali di Napoli 36: 157–164.

Wilson RT and Murayi TH. 1988. Productivity of the Small East African goat and its crosses with the Anglo-Nubian and the Alpine in Rwanda. Tropical Animal Health and Production 20: 219–228.

Yagil R, Zagorski O, van Creveld C and Saran A. 1994. Science and camel milk production. In: Proceedings on the workshop on the Bactrian and one-humped camels as milk producers, 24–26 October 1994, Nouakchott, Mauritania/Actes de l'atelier sur les chameaux et les dromadaires comme animaux laitiers, 24–26 octobre 1994, Nouakchott, Mauritanie. Unité de Coordination sur l'Elevage Camelin, CIRAD-EMVT: Maisons-Alfort, France. not paginated.
About this article
Cite this article
Wilson, R.T. Fit for purpose – the right animal in the right place. Trop Anim Health Prod 41, 1081–1090 (2009). https://doi.org/10.1007/s11250-008-9274-7
Received:

Revised:

Accepted:

Published:

Issue Date:
Keywords
Adaptation

Domestic animal genetic resources

Production systems

Single purpose breeds

Crossbreeding