Abstract
The present study assessed the benefits of integration of animals with fish production in optimizing the bio mass production from unit land in subtropical hill agro ecosystem. Hampshire pigs and Khaki Campbell ducks were integrated with composite fish culture. The pig and duck excreta were directly allowed into the pond and no supplementary feed was given to fish during the period of study. The average levels of N, P and K in dried pig and duck manure were 0.9, 0.7 and 0.6 per cent and 1.3, 0.6 and 0.5 per cent, respectively. The average body weight of pig and duck at 11 months age was 90 and 1.74 kg with an average daily weight gain of 333.33 and 6.44 g, respectively. The fish production in pig-fish and duck-fish systems were 2209 and 2964 kg/ha, respectively while the fish productivity in control pond was only 820 kg/ha. The total biomass (animal and fish) production was higher (p < 0.05) in commercial feeding system compared to the traditional system, however the input/output ratio was 1:1.2 and 1:1.55 for commercial and traditional systems, respectively. It was inferred that the total biomass production per unit land was high (p < 0.05) when animal and fish were integrated together.
This is a preview of subscription content, log in to check access.
Access options
Buy single article
Instant access to the full article PDF.
US$ 39.95
Price includes VAT for USA
Subscribe to journal
Immediate online access to all issues from 2019. Subscription will auto renew annually.
US$ 99
This is the net price. Taxes to be calculated in checkout.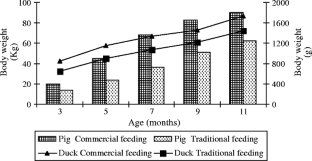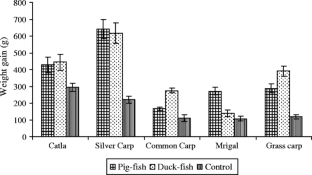 References
A.O.A.C., 1995. Official methods of analysis. Association of Official Analysis Chemists, 16th edn Washington. D.C.

Bhatt, B.P. and Bujarbaruah, K.M. 2006a. Integrated fish farming in eastern Himalayas. Technical Bulletin No 47. ICAR Research Complex for NEH Region, Barapani, Meghalaya, India

Bhatt, B.P. and Bujarbaruah, K.M. 2006b. Agroforestry in North East India: Opportunities and Challenges. Publ; ICAR Research Complex for NEH Region. Barapani, Meghalaya, India Pp- 550

Das, M.K., 1989. Technologies for inland fisheries development. CICFRI, pp 59–70.

Dhawan, A. and Kaur, S. 2002. Pig dung as pond manure; Effect on water quality, pond productivity and growth of carps in polyculture system. The ICLARM Quaterly, 25 (1): 11–14.

Edwards, P., Kaewpaitoon, K., McCoy, E.W. and Chantachaeng, C., 1986. Pilot small-scale crop/livestock/fish integrated farm, AIT Research Report, 184, Bangkok, Thailand

FAO, 2000. The state of world fisheries and aquaculture. Rome, Italy.

Kennedy, J.J. and Sherne, F.X. 1980. The effects of fiber addition to diets formulated to contain different levels of energy and protein on growth to carcass quality of Swine. Canadian Journal of Animal Sciences. 60 (2): 385–393.

Kumaresan, A., Hussain, J., Ahmed, S.K., Pathak, K.A., Anubrata, Das and Bujarbaruah, K M. 2005. Growth Performance of Hampshire, Large White Yorkshire and Mizo Local Pigs under Mizoram Field Conditions. Indian J.Anim.Sci. 76 (2): 148–150.

Kumaresan, A., Pathak, K.A., Bujarbaruah, K.M., Das, Anubrata and Vinod, K. 2006. Integrated Livestock Fish culture in Mizoram. Research Bulletin. ICAR Research Complex for NEH Region, Barapani, Meghalaya, India

Kumaresan, A., Bujarbaruah, K.M., Pathak, K.A., Bijoy, Chhetri., Das, S.K., Das, Anubrata, Ahmaed, S.K. 2007. Performance of pigs reared under traditional low input production system and chemical composition of non-conventional tropical plants used as pig feed. Livestock Science 107: 294–298

Lylian Rodriguez. and Preston, T.R. 1997. Local feed resources and indigenous breeds: fundamental issues in integrated farming systems. Livestock Research for Rural Development (9) 2: 92–99

Mukherjee, T.K., Geeta, S., Rohani, A. and Phang, S.M. 1991. A study on integrated duck-fish and goat-fish production systems. In proceedings of FAO/IPT workshop on integrated livestock-fish production systems. 16–20 December 1991. Institute of advanced studies, University of Malaya, Kuala Lampur, Malaysia.

New, M.B. 1991. Turn of the millennium aquaculture, navigating troubled waters or riding the crest of the wave? World Aquaculture. 22 (3): 28–49.

Samra, J.S., Sahoo, N., Roy Chowdhury, S., Mohanty, R. K., Jena, S. K. and Verma, H. H. 2003. Sustainable integrated farming system for waterlogged areas of Eastern India. Research Bulletin No 14. WTCER. Bubhaneshwar. Pp 24

Schroeder, G.L. 1980. Fish farming in Manure loaded ponds. In ICLARM – SEARCA Conference on Agri. Aquac. Farm. System, Manila. Philippines. pp 73 – 86.

Sharda D.P., Yadav K.R. and Pradhan K. 1976 Effect of energy restriction in the diet on the performance and carcass quality of market pigs. Indian J. Anim.Sci. 47 (11): 743–745.

Snedecor, G.W. and Cochran, W.G. Statistical Methods 1989, 8th ed. Lowa State University Press, Ames, Lowa, USA.

Statictical Abstract, 2003. Government of Mizoram, Aizawl. Mizoram

Woynorovich, E. 1980. In ICLARM – SEARCA Conference on Agri. Aquac. Farm. Syatem, Manila. Philippines.ICLARM Conf. Proc. 4: 129–134.
Acknowledgements
The authors are thankful to the Indian Council of Agricultural Research, New Delhi, India for funding and providing necessary facilities during the course of the study.
About this article
Cite this article
Kumaresan, A., Pathak, K.A., Bujarbaruah, K.M. et al. Analysis of integrated animal-fish production system under subtropical hill agro ecosystem in India: Growth performance of animals, total biomass production and monetary benefit. Trop Anim Health Prod 41, 385–391 (2009). https://doi.org/10.1007/s11250-008-9201-y
Received:

Accepted:

Published:

Issue Date:
Keywords
Integrated animal production

Duck

Pig

Composite fish culture

Hill agro eco system